Hello beauties!
I said it before that I'm hooked on Dior Spring 2018 Launches. This year Dior got my money with their each launch, starting with Dior Spring 2018 Collection (swatches). I kept you posted on Instagram with all of my purchases. The year 2018 started a bit earlier for me, when on 26 December I bought the first products from Dior Spring 2018 Makeup Collection. I choose Dior Thrill Eyeshadow Palette (review) along with Holo Gold Diorskin Nude Air Luminizer (review). When the year started I got from PR three new shades of Dior Addict Lip Glow (upcoming reviews) along with Forever Undercover 24H Full Coverage Foundation (upcoming review).
So many of you requested that I review this new foundation and some of the new Lip Glow shades. I've already put down the words and I will hit the publish button for these reviews next. 🙂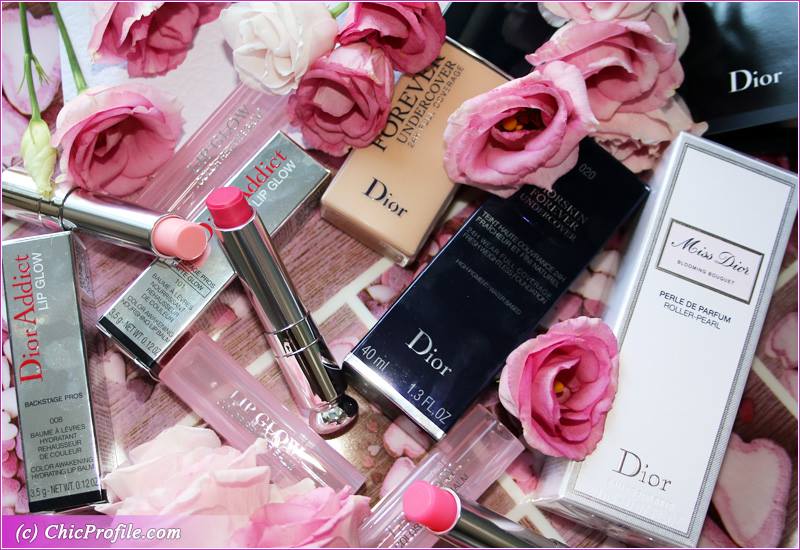 Where to buy:
U.S. – Now at Nordstrom, Neiman Marcus, Sephora
UK – Now at Selfridges, Harrods, Debenhams, Covent Garden Boutique (London)
France – Now at Sephora.fr
Dior New Makeup and Miss Dior Roller-Pearl Spring 2018
I was also excited about the launch of the new Miss Dior Roller Pearl Fragrances. I went to Dior Boutique and bought Blooming Bouquet. It's such a romantic and feminine fragrance. I would say is more discreet and you won't feel it from a distance. You can easily wrap yourself in the fresh floral scent of Miss Dior Blooming Bouquet and feel the Spring around the corner. 🙂 I just love the new roll-on applicator and mini size bottle. Super travel friendly right?
I would talk to you about the new shades and finishes of Dior Addict Lip Glow (£25.00 / $34.00 / €34.50 for 3.5 g / 0.12 oz) but I prefer to do it in a separate review. I would tell you though, that I'm wearing them every day, changing the finish as I like. There are more ways to wear these Lip Glows than just a simple lip balm. 🙂
I got three shades for you: Ultra Pink, Matte Pink and Matte Raspberry. Reviews and lip swatches coming right up after this post.
Now, the new Dior Forever Undercover Foundation (£34.00 / $52.00 / €44.95 for 40 ml / 1.3 fl oz) for which provides full coverage. It couldn't wait for this launch to happen. I know is full coverage and I don't really need it, but the formula sounded so intriguing. For a while I was hooked on Diorskin Forever Perfect Mousse (review) that I had to see if this new one will be better. I don't want to reveal too much before my review but I'll tell you this. I never thought that I'd love to wear a full coverage foundation so much. The formula is amazing and you can SEE ME WEARING IT HERE. I also have another photo on my Instagram highlights if you want to check it out. It looks so natural, doesn't it? 🙂
So far I'm absolutely in love with everything I purchased or received in PR from Dior this year. Oh wait! You know about Diorsnow Spring 2018 Collection right? Sorry I had to remove the photos.
It just launched and I'm heading tomorrow to the boutique to check it out in person. I hope I'm not too late and I'll still get to see all the items. I have a couple of those gorgeous beauties on my wish-list. Just make sure to follow my Instastories tomorrow if you want to get more details or ask me anything.
SHOP THIS POST