Hello beauties!
I have news for you regarding Dior Spring 2018 Makeup Collection. Remember that back in September I posted a sneak peek for this collection? Well, I have new info and promo photos to show you now. They are beautiful so do follow me after the jump. 🙂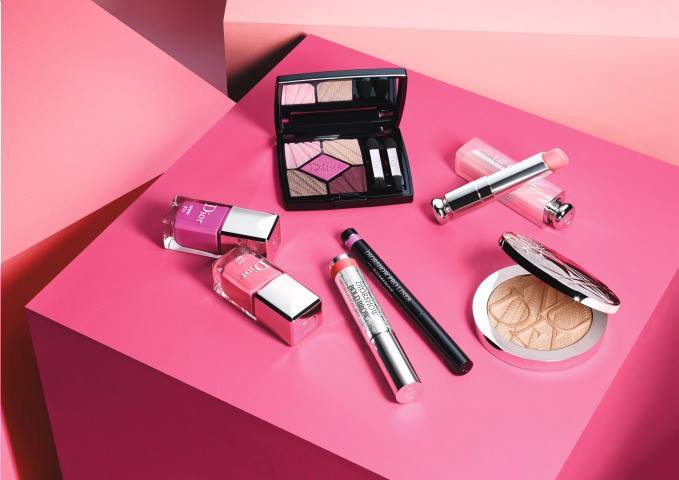 Availability
U.S. Launch Date – January 2018 at Nordstrom
Japan Launch Date – 1 January 2018
Dior Spring 2018 Makeup Collection
I told you a few months back that Dior will be launching new Glow Sticks and a new foundation as well. I already addressed the new Diorskin Forever Undercover Foundation 24h Full Coverage in a previous post. Now is time to unveil the other Dior Spring 2018 goodies. The entire collection is surrounded by various kinds of gentle pink, sexy pastel pink, bold shocking pink. I couldn't love it more! I feel it was designed for me! Pink, pink and pink everywhere!
Both palettes features shades in shiny and satin finishes. No.667 Flirt has a slightly mauve-gray shade and exciting black one. No.887 Thrill is my favorite, matching impressive shocking pink with a nude pink and champagne ivory.
Highly concentrated in holographic pearlescent pigments, the lightweight texture of this powder blends seamlessly with your skin, bathing it in shimmering shades of light. It comes with an embossed pattern made to evoke the delicate tulle of a couture dress. Applied in gentle touches, it highlights areas of the face to catch and refrect light.
001 Holo Pink
002 Holo Gold
Diorshow Pink Blush – Limited Edition
I'm not really sure, but this blush can be exclusive available in some countries only. Am I dreaming or I've seen this shade before in a previous Dior Spring collection? I guess I did, but it was way back when Dior also launched two eyeshadow & lip palettes on the same collection.
Diorshow Bold Brow – Limited Edition
Well this surely is a newness. Pink brows for Spring 2018. Who would have thought? I guess pink goes with everything, but pink brows?! I have to try it to see how I look with them. 🙂
Diorshow Pro Liner Waterproof – Limited Edition
No.842 is a fresh pink hue. This shade will be matched by the pink brow mascara.
Rouge Dior Matte – Limited Edition
Rouge Dior – Limited Edition
Rouge Dior Liquid – Limited Edition
Dior Le Vernis – Limited Edition
 No.557 Love
No.674 Desire
No.787 Thrill
No.993 Flirt
SHOP THIS POST