Hello beauties!
I teased Estee Lauder Holiday 2017 Blockbuster on Instagram a few days ago, but since I'm back to blogging I want to show you more. I will be talking mostly about the Blockbuster since as you know this will be launched worldwide but with small differences in products and shades depending on each country. This one is basically the Holiday 2017 Blockbuster that is going to be released in Japan so maybe we will see some differences here in the UK. Like always there will be a skincare gift set, which I'm hoping is the same as the one I have shared at the end of the post. Every year I'm buying Estee Lauder holiday offerings, including the Blockbuster and Skincare Set so I don't think I'll skip this year. I'm loving the bag and the golden clutch so much that I must have them. 🙂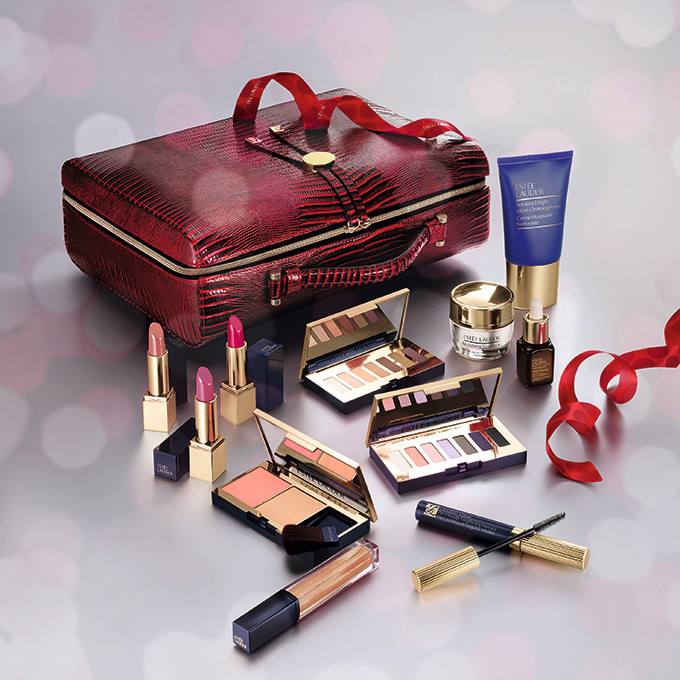 Availability
UK Launch Date – end October 2017 at Estee Lauder, Selfridges, Harrods, Debenhams
U.S. Launch Date – end October 2017 at Estee Lauder, Nordstrom, Neiman Marcus
Japan Launch Date – 27 October 2017 | 3 November for the Compacts | 1 December for Good as Gold Collection
Estee Lauder Holiday 2017 Blockbuster and Gift Sets
This time Estee Lauder Holiday 2017 Blockbuster will feature among other products, two seven-color eyeshadow palettes. One is for day makeup and comes in orange and brown shades, while the other smoky palette is more suitable for night time. I wasn't really impressed with Estee Lauder Eyeshadow Palettes from the previous Blockbuster releases so I don't have high hopes for these ones as well. I did like the variety of colors and finishes though. You can find palettes' reviews from the previous two years if you want to search the blog. Do you remember the Estee Lauder Ultimate Makeup Kit (review, swatches) with those 3 gorgeous palettes? I barely used them and I left them back in Romania when I moved to London.
The kit will also feature three classic Pure Color Envy Lipsticks, which may be repromotes from past years as that pink really resembles the one I already have from 2015 Blockbuster. I think is the fuchsia one and you can see the review and lip swatches here. There's going to be only one lip gloss, a duo cheek palette and black mascara, plus the skincare items. In the past I remember buying one of the Blockbusters only for the ANR serum that came in full size, but I do like the mini version as well, so great travel companions. 🙂
Estee Lauder Good As Gold Collection will be launching as well around end of Fall 2017 and I hope they won't change that gorgeous gold clutch for Europe customers. Back in 2015 the Blockbuster in U.S. comparing to UK and Romania was so different, so I hope to see exactly this collection in UK as well. The glitter gold clutch includes the 8 eyeshadow palette, two lipsticks in full size, mini gloss, mascara and eye pencil in deluxe travel sizes.
The Holiday Compacts are always so luxurious and they are already available. I posted all the info + photos about them right here.
I wish you happy shopping when the time comes and do let me know what are you getting from this collection. 🙂
Enjoy more photos…