Hello beauties!
MAC Snow Ball Holiday 2017 Collection has been driving everyone crazy with its sneak peek photos. Ever since we first saw the preview of MAC Whisper of Gilt Extra Dimension Skinfinish in that gorgeous packaging we knew that collection is going to be WoW. We've seen before this gorgeous sparkle warm gold shade with a frost finish, released in previous holiday collections, but it surely looks good everytime.
The packaging is on point, lots of gold and sparkle, exactly what you can call a festive packaging. The good news is that you can pre-order the collection now before it hits counters on 19 October. The not so great news is that you'll have to do it in store and not online, while the offer is only for the gift sets and not for the classic MAC Holiday 2017 Collection which comes with the limited edition lipsticks, eyeshadows and so on. Take a closer look as I unveil the collection after the jump!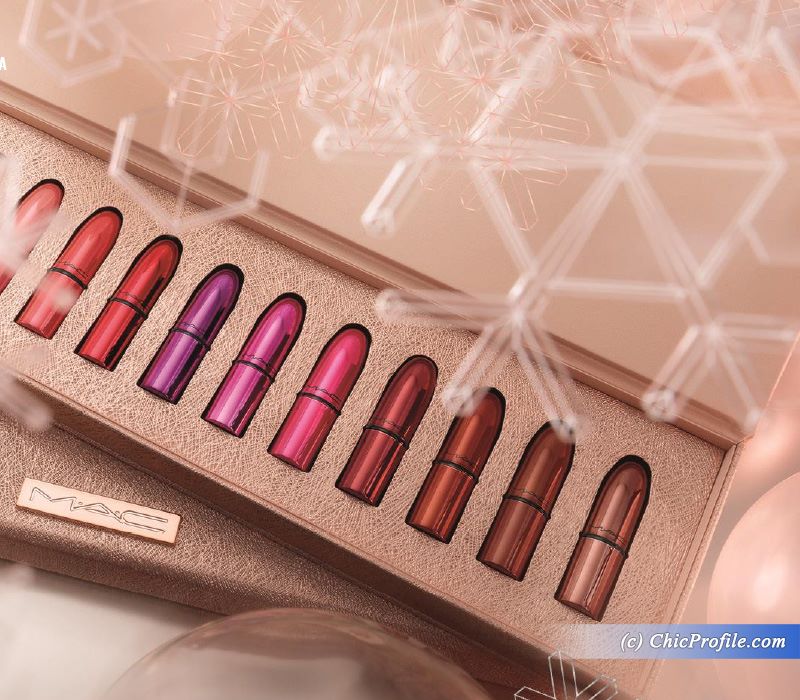 M∙A∙C SNOW BALL. FIND YOUR RHYTHM. ALL EYES ARE ON THE COOL KIDS, HANGING OUT, SWAYING TO THE BEAT, SHOWING OFF WITH A LITTLE FESTIVE FLIRTATION. YOU'RE THE SLEIGHBELLE OF THE BALL, DANCING UNTIL MORNING, FEELING ALIVE, REVELLING IN THE NEW GENERATION. THE LIGHTS CATCH A CRYSTAL AND GLITTER SNOWFLAKE ADORNMENT, ALL THE BLING YOU'LL EVER NEE— EVERYONE GOES STARSTRUCK. SEE YOU ON THE DANCE FLOOR.
Availability
U.S. Launch Date – Pre-Order Now at Department Stores like Macy's, Nordstrom | 19 October 2017 at MAC and other retailers
UK Launch Date – 26 October 2017 at MAC Locations (unless stated otherwise) Selfridges, Harrods
MAC Snow Ball Holiday 2017 Collection
Impalpable Glare Powder – Limited Edition – $33.00 / €33.00
Here Comes Joy – shimmering golden-peach
Happy Go Dazzingly – sparkling gold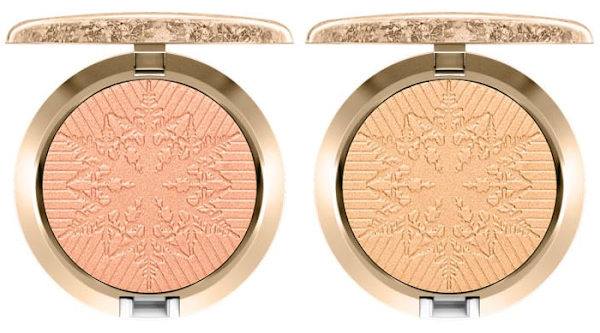 Extra Dimension Eye Shadow – Limited Edition – $20.00
It's Snowing – pinkish with purple flicker
Frostwinked – white with silvery mother-of-pearl
Starry, Starry Nights – black with silvery flicker
Stylishly Merry – shimmering gold
Delicate Drift – sparkling light pink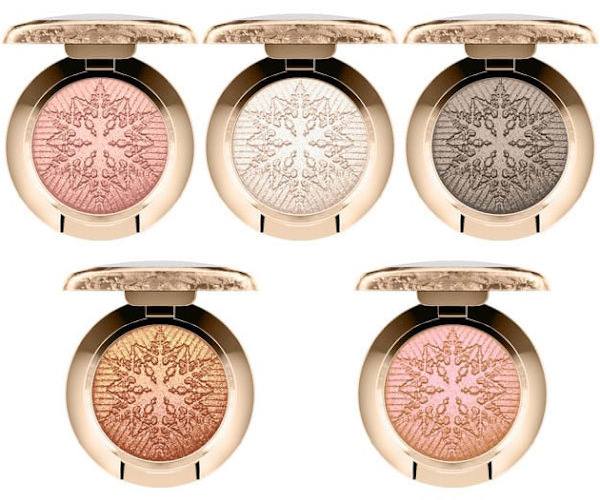 Snow Ball Eye Compact Rose Gold- Limited Edition – $29.50 / £30.00 / $35.50 CAD
SHE SPARKLES DAZZLESHADOW light grey with silver sparkles
SHIVER OF DELIGHT DAZZLESHADOW rose gold copper sparkle
WINTERLUDE EYE SHADOW high frost peachy white (satin)
BUDDING PASSION EYE SHADOW copper (frost)
DRAMA IN THE SNOW EYE SHADOW deep warm brown (satin)
NO CURFEW EYE SHADOW muted pinkish nude (matte)
546SE FLUFF EYE / 547SE FLAT SHADER BRUSH
Snow Ball Eye Compact Gold- Limited Edition – $29.50 / £30.00 / $35.50 CAD
DAZZLE THE NIGHT AWAY DAZZLESHADOW white with white gold sparkling reflects
SPUN FROM GOLD DAZZLESHADOW yellow gold with heavy gold reflects
EVENING LIGHT EYE SHADOW mid-tone brown with gold pearl (veluxe pearl)
WELL PAST MIDNIGHT EYE SHADOW black with high silver and gold pearl (lustre)
FROSTED FIZZ EYE SHADOW peachy nude with gold frost (satin)
CINDER EYE SHADOW dark charcoal (matte)
546SE FLUFF EYE / 547SE FLAT SHADER BRUSH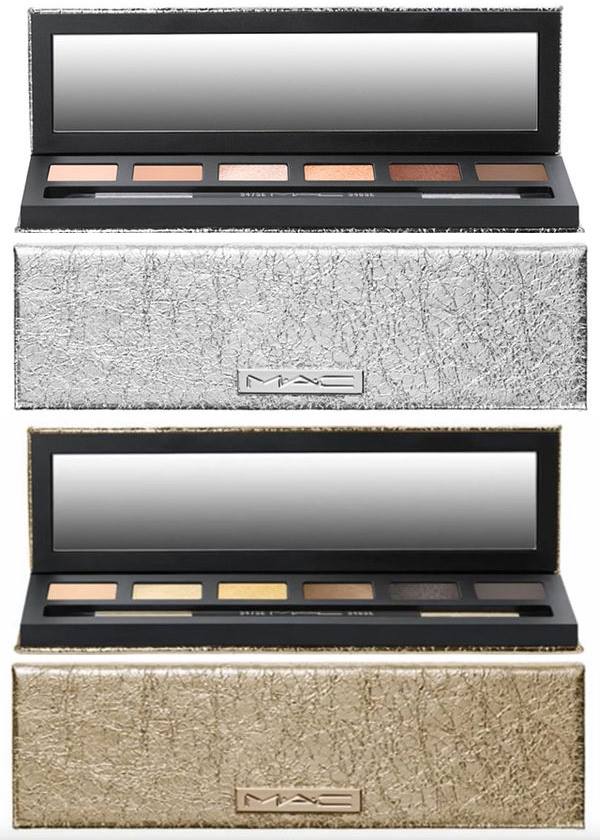 Lipstick – Limited Edition – $17.50
Elle Belle
Warm Ice
Holiday Crush
I'm Glistening
Rouge En Snow
Shimmer & Spice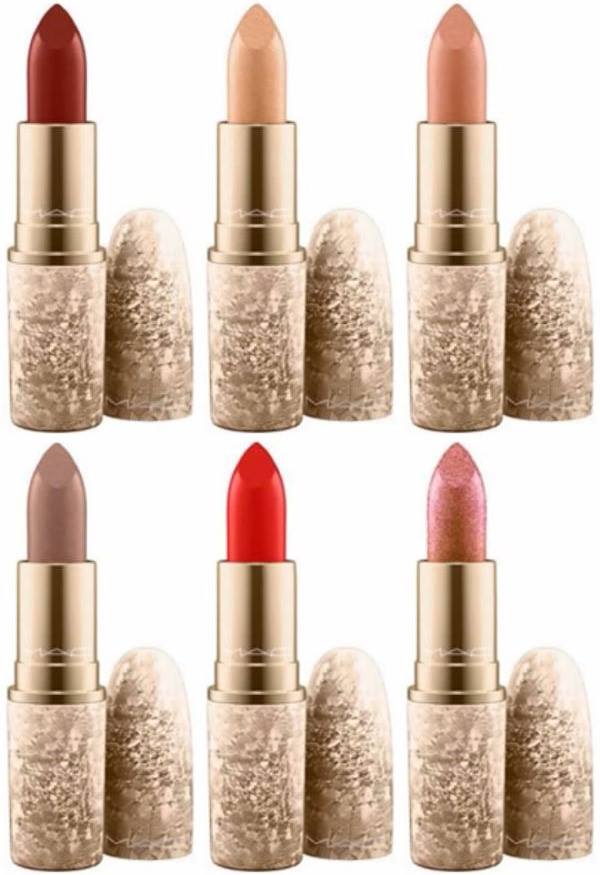 False Lashes – Limited Edition – $17.00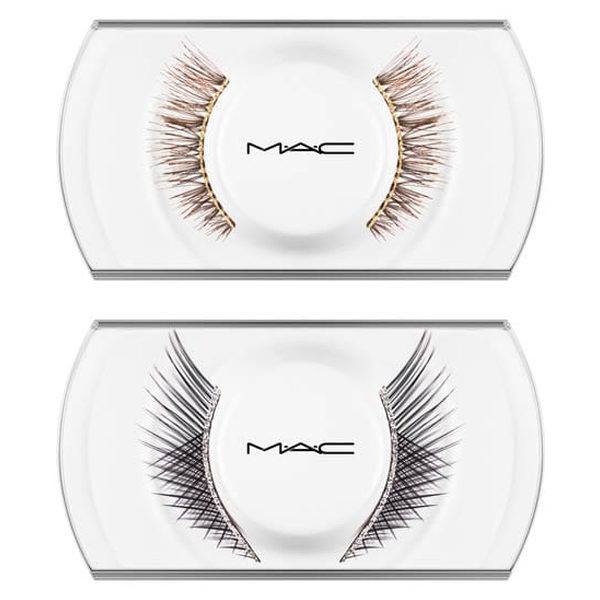 Prep + Prime Fix+ – Limited Edition – $20.00
Includes: Rose, Lavender, Coconut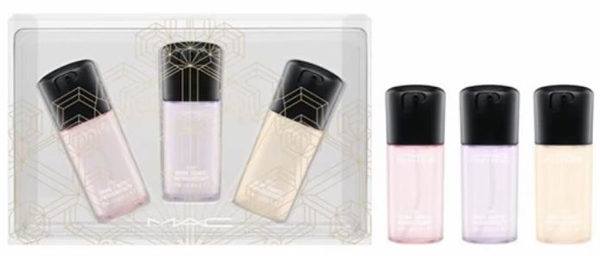 Face Bag Peach – Limited Edition – $49.50 / £$35.00 / $59.50 CAD (Nordstrom Exclusive)

SHOW GOLD EXTRA DIMENSION SKINFINISH peach that breaks pink
140SE SYNTHETIC FULL FAN BRUSH
Face Bag Gold – Limited Edition – $49.50 / £$35.00 / $59.50 CAD
WHISPER OF GILT EXTRA DIMENSION SKINFINISH pale gold shimmer
140 SE SYNTHETIC FULL FAN BRUSH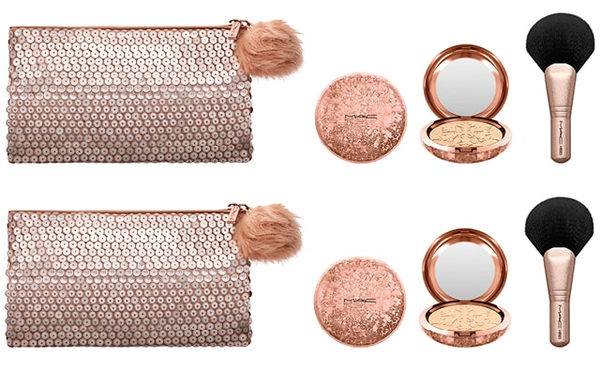 Snow Ball Eye Bag Smoky Pink – Limited Edition – $39.50 / £40.00 / $47.50 CAD (2 November 2017 on US Counters)
READY TO PARTY pale lilac (extra dimension)
LIGHT OF THE SILVERY MOON metallic silver charcoal (extra dimension)
GRAPHBLACK TECHNAKOHL LINER rich, graphic black
BLACK EXTREME IN EXTREME DIMENSION MASCARA black
Snow Ball Eye Bag Smoky Gold – Limited Edition – $39.50 / £40.00 / $47.50 CAD
JUST GLEAMING peachy nude (extra dimension)
SNOWDUSK silvery warm taupe (extra dimension)
PHOTOGRAVURE TECHNAKOHL LINER soft black with brown undertone
BLACK EXTREME IN EXTREME DIMENSION LASH black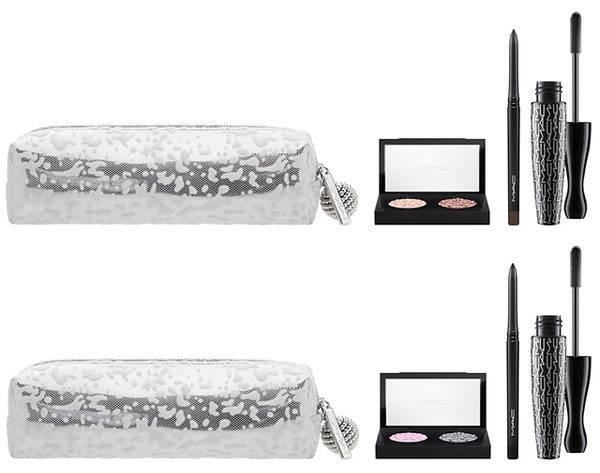 Snow Ball Lip Bag Nude – Limited Edition – $39.50 / £32.00 / $47.50 CAD (2 November on US Counters)
SENDING LOVE LIPSTICK pinky nude (cremesheen)
ICED DREAM LIPGLASS pinky nude with pink and gold pearl
DOUBLETIME PRO LONGWEAR LIP PENCIL pinky brown
Snow Ball Lip Bag Red – Limited Edition – $39.50 / £32.00 / $47.50 CAD (2 November on US Counters)
HOORAY FOR HOLIDAY LIPSTICK intense cool red (matte)
JOY TO ENJOY LIPGLASS deep intense red
KISS ME QUICK PRO LONGWEAR LIP PENCIL yellow red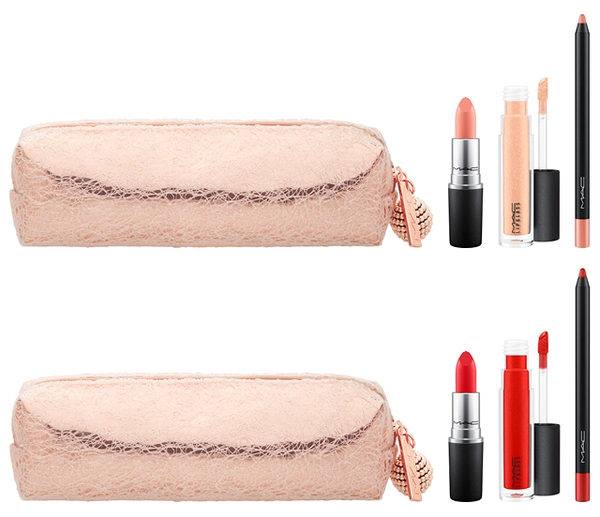 Eye and Lip Bag Pink – Limited Edition – $39.50 / £35.00 (JLP & Maccosmetics.co.uk Exclusive)

ICE TIME CRYSTAL GLAZE GLOSS clear with silver and pink pearl
FEEL LIKE DANCING? DAZZLELINER deep plum with pearl
FEMININE WILES FOILED SHADOW light pearly pink

Eye and Lip Bag Rose Gold – Limited Edition – $39.50 / £35.00 (JLP & Maccosmetisc.co.uk Exclusive)

SNOW DAZZLE CRYSTAL GLAZE GLOSS mid-tone rose with gold pearl
A LITTLE MOONLIGHT DAZZLELINER black with silver and gold pearl
JOY TOY FOILED SHADOW pink copper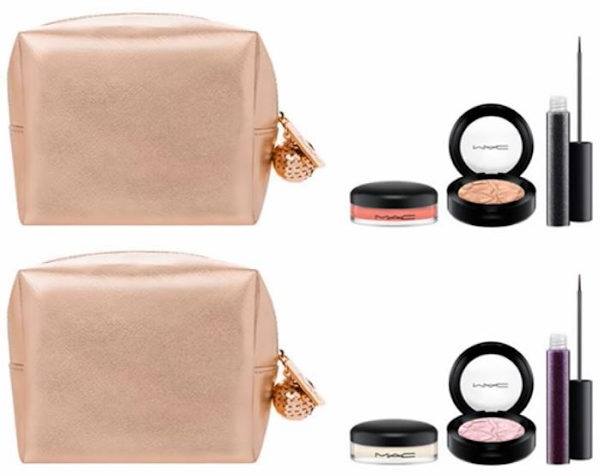 Lip Kit – Limited Edition – $29.50
Includes shades: Nude Du Jour, Nouvelle Vogue, Russian Red, Antique Velvet

Mini Lipstick Kit Cool- Limited Edition – $29.50 / £25.00 / $34.50 CAD
COCKTAIL KISS dirty rose (matte)
BOCA soft pink nude (satin)
KINDA SEXY neutral pinky rose (matte)
Mini Lipstick Kit Pink – Limited Edition – $29.50 / £25.00 / $34.50 CAD
TEASE MAKER light frosty nude (frost)
LOVEBUDDY mid-tone pinky nude (matte)
DANGEROUSLY RED blue fuchsia (matte)
Mini Lipstick Kit Warm – Limited Edition – $29.50 / £25.00 / $34.50 CAD
JUST BEAMING frosty pale gold (frost)
TENOR VOICE true classic red (matte)
CANDY CANE intense blue red (matte)
Mini Lipstick Kit Rose- Limited Edition – $29.50 / £25.00 / $34.50 CAD (Exclusive to Maccosmetics.co.uk)

WHIRL dirty rose (matte)
CHARLOTTE rich yellow red (matte)
SUPERSMOOCH intense blue red deep burgundy (matte)
Mini Lipstick Kit / M·A·C Classics – Limited Edition – $69.50 / £85.00 / $83.50 CAD
Includes:
DIVA intense reddish burgundy (matte)
RUBY WOO very matte vivid blue red (matte)
MANGROVE hot bright red (matte)
LITTLE DARLING clean light nude (matte)
VELVET TEDDY deep-tone beige (matte)
WHIRL dirty rose (matte)
STONE muted greyish taupe brown (matte)
REBEL mid-tone cream plum (matte)
FLAT OUT FAB bright plum (matte)
GOOD KISSER mid-tone fuchsia (matte)
PLEASE ME muted rosy-tinted pink (matte)
PARTY COMMENCING clean, matte, light neutral pink (matte)

Mini Lip Gloss Kit Nude – Limited Edition – $29.50 / £25.00 / $34.50
CADBELOW FREEZING CREMESHEEN GLASS light beige with pink pearl (cremesheen)
WINTER WARMER CREMESHEEN GLASS mid-tone brown nude (cremesheen)
ICED OVER VAMPLIFY rose gold copper
Mini Lip Gloss Kit Pink – Limited Edition – $29.50 / £25.00 / $34.50
JAPANESE SPRING CREMESHEEN GLASS pale dirty pink (cremesheen)
TINSELLATED CREMESHEEN GLASS clear with silver and pink pearl (cremesheen)
GILDED FROST VAMPLIFY metallic silver
Mini Lip Gloss Kit Rose – Limited Edition – $29.50 / £25.00 / $34.50
BE A LITTLE NAUGHTY CREMESHEEN GLASS deep wine (cremesheen)
HOLIDAY DARLING CREMESHEEN GLASS mid-tone pinky nude (cremesheen)
GO FOR PRETTY VAMPLIFY metallic pale pink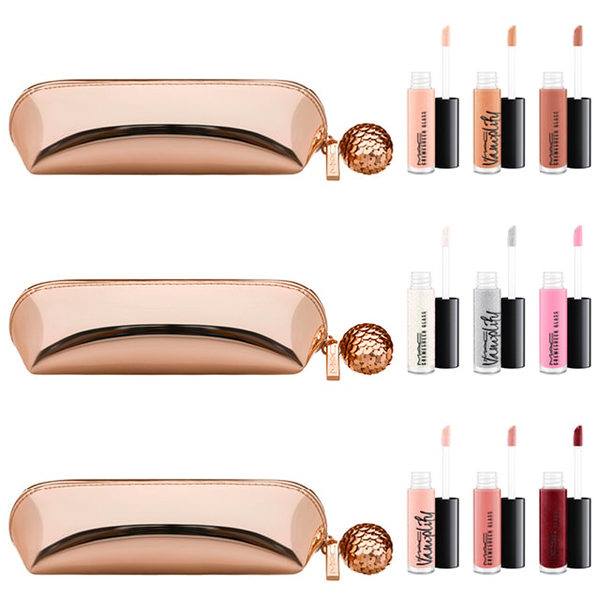 Pigment and Glitter Kit Gold – Limited Edition – $29.50 / £25.00 / $34.50 CAD
VANILLA MINI PIGMENT soft ivory white
ENGLISH GILT MINI PIGMENT bright champagne
GOLD MINI GLITTER sparkling chunky gold
Pigment and Glitter Kit Pink – Limited Edition – $29.50 / £25.00 / $34.50 CAD
COPPER SPARKLE MINI PIGMENT smooth, high-shine copper
WHISPER PINK MINI PIGMENT soft beigey pink with pearl
PINK MINI GLITTER bright pink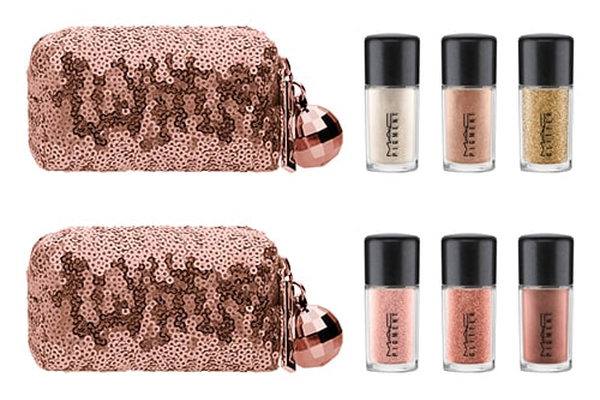 Mascara Kit – Limited Edition – $29.50 / £30.00

FALSE BLACK FALSE LASHES SIZED TO GO black
FALSE LASHES MAXIMIZER SIZED TO GO black
CLEAR BROW SET

Brush Kit Mini – Limited Edition – $29.50 / £30.00 /$34.50 CAD
421SE FULL POWDER
535SE ROUNDED SHADOW
560SE ANGLED LINER
Brush Kit Basic – Limited Edition – $49.50 / £45.00 /$59.50 CAD
420SE POWDER
490SE POINTED FOUNDATION
530SE ALL-OVER SHADOW
515SE SMUDGING LINER
505SE BROW GROOMER
Brush Kit Advanced – Limited Edition – $49.50 / £45.00 /$59.50 CAD

460SE ANGLED POWDER
491SE ANGLED FOUNDATION
570SE ANGLED LARGE SHADOW
575SE ANGLED SMALL SHADOW
507SE BENT POINTED LINER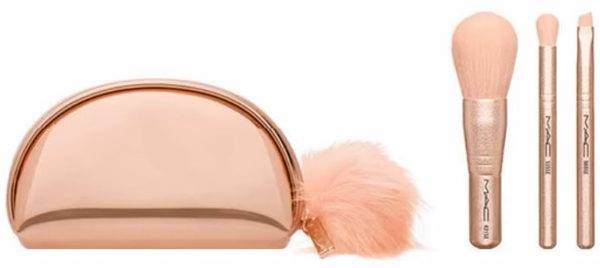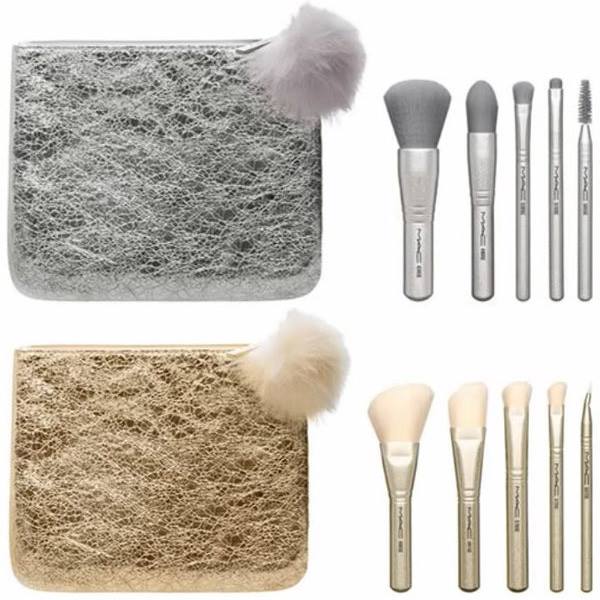 Shadescents Kit Creme d'Nude – Limited Edition – $29.50 / £30.00

CRÈME D'NUDE LIPSTICK pale muted peach beige (cremesheen)
CRÈME D' NUDE ROLLERBALL amber musk
Shadescents Kit Candy Yum Yum – Limited Edition – $29.50 / £30.00
CANDY YUM-YUM LIPSTICK neon pink (matte)
CANDY YUM-YUM ROLLERBALL fruity floral gourmand
Shadescents Kit Ruby Woo – Limited Edition – $29.50 / £30.00
RUBY WOO LIPSTICK very matte vivid blue-red (retro matte)
RUBY WOO ROLLERBALL woody floral
Enjoy more photos…