Hello lovelies!
On the second day of Christmas I went for a walk in the center, to check out Winter Wonderland but it was more of an excuse to actually check out the new things at Selfridges. At Dior counter I stumble upon a few pieces from their Spring 2018 Collection (swatches) which are available exclusively to their store for the next 2 weeks. I instantly bought Dior 002 Holo Gold Diorskin Nude Air Luminizer Glow Addict (they didn't have #001 Holo Pink) along with the 887 Thrill Eyeshadow Palette (upcoming review). I would have bought more from this collection if they would have brought more products. Anyway I was super happy and shocked at the same time to see the two eyeshadow palettes and luminizer on the display along with the new Dior Lip Glow shades. I was told earlier this month that Dior Spring 2018 Collection (live swatches) won't be launching in UK so imagine my disappointment as it features my favorite shades.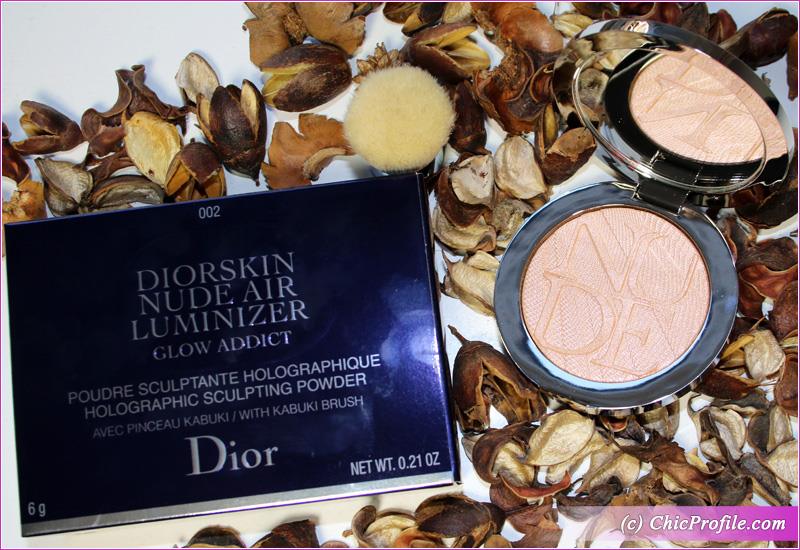 Availability
U.S. Launch Date – Now at Nordstrom
UK Launch Date – 26 December 2017 at Selfridges (exclusive for 2 weeks)
Dior 002 Holo Gold Diorskin Nude Air Luminizer Glow Addict ($56.00 / £42.00 for 6 g / 0.21 oz) is an intensely glowing luminizer that sculpts and enhances your complexion. It's a light gold pink beige with with warm undertones and a metallic sheen.
Dior 002 Holo Gold Diorskin Nude Air Luminizer Glow Addict Review
It is so pigmented that you really don't need much to get that beautiful glow. I'm a light skin tone so I apply it with a light hand for a perfect day makeup. I used the small kabuki brush to add more intensity and it looks wonderful for a evening makeup look. It's up to you how much of this metallic glow you want as the color is easily buildable. If you are a light skin tone this color is definitely suitable for you but even if you have a darker skin tone you can easily build up the intensity.
The consistency is very smooth, without being powdery or dusty at all. Just a pleasure to swatch it and feel how smooth and silky it is.
Dior fans already know that Diorskin Nude Air Luminizers come with a velvet pouch and a mini kabuki brush. The brush can be the perfect travel companion but it's a dense. I used both the mini kabuki brush and my MustaeV V31 Blush Brush (review) to apply the product. The fluffy blush brush gave me a soft glow. The kabuki brush being so dense is great if you want a more intense metallic finish.
I have a combination skin type so I was happy to see that Dior 002 Holo Gold Diorskin Nude Air Luminizer Glow Addict didn't emphasize my skin's texture. I don't like an intense glow usually so I'm fine with just one or two layers of color. This highlighter lasted for eight hours on me before it started to fade slowly. After 10 hours wear the metallic sheen was slightly noticeable, looking very very soft and transparent.
SHOP THIS POST