Hello lovelies!
I'm bringing you a few new shades of MAC Versicolour Varnish. I recently got to try these and wear them a couple of times so I have plenty of details for you. MAC Crushing It!, To The Extreme and Serial Stain are 3 of the new shades I received in PR.
I still remember how excited I was when MAC first released its Veriscolour Varnish Collection. Back then my favorite was MAC Preserving Passion (review, swatches) that I got to wear a lot during the cold season.
In Spring 2018, I posted swatches of some of the new shades if you want to check them out! Looks like MAC keeps on bringing new shades of Versicolour Varnish every year now.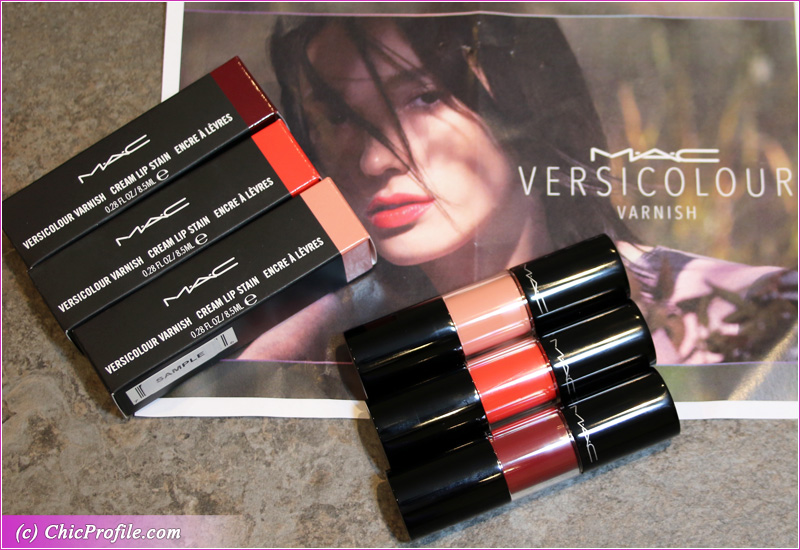 Where to shop:
U.S. – Now at MAC Cosmetics, Nordstrom, Macy's
UK – Now at MAC UK, Selfridges, Harrods, Harvey Nichols, ASOS, – ON SALE for £17.85 at Debenhams, John Lewis, Look Fantastic
MAC Crushing It!, To The Extreme, Serial Stain Versicolour Review
MAC Versicolour Varnish is a lip colour hybrid that's suppose to be glossies, high coverage and have a water-light formula. Basically it's a combination between a lip stain and a lip gloss. What I can tell you is that indeed these babies can leave a stain behind. The intensity of the stain also depends on the color, as the darkest colors leave a heavier stain. The light colors that I've tried over time tend to leave a more forgiving and natural stain.
Now talking about that glossy coverage. I wouldn't say they give an intense glossy finish but more like a wet-lips effect. You will get a moderate shine so I hope you are OK with that.
The formula feels indeed very lightweight on the lips. It's light and watery but feels thicker once it starts to dry down. In terms of formula I would say this one of the most forgiving ones and least-tacky. Some similar products are Giorgio Armani Ecstasy Lacquer (review, swatches) or Tom Ford Patent Finish (review, swatches).
Some shades are more opaque than others and leave a more intense stain. If you want more pigmentation then you should choose one of the darkest or very bright shades. Also some shades tend to emphasize and gather into lip lines. The entire range of colors has a vanilla scented formula without a discernible taste.
I wouldn't recommend this type of formula for dry or sensitive lips, especially now during the cold season. Also it's not a product recommended for daily use as it may dry out your lips. Even though I like to see a stain on my lips I didn't use these more than 2-3 times a week. Make sure you moisturize your lips properly before applying these on.
MAC Versicolour Varnish Shade by Shade Review
MAC Crushing It! Versicolour ($22.00 / £21.00 for 8.5ml/.28floz) is a light peachy shade with slightly warm undertones and a light shiny finish. The color has a semi-sheer coverage in a single application which can be built up to a medium in a second layer. The color didn't apply so evenly in a single swipe so I definitely needed to add another layer.
This is one of the natural colors in the range. I love it because it gives my lips a fresh and natural look. It's a color that I used several time since I got it for a casual, day to day makeup look. It will complement most skin tones and will look very natural.
It gives you a beautiful wet-lips effect without having too much glossiness to it. After all it's a hybrid between a lip stain and a gloss and combines both advantages. The formula is very liquidy and watery but once it begins to dry down feels a bit tacky.
I had around six hours wear with this color, feeling my lips just a bit dry towards the end. I got a light stain from this color as you can see the in swatches at the end of the post.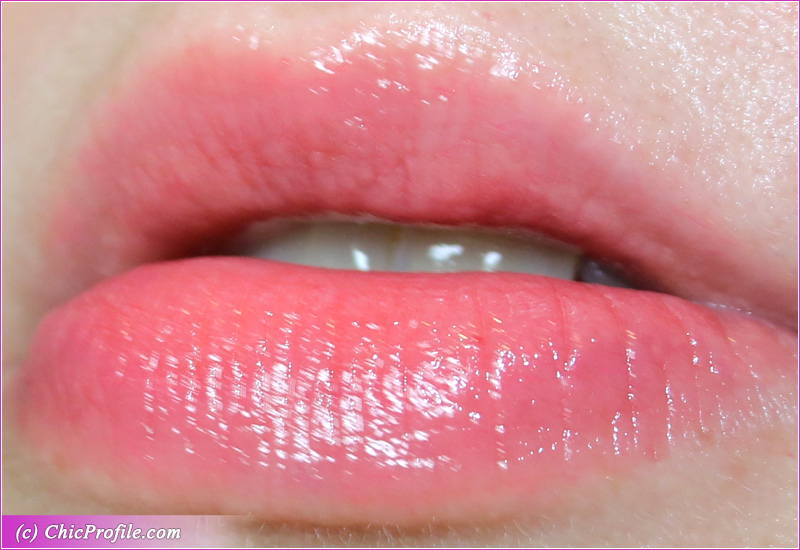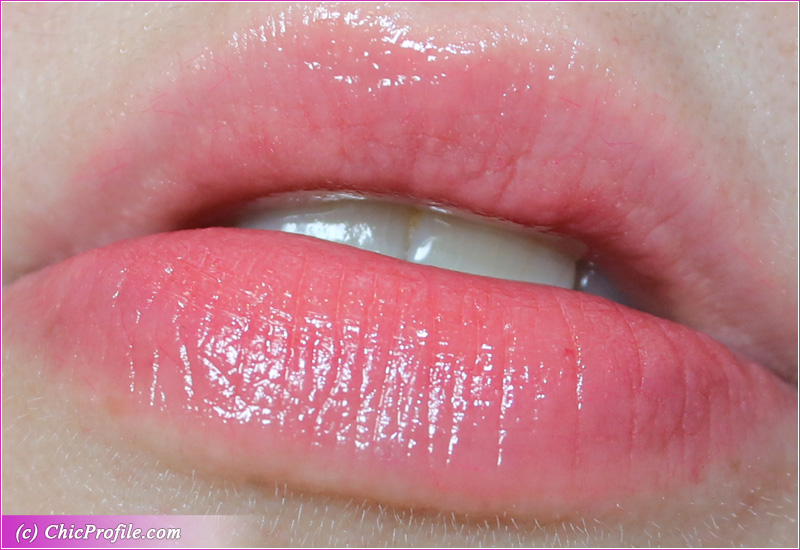 MAC To The Extreme ($22.00 / £21.00 for 8.5ml/.28floz) is a bright red with warm undertones and a medium shine. It had a semi-opaque coverage with a light, watery formula. It tends to feel just a little bit tacky once it dries down.
It's a bright and intense shade and didn't emphasize my lip lines. Is the kind of color that will instantly warm your face and attract attention to your lips. Definitely not for those who are color shy. 🙂
I had around 7 hours wear with this color with a slightly drying sensation towards the end. The glossy finish tends to wear off after 2-3 hours, also depending if you eat or drink. After I had a meal, the glossiness was gone and the color disappeared on the edges of the lips. So I was basically left with enough color on the middle of my lips and a stain towards the edges. Once the color wears off completely the stain lingers on for hours.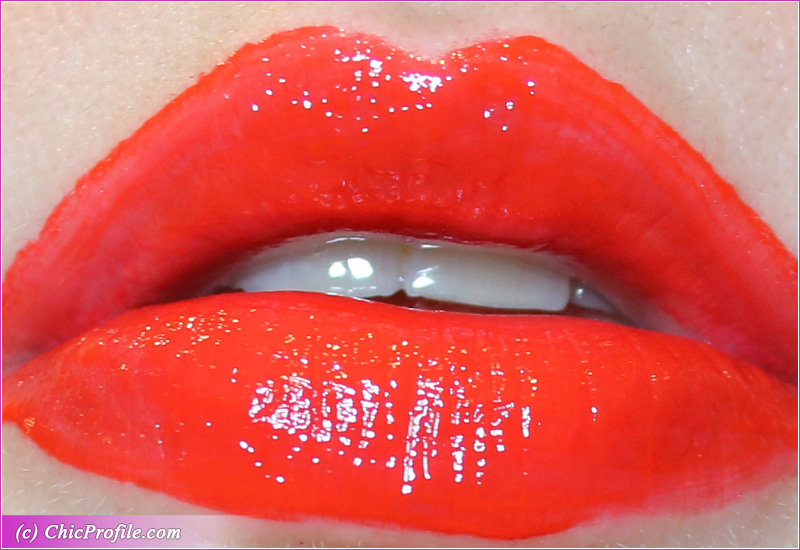 MAC Serial Stain ($22.00 / £21.00 for 8.5ml/.28floz) is a dark rose red. It had a good pigmentation, being almost opaque in a single application. It's one of the most pigmented colors in the range which also leaves an intense stain behind.
The consistency was slightly thicker than a lot of the other shades but was comfortable to wear. It didn't emphasized my lip lines due to the fact it's a darker and rich color. This shade lasted for eight hours but was somewhat drying.
The stain was very long lasting and I even had it on the next morning I woke up.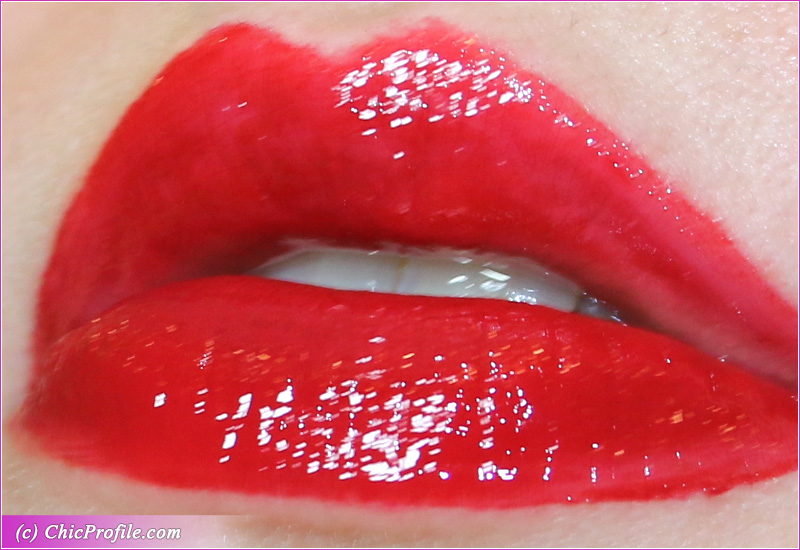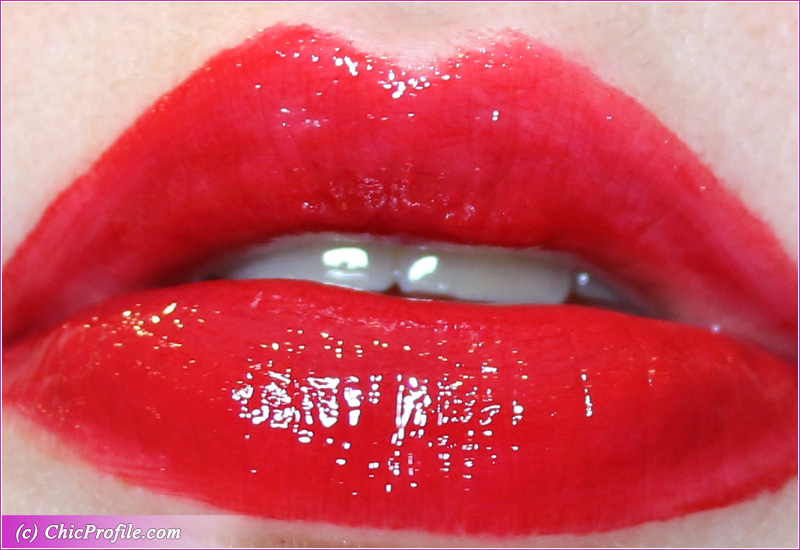 As I mentioned in the beginning, I received these 3 shades in PR. Like always I advise you to check them out in the store if you have the possibility, swatch them and try them on. Only if you trust my reviews and my opinion you can shop them online from the links provided bellow. By any means, do check out other reviews of bloggers and influencers that you trust. 🙂
SHOP THIS POST
Enjoy more photos…