Hello cuties!
Right at the beginning of fall 2015 Giorgio Armani launched his new Ecstasy Lacquer Collection (info, photos) which features 10 intense lacquered shades and 8 pearlescent metallic shades. I knew right then and there that I had to try at least one of those gorgeous colors, not to mention that I'm forever in love with lip glosses and lacquers and there are rarely times when I choose a lipstick. I took advantage of my trip to London and while I was at Selfridges I approached the Armani counter to take a closer look at the new Ecstasy Lacquer line along with the Armani Luxe is More Holiday 2015 Palette (info, photos) so I got not only to test and swatch the products but I also received a makeover at the Armani counter.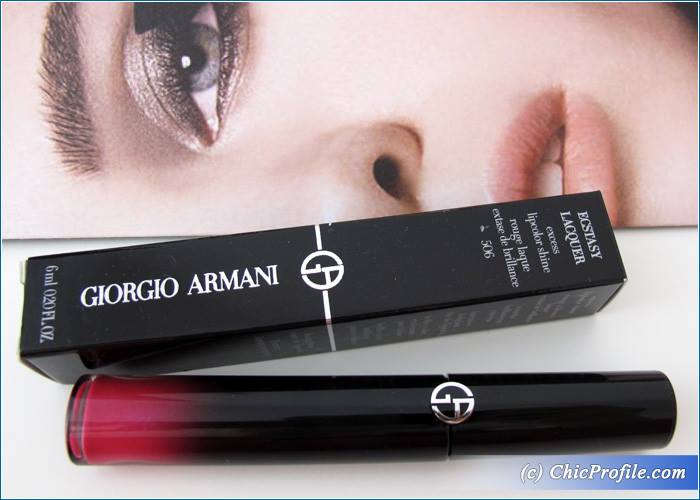 Availability
UK – Now at Selfridges, John Lewis
U.S. –  Now @giorgioarmanibeauty-usa.com, Neiman Marcus, Saks, Nordstrom, Bloomingdales
Giorgio Armani Ecstasy Lacquer 506 Maharajah ($38.00 /£27.00 / €32.50 for 6 ml/ 0.20 fl oz) is a deep violet pink with blue undertones and finely-milled duochrome blue and violet pearl particles that shift in the light and give a gorgeous metallic effect.I loved this Maharajah Ecstasy Lacquer right from the first application, as it felt so extremely lightweight on the lips like I was wearing nothing at all but in the same time I had an intense lip color with a metallic glossy shine. The formula is just amazing, a light feeling as it features the highest concentration of water soluble pigments while the color is vivid and intense with a maximum long wear results.
It delivers a perfect bright and intense lip color in just one swipe and it's up to you if you want to intensify it by applying another layer. The formula contains glycerin which allows a comfortable application and a long lasting hydration. It felt comfortable on my lips from beginning to end, without any dry feel. It is not sticky or tacky at all, it's just perfect.
Once it dries down on your lips it stays put so you won't have to worry that if you are having a meal or drink the color will wore off. It has an impressive lasting power and I know I count on it for more than six hours, even 8 hours with a flawless finish if I don't have anything to eat.
It will stain the lips afterwards so even after the color is gone you'll still be left with a tint and a bit of those blue pearly particles.
It comes in this elegant black tube which becomes transparent towards the ends and lets the color to be seen. It has an angled doe-foot applicator which delivers the perfect amount of lip lacquer and spreads the product easily and evenly across the lips without leaving any lines behind. My lips appeared so fresh, plumped and with an insanely shine. When I want to achieve an opaque color coverage I'll just have to apply an extra coat.
I also got Giorgio Armani Ecstasy Lacquer 402 Red-to-Go (review, swatches) which has a lacquer effect and a bright intense red shade, a more classy and elegant color that will definitely attract some looks.
Enjoy more photos…