Hello beauties!
It gives me a great pleasure to write this article as I've been waiting for Guerlain Summer 2018 Collection for a long time. Well this isn't actually the entire Summer 2018 Makeup Collection, but just the products that will be launching next month. Since I first posted the sneak peek of Guerlain Terracotta Summer 2018 powders along with the eyeshadow palette, I knew I had to save for this collection.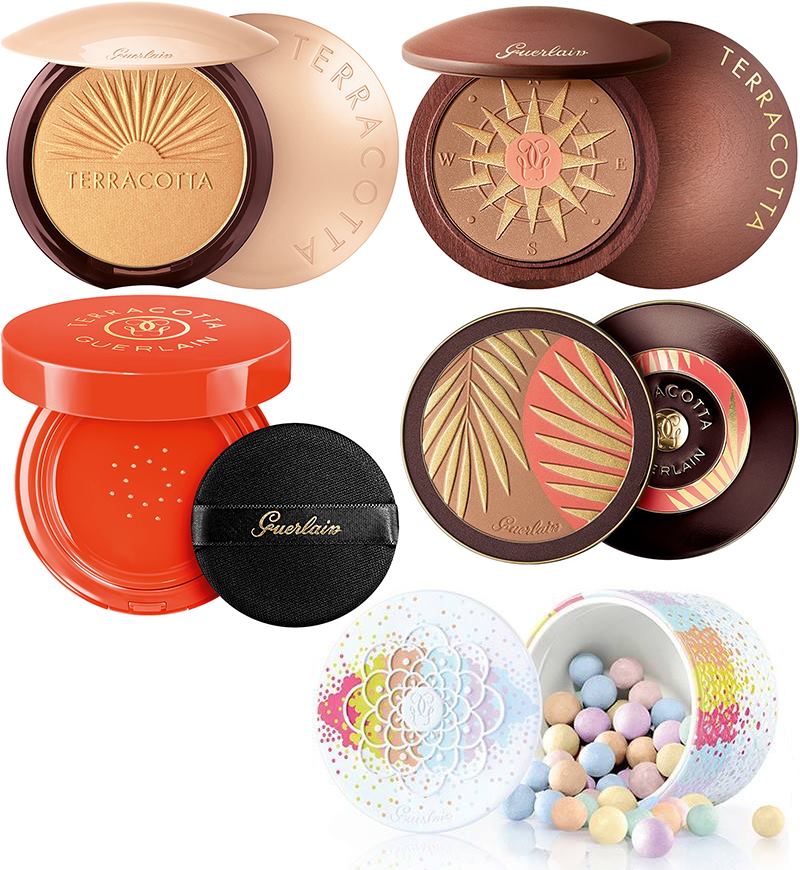 Availability
France Launch Date – Pre-Order Now at Guerlain.fr
U.S. Launch Date – 9 May at Nordstrom, Neiman Marcus, Saks
UK Launch Date – 23 May at Debenhams, Selfridges
Guerlain Summer 2018 Terracotta & Meteorites Products
I've been waiting on these gorgeous powders to appear for months now and I'm ready for shopping. I recently bought their new release of Terracotta Light Powder 2018 (review) and I'm craving the ones in XXL format. There's also the Terracotta Cushion which I hope will be a permanent product.
I already blogged about Guerlain Meteorites Perles Summer 2018 and the new Meteorites Le Parfum. Find more details and photos in my previous post.
You can find everything about Guerlain Terracotta Sous Les Palmiers HERE. It's a limited edition release and retails for €66.00. I do think is going to sell out pretty fast.
Guerlain Terracotta Route Des Îles – New & Limited Edition – €66.00
Guerlain's Terracotta powder, a reference for bronzing powders, comes as Terracotta Route des Îles. In a luxurious and eco-friendly wooden powder dispenser (from the European Certified Forest Program), a large mirror and a two-tone powder are revealed: the alliance of the best seller 03 tint of Terracotta subtly iridescent, which naturally warms all complexions, and the it-color of summer, an apricot hue enhanced by gold that illuminates the tan. The colors blend with the desire to warm up the complexion and sublimate the natural radiance of the tan or apply separately according to the desired intensity. On the skin, they merge into a flexible veil, silky, so fine, that the result is impeccable and remains faithful throughout the day.
The scent of Terracotta powder transports us to the Route des Îles. Notes of Ylang-Ylang and orange blossom create the sensation of a cocoon. They are accompanied by notes of solar facets, tonka bean and vanilla, which embody the essence of Terracotta. A touch of white musk adds sweetness to this addictive fragrance. The senses are awaken, already elsewhere.
Terracotta Summer Glow Face Highlighter – Limited Edition – €49.00
Guerlain's Terracotta powder, a reference for bronzing powders, comes in an ideal illuminator for the summer, Terracotta Summer Glow, to sublimate all complexions in beauty and catch the light thanks to the precious golden reflections contained in the formula. Its formula composed of pearls of extreme finesse, imitates the dazzling light of a skin satin by the sun.
Terracotta Cushion Sunny Complexion Fluid SPF20 – New – €50.00
Guerlain revolutionizes makeup looking good by revealing the secret of a beautiful tanned skin to take everywhere with you this summer: the Cushion Terracotta.
Its nomadic vitamin-enriched body has a plaque designed to protect a sunny formula and ensure a sensoriality and freshness unique to the application. In the blink of an eye, the complexion is warmed and corrected in lightness, without effect of material, thanks to a unique combination of good-looking pigments and a smoothing and corrective powder.
Its formula blurs imperfections and improves skintone for a tan complexion bursting with vitality. Good looks with flexible tan and beautiful bright skin are waiting for you with this new make-up gesture ideal for summer that will accompany you everywhere! On the whole face, or retouching, it immediately brings a natural and radiant tan, modulable at will, while offering a solar protection SPF 20.
Enjoy more photos…