Hello sweeties!
When it comes to Guerlain Meteorites Summer 2018 Collection a sneak peek on Instagram is not enough. If you are fan of the brand it will intrigue you even more and wish that the launch date will come sooner. Well, I have all the details about the new Guerlain Meteorites Le Parfum and the limited edition of Guerlain Meteorites Perles 2018. Keep on reading lovelies!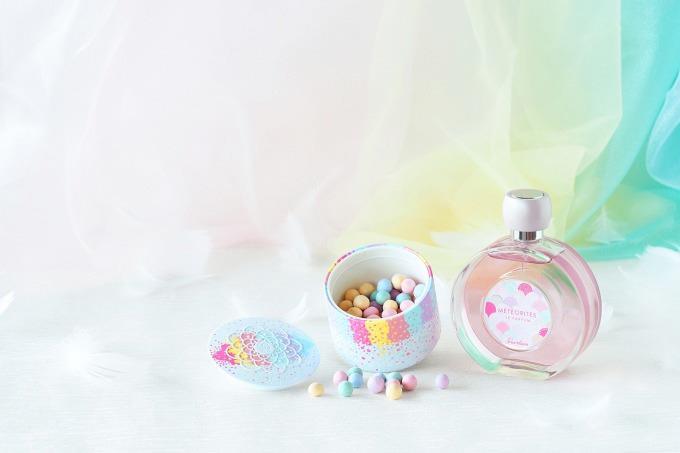 Availability
U.S. Launch Date – May 2018 at Nordstrom, Neiman Marcus, Saks
UK Launch Date – beginning June 2018 at Debenhams, Selfridges, Harrods
Guerlain Meteorites Summer 2018 Collection
Meteorites Perles comes this year in a special limited edition Guerlain Meteorites Summer 2018 Collection along with a new fragrance. Back in 2000, Guerlain tried for the first time to transfer the scent of Meteorites Perles powder into a fragrance. This year, perfumer Thierry Wasser recreated the scent of Meteorites into a new perfume. If you love Guerlain Meteorites Perles, make sure you will adore the new Meteorites Le Parfum. Here are Meteorites Le Parfum notes:
Top Notes: Bergamot, Apple, Green Notes
Heart Notes: Rose, Violet
Base Notes: White Musk, Woody Notes
The fruity-floral fragrance will be available as 100 ml EDP in a feminine rosy bottle.
The colorful box of Guerlain Meteorites Perles 2018 Edition is a nice pop of color, hosting a six colors of pearls. Pink pearls will give freshness to your skin, blue will reduce dullness and green will diminish redness. If you blend the six colors of pearls together they will adjust your skin color and give you a pure semi-matte skin.
I will definitely want to buy the fragrance but I'll decide over the pearls once I check them over the counter. I have quite a few perfumes on my wishlist this season so I'll need to cut out on the makeup purchases. 🙂