Hello beauties!
One of the beauties of this season (apart from us 🙂 ) is SUQQU Summer Mist #117 Designing Color Eyes, a gorgeous eyeshadow quad comprising of four summery shades. It's part of the upcoming SUQQU Summer 2018 UK Exclusive Gradation Couture Collection that launches later this week.
From the moment I saw this palette, I knew I was going to love it. The colors are right up my alley but if you want the whole truth, I'll say I might have added a fuchsia shade instead of the soft gold. You know me, I can go pink all the way. 🙂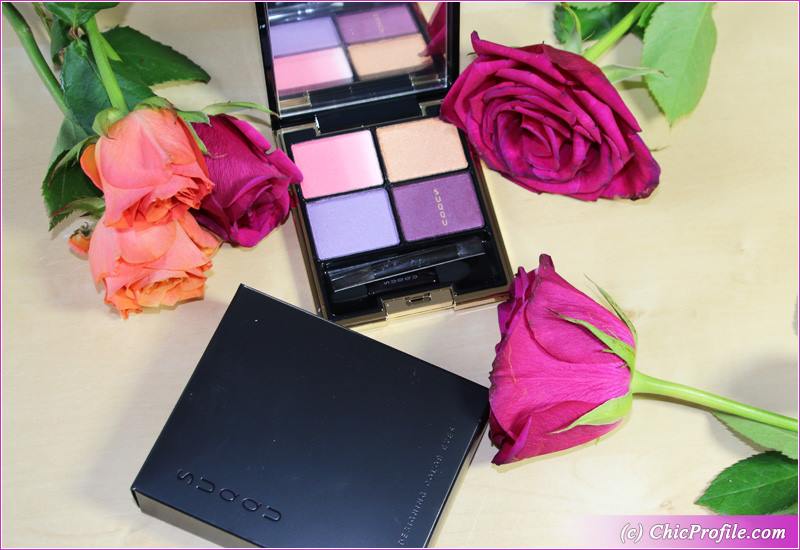 Don't forget to access my PATREON PAGE if you want to support me as an independent blogger and Chicprofile, but also to get the latest scoops on Upcoming Makeup collections before anyone else. I post exclusive content only for my Patrons!
Where to buy:
UK Launch Date – from 26 April 2018 exclusively at Selfridges | 10 May 2018 at Harrods
SUQQU Summer Mist #117 Designing Color Eyes Palette Review, Swatches & Makeup Look
SUQQU Designing Color Eyes 117 Natsukasumi (Summer Mist) (£46.00 for 5.6 g / 0.19 oz) is described as shimmering rose pink with a hint of silver. Soft gold blends well and the two violet hues are matte to design softly defined eyes.
You can see bellow the look I've created using this palette where I'm also wearing SUQQU Extra Glow Lipstick #111 Fireworks from the same collection.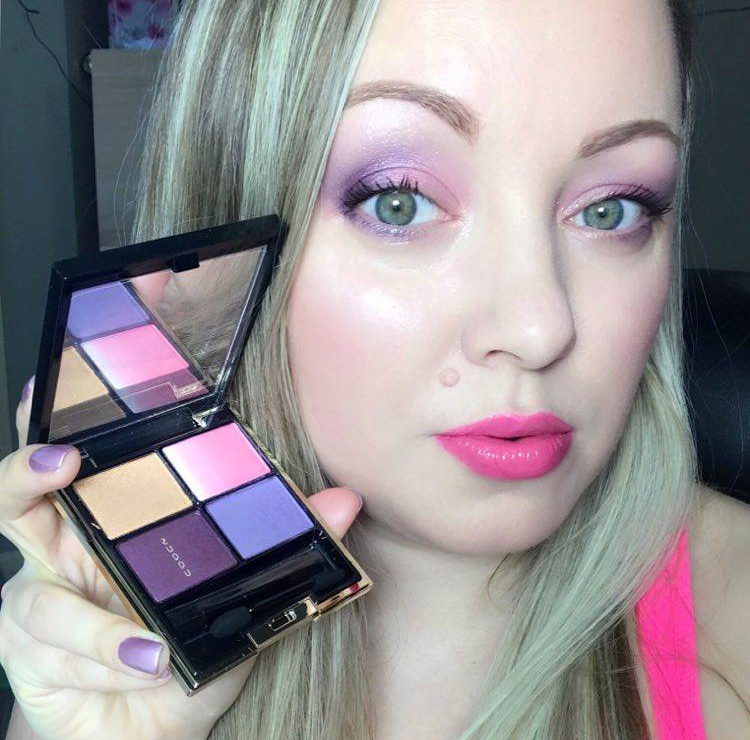 The colors come gently on the eyes with a good color payoff and easily buildable if you want more pigmentation. They adhere well on bare skin and they apply well without any fall our or creasing. It's a really nice combination of colors for summer, or any other season. You will find two mattes within the palette and two shimmers.
SUQQU Summer Mist #117 Designing Color Eyes Palette Review
SUQQU #01 Eyeshadow is a light-medium rosy pink with a hint of silver and a shimmering finish. It has a good color payoff, being easily blendable. The color is not fully opaque but you can definitely intensity the pigmentation. It has a smooth and silky formula that applies well without any fall out. I like to use this color for a fresh and luminous makeup look or even as a blush. If I want to go lighter then I apply from the part where it has more silver and I really like the gradient effect.
The color wore well on me for about seven and a half hours, without creasing.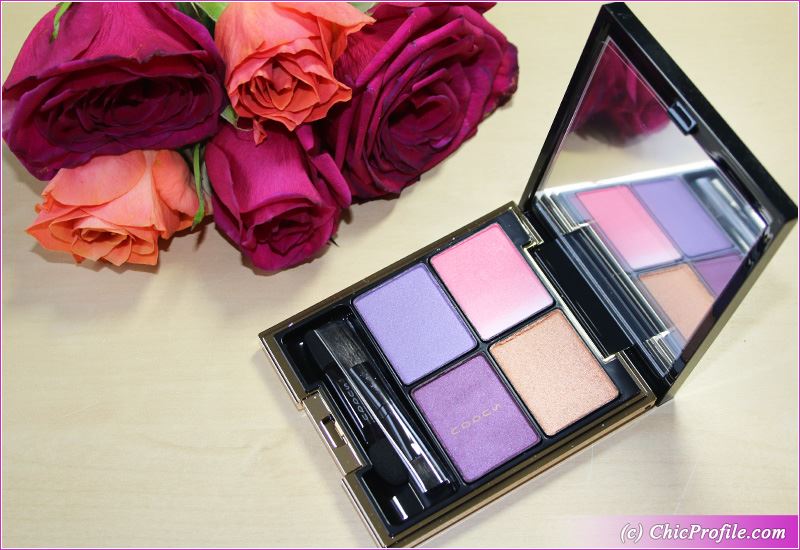 SUQQU #02 Eyeshadow is a soft gold with slightly warm undertones and a shimmer finish. The color had a semi-sheer coverage but it's easily buildable up to a medium intensity. I see it as a transition color or one that's meant to bring luminosity. It has a bit of a shimmer to the finish so you'll still need a matte eyeshadow as a transition shade. The shimmer is not very strong so you can wear this color even during the day. In the photo above I applied in the inner corner of my lids and on the brow bone. You can use it as a highlighter as well if you take a small brush.
The consistency is very smooth and creamy. It applies well on the lid without any fall out. I had around seven hours wear with this color.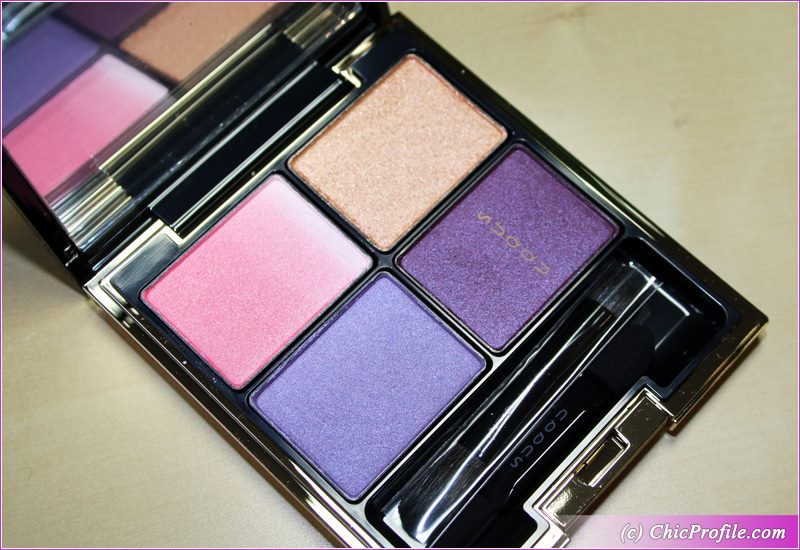 SUQQU #03 Eyeshadow is a light to medium lilac with cool, blue undertones and a soft matte finish. It has a good color payoff but it doesn't come fully opaque in one swipe. The consistency is super smooth and buttery, being a pleasure to work with. It blends easily and adheres well even on bare skin. I have to say this color complements green eyed ladies so well.  I can wear it light for a day makeup and easily intensify it to give it more depth. The formula got me around 8 hours wear.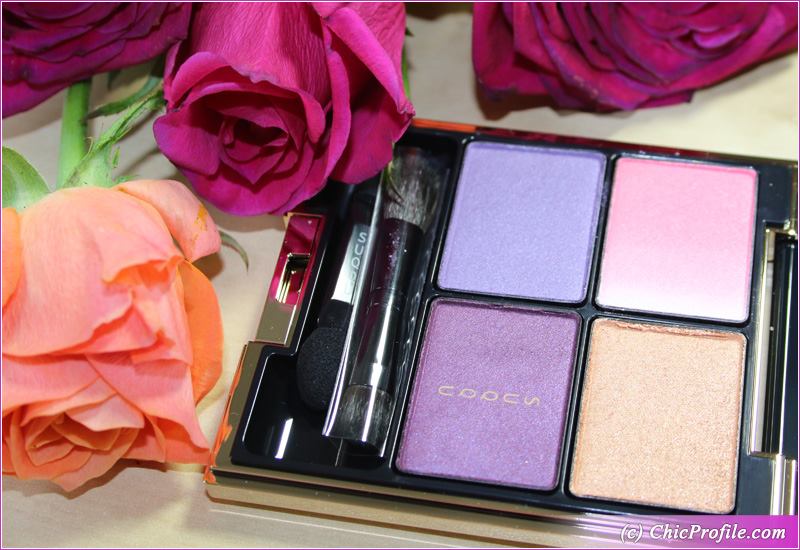 SUQQU #04 Eyeshadow is a dark violet plum with cool undertones and a matte finish. The color payoff is good with a smooth and silky texture. It kicks off a bit of excess product in the pan because of it's loose consistency. It applies well and blends easily but it did gave me a bit of a fall out. The texture feels lightly creamy and it's just a pleasure to work with. It doesn't feel dry and neither looks patchy when applied. I like to use this shade in the outer corner of the lid for a more dramatic effect and also all over the lid.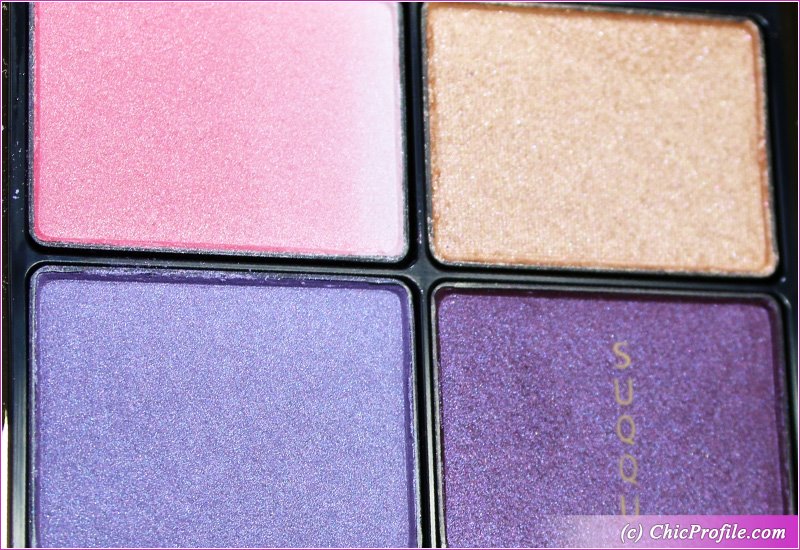 The other day I did a new makeup look where I actually used this shade as an eyeliner, gently smudged underneath my lower and upper lash lines. The color wore well on me for about eight hours.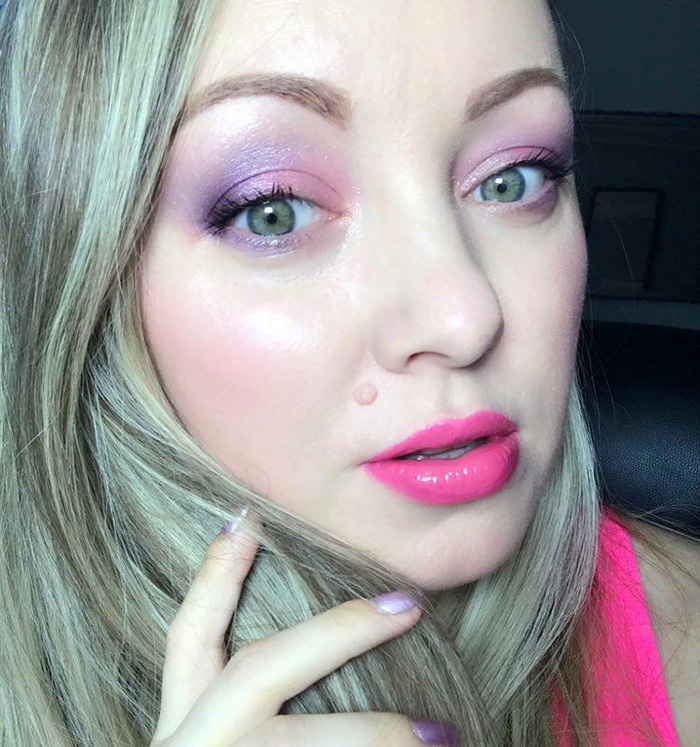 I personally love the color combination of this palette. As I said if it were up to me I'd have choose either a fuchsia shade instead of that soft gold or a matte skin tone color to use as a transition shade. Either way the formula of the eyeshadow is super silky, non drying and just a pleasure to work with.
If I were to choose a dupe for this palette, I'd say Dior #847 Sweeten 5 Couleurs Eyeshadow Palette (review, swatches). That one has more lighter shades and more satin and shimmery finishes. The SUQQU shades have a better formula and wear longer.
I'll be checking the entire collection this Thursday when it launches exclusively at Selfridges and posting live swatches on Instagram. Make sure you are following me as I have a feeling I'll be getting the other palette as well and the new blush. 🙂