Hello beauties!
The gorgeous Guerlain Terracotta Sous Les Palmiers Powder and Blush that I was telling you about back in October is available in France. This bronzing powder will hit UK counters as well closely to summer so I can't wait to see it in person. If you've seen my sneak peek of Guerlain Summer 2018 items then you know that this is not the only bronzer will be seeing from Guerlain. No, I'm not talking about Terracotta Route des Iles (£52.00) which is coming out in June 2018, because that's another beauty. 🙂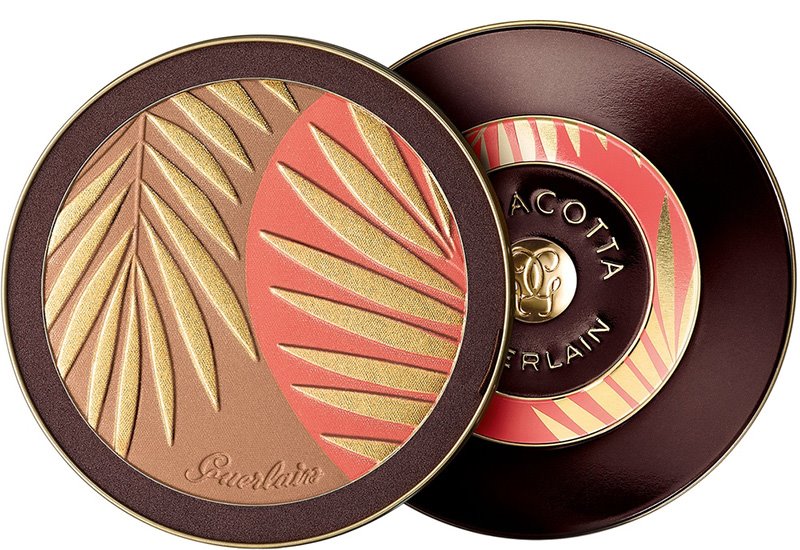 Availability
France Launch Date – Now at Guerlain.fr, Nocibe.fr (best price)
UK Launch Date – May / June 2018 at Debenhams (will confirm the launch date)
Guerlain Terracotta Sous Les Palmiers Powder and Blush
Guerlain Terracotta Sous Les Palmiers – Limited Edition – €66.00
I loved every edition of Guerlain XXL Terracota Powder as it gives me the feeling of a summer vacation. This summer we'll be enjoying a sunny break in the shades of palm trees with Terracotta Under the Palm bronzing and blush which mixes warmth and color to sublimate the natural tan. You can use it on your face or decollete and it will instantly warm up any skin tone with a coral tint that will also illuminate the natural tan.
It surely looks like the summer collector powder, especially for those Guerlain lovers. You can use the colors separately or mix them to warm up the complexion. The result is natural and lasts the entire day.
This collector jewel case embellished with precious palms is reusable once the powder is finished. Well I don't know if you'll ever hit the pan on this beauty. I never did with any Guerlain powder so for me is uncharted territory.
The scent of Terracotta powder invites you to escape in the shade of palm trees. Notes of Ylang-ylang and orange blossom create the sensation of a cocoon. They are accompanied by notes of solar facets, tonka bean and vanilla, which embody the essence of Terracotta. A touch of white musk adds sweetness to this addictive fragrance. The senses are awake, already elsewhere.
I'm very excited for this beauty but I'm also looking forward to the other XXL Terracotta Powder. What we know for sure is that there will be lots of bronzing powders to choose from so it will be hard or impossible to resist not to buy at least one.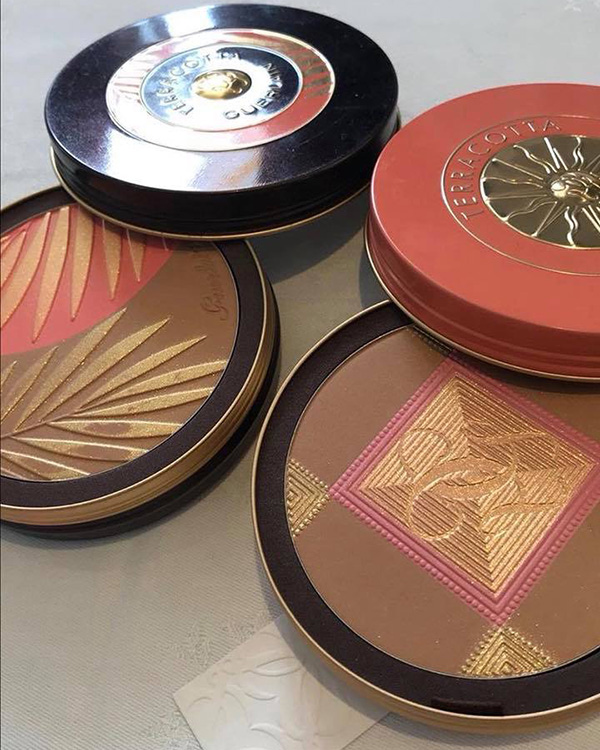 Which one do you like, lovelies? I'm definitely putting Guerlain Terracotta Sous Les Palmiers on my list but I might skip Terracotta Route des Iles. What I know for sure is that I'll be swatching them in store and show you what they look like. 🙂