Hello beauties!
UPDATED on 30 August 2020 with SWATCHES | 3 September with extra Promo Photos

We are almost a month away from the release of Chanel Les Chaines D'Or de Chanel Holiday 2020 Makeup Collection. The information was released about two weeks ago and we were lucky enough to see some swatches here and there as well. I also posted about this Chanel Holiday 2020 Makeup Collection on my Patreon Page so do check it out because it's exclusive content that I'm not sharing here.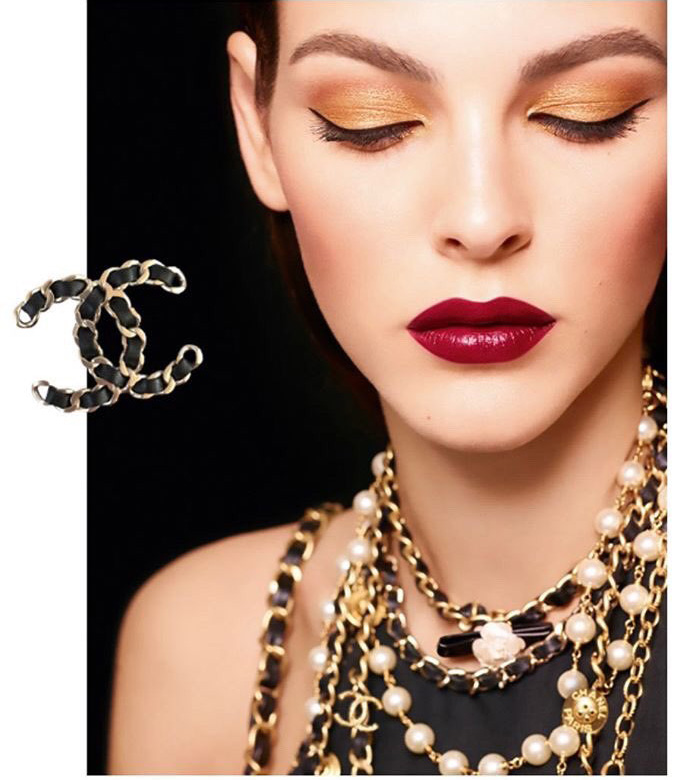 Join my PATREON PAGE and become a PATRON if you want to support me as an independent content creator. You will unlock access to EXCLUSIVE CONTENT on Upcoming Makeup Releases.
U.S. / International Launch Date – October 2020 at Chanel.com | next at Nordstrom, SEPHORA, SAKS, Selfridges, Harrods
Chanel Les Chaines D'Or de Chanel Holiday 2020
Power radiance and elegance. For this new Holiday collection Lucia Pica is pursuing her modern take on Chanel's heritage by refreshing one of Gabrielle Chanel's stylist vocabulary essential, the gold chain.
RELATED: Chanel Les Beiges Healthy Glow Moisturizing Foundation for Fall 2020
As to be expected every product in here will be limited edition with a special packaging. We have 4 Mono Eyeshadows, four lipsticks and a new Illuminating Powder.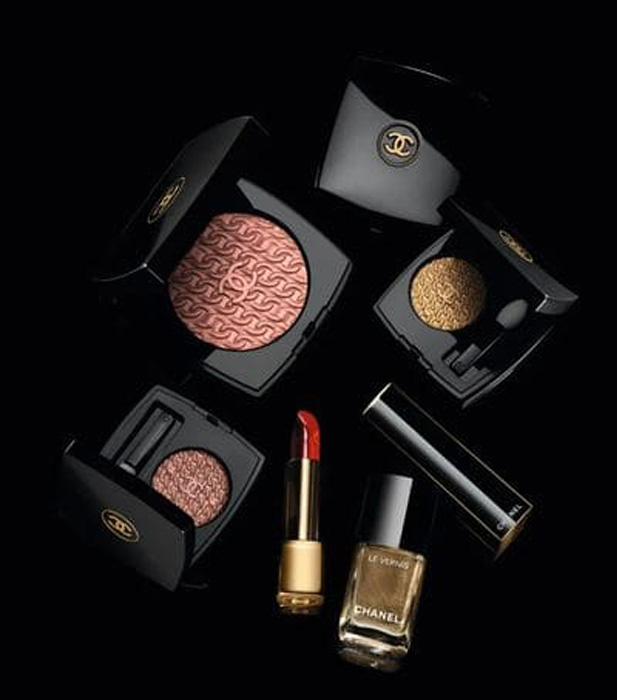 Les Chaines de Chanel Illuminating Blush Powder – Limited Edition – $70.00
There's not much information on this product. If we are to judge by the name it's definitely a blush and the shade is like a coppery metallic pink. Angela van Rose has shown a swatch of this Chanel Illuminating Blush on her Youtube channel so make sure to check it out.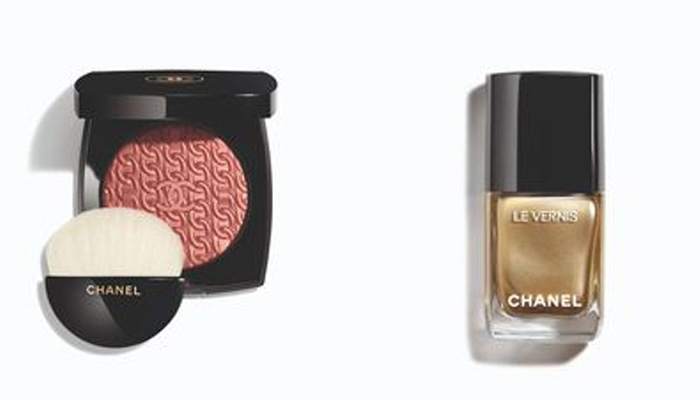 Le Vernis – Limited Edition
RELATED: Chanel Candeur et Seduction (364) Eyeshadow Quad Review, Live Swatches, Makeup Look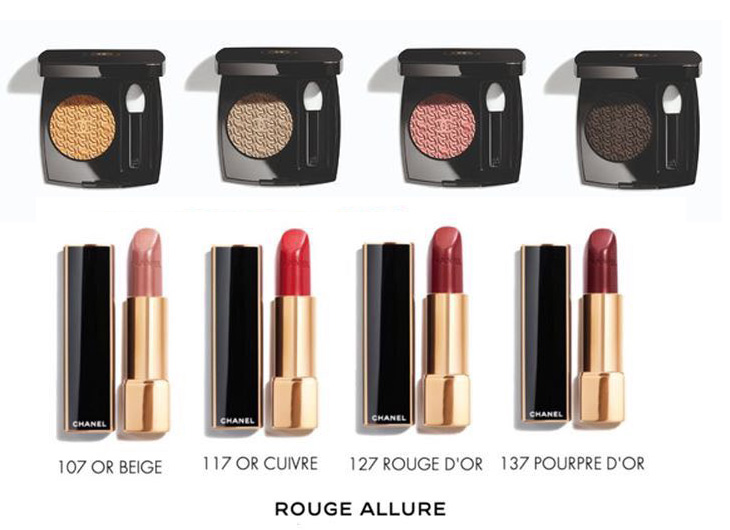 Ombre Premiere Mono Eyeshadow – Limited Edition – $36.00
925 Or Antique
926 Or Blanc
927 Cuivre Rose
928 Cuir Brun
RELATED: Chanel Candeur et Provocation (362) Eyeshadow Quad Review, Live Swatches, Makeup Look
Rouge Allure – $38.00
107 Or Beige
117 Or Cuivre
127 Rouge D'Or
137 Pourpre D'Or
What would you pick up from this collection? I'm tempted to try the Illuminating Blush and some of the eyeshadows just for review purposes. I'll be honest from the beginning as personally I don't like to have mono eyeshadows in my collection so I'll just buy some of the shades for review purposes.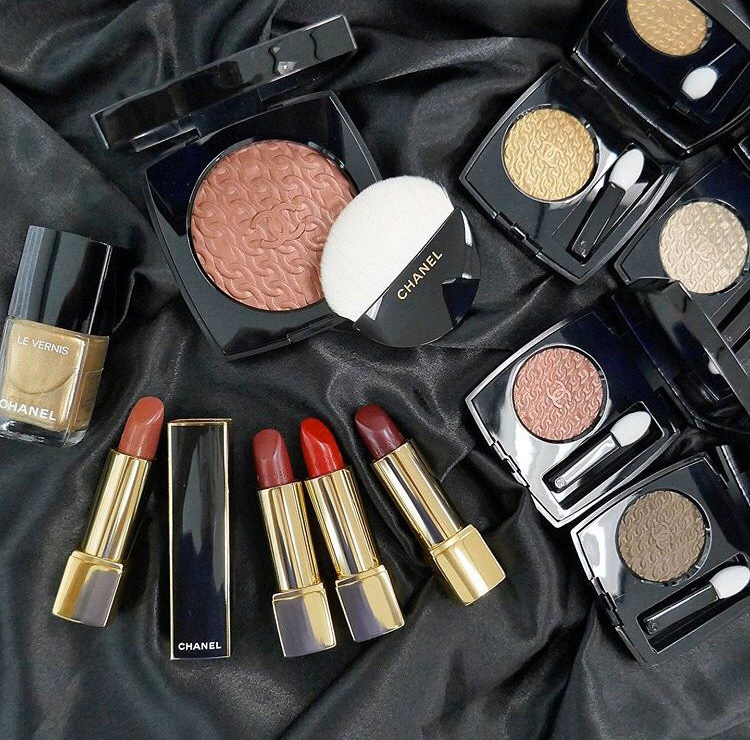 Today thanks to Biteki.com we get to see swatches for all the products featured in Chanel Holiday 2020 Makeup Collection. Let's enjoy them and plan our wish-list wisely. Just like I said earlier on Instagram these colors are not my speed, especially now that I'm seeing swatches. I will still buy this collection for review purposes as I know many of you are waiting for my Chanel Holiday 2020 review but I'll be including all the products in a BLOG SALE afterwards.
I'll probably pick up the Illuminating Blush Powder, the mono eyeshadows and maybe 2 lipsticks. I'll pass on the nail polish since it has been over a year since I stopped wearing nail polish.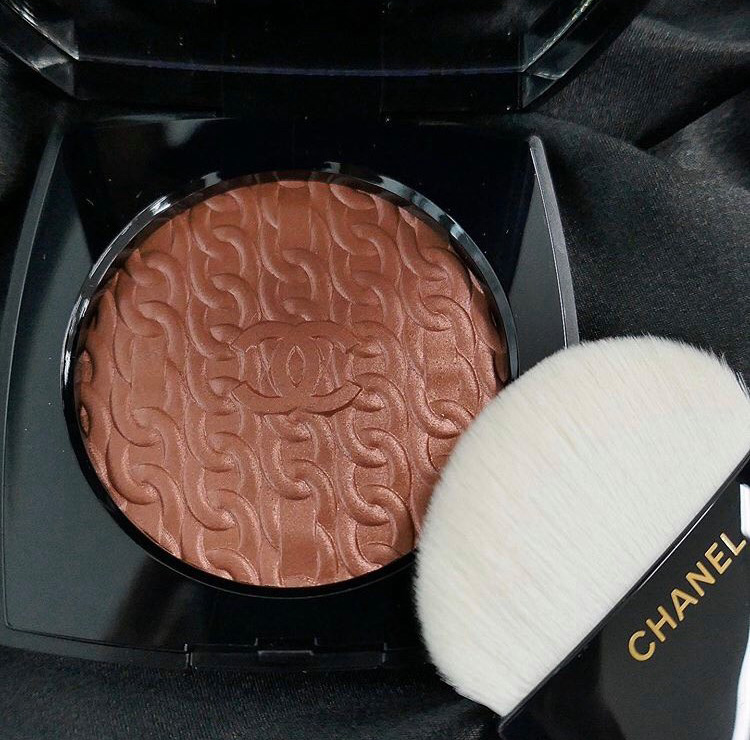 Angela van Rose has shown a swatch of Chanel Illuminating Blusher on this Youtube video and I do think the color will be challenging to wear by fair and light skin tones. I'm definitely seeing this shade complementing better medium and deeper skin tones. I do love the pattern but the color is definitely not for me.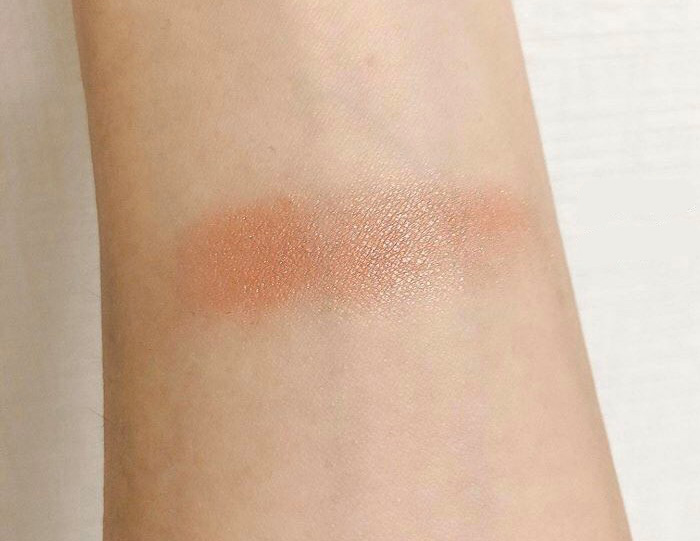 Photo swatch thanks to Voce Magazine
Now let's move on to the four shades of Ombre Premiere Mono Eyeshadows. Same thoughts here I'm afraid. The colors are not that appealing to me. Yes, I'd see myself wearing Or Blanc as a highlighter as well or Or Antique for medium and darker skin colors but nothing special. I mean Chanel did these colors before and this collection is very resembling with last year's holiday release.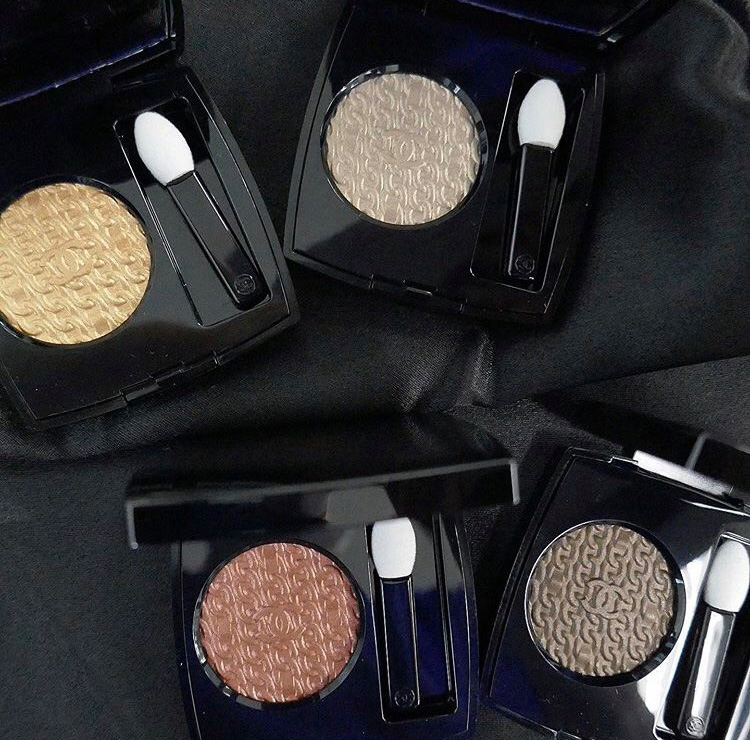 The do look beautiful with this chain pattern and the colors are very wearable I'm sure but I don't feel I need them so badly in my collection. I'm not a Chanel collector even though I purchase a lot from Chanel for review purposes. So I'll be picking up all the 4 shades but I'll be including them in a BLOG SALE after my review. All of my Patrons will have first access so make sure to subscribe to my Patreon before the collection launches.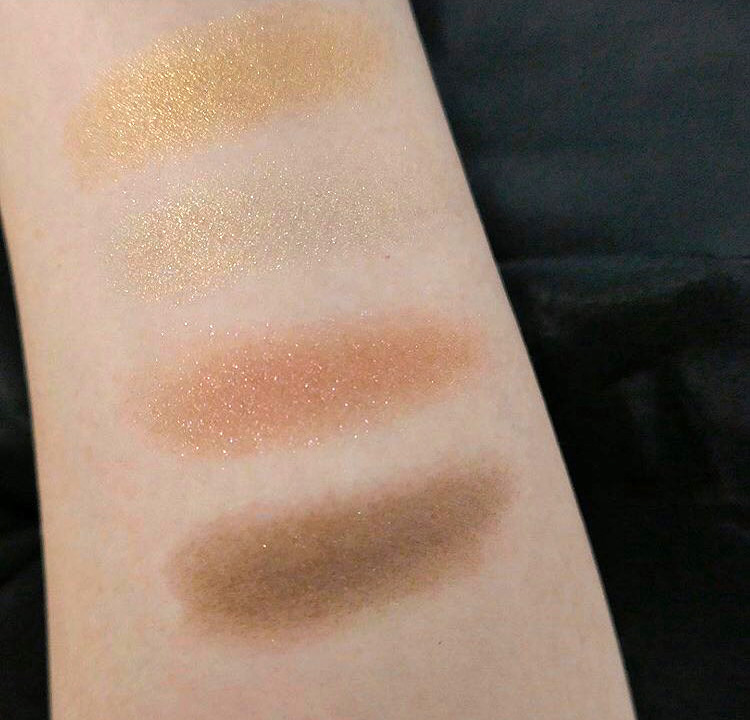 Now moving on to Rouge Allure shades which look really good to my surprise. I'm more excited for these lipsticks than the rest of Chanel Holiday now that I found out the postponed their launch for Rouge Allure Laquers to 2021.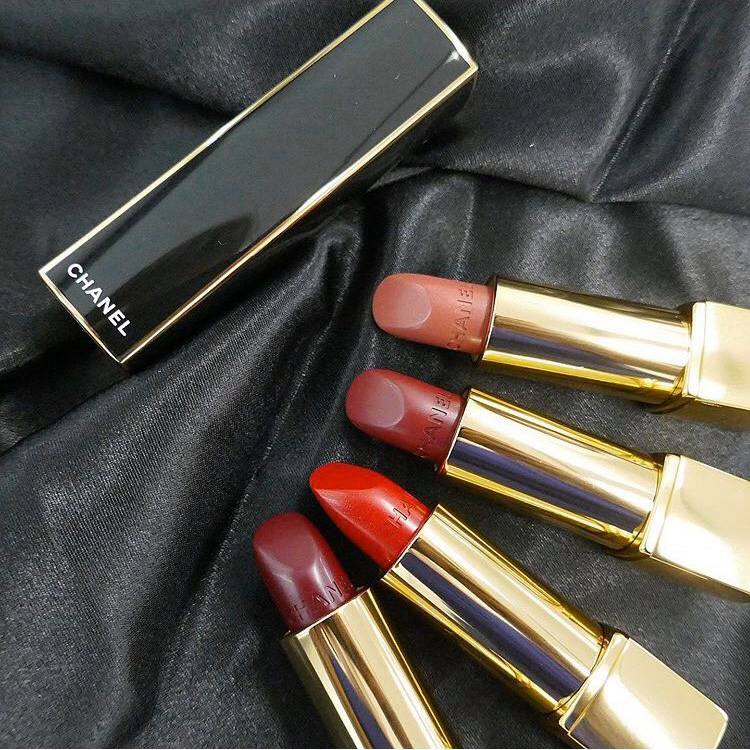 I love how the shades swatch compared to the colors they show in the lipstick bullet. That dark raspberry plum looks really good and I'll probably pick it up. What do you lovelies think?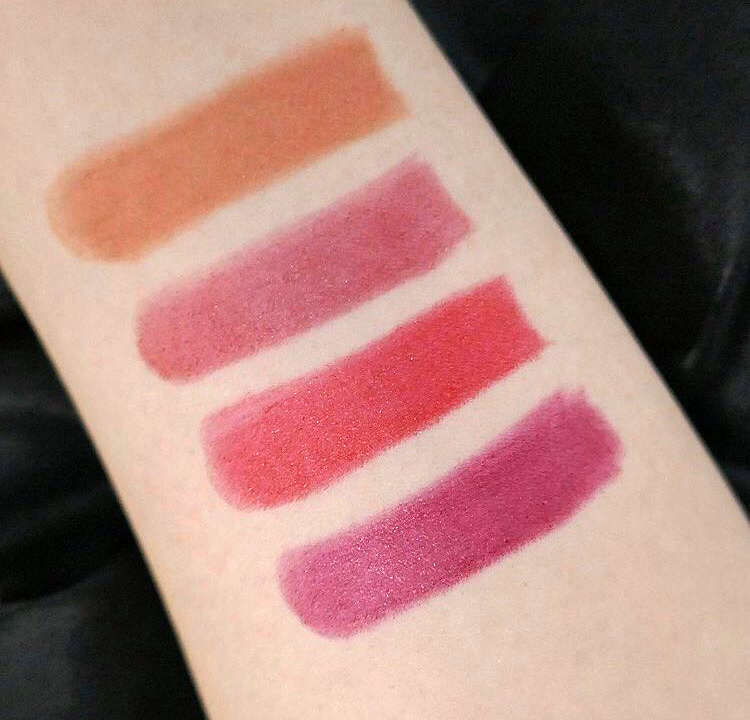 Last but not least we have a close up photo of the new Chanel Le Vernis nail polish. I noticed many of you were interested a lot more on this nail polish than the rest of the collection. 🙂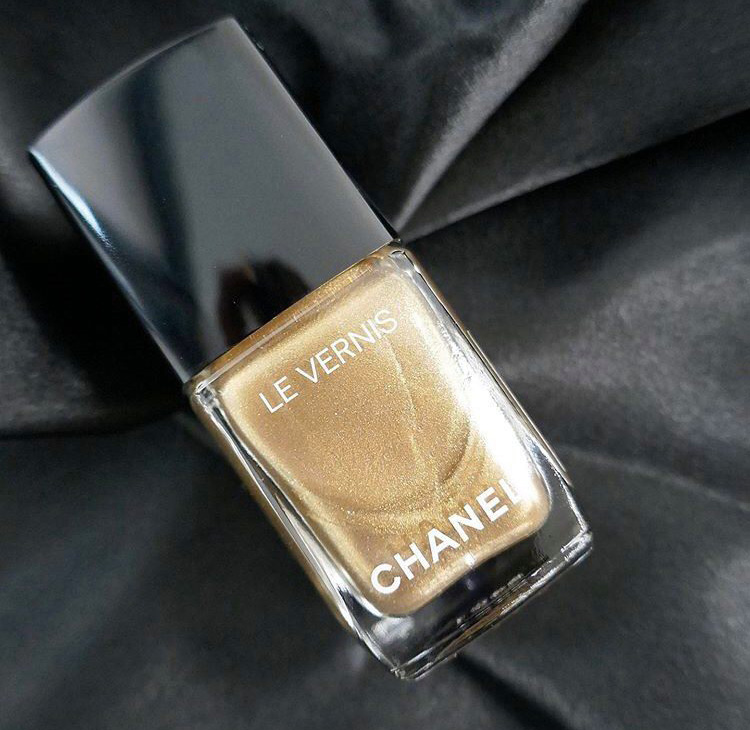 There are lot of updates to be made to this post but I promise I will do separate reviews. 🙂 Today I saw the beautiful promo images for Chanel Holiday 2020 Makeup Collection so I thought why not have all the package and include them here. 🙂