Hello beauties!
While I was browsing yesterday for new beauty temptation I stumble upon the crazy Escentual 25% OFF RRP offer. If you are a beauty addict like me or you just want to save some money but splurge on luxury things at the same time, this is your moment. Browse Escentual website and choose your desired products, but don't forget to apply the code ESCENTUAL25 at checkout to get the discount.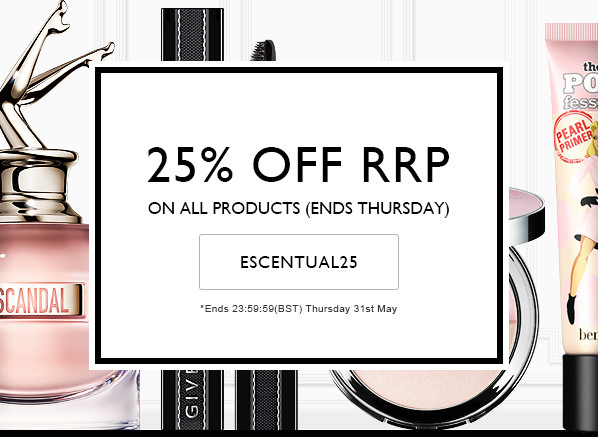 Availability
NOW at Escentual (code ESCENTUAL25) until Thursday 31 May (ends at 23:59 BST )
Shop 25% OFF at Escentual
Yesterday I placed my order for Guerlain Terracotta Sahara Jewel Powder (XXL size) and I got it at £36 instead of £49.00. I mean if this isn't a steal in the beauty world, then I don't know what is. You can definitely get any of your desired Guerlain product with 25% OFF. They have Guerlain Terracotta Route des Iles (£39.00 instead of £52.00) as well, along with La Petite Robe Noire Black Perfecto EDT Florale Spray (£43.00 instead of £57.50 for 50 ml). The prices are just crazy!
SHOP NOW 25% OFF
The more I browse Escentual and I see the offers, the more I'm tempted to place my second order today. I've seen the gorgeous Clarins Summer Bronzing & Blush Compact (£24.64 instead of £32.00) in person when I was in the store to buy Guerlain Meteorites Le Parfum (review). It was just screaming my name but my wallet was not prepared for it then.

SHOP THIS POST 25% OFF
I was honestly caught by surprise by this sale and I know time is ticking away and the offers expires at the end of this month. Viktor & Rolf BONBON Spring Summer Sparkling EDT Spray (£44.63 instead of £59.50 for 50 ml) has also been on my list. I know the BONBON has a very sweet and strong scent but I bought all of the editions so far. Can you blame me for being in love with this gorgeous bottle? 🙂 I admit I use the perfume mostly during the cold season because it's too strong for me when it's warm outside.
Another offer that got my attention is Bioderman Sensibio H2O Micelle Solution 2 x 500 ml Duo Pack. Not only that the pack features 2 large size bottles but is on promotion as well discounted from £31.60 to £18.50. If I'll add the 25% OFF, it's like almost getting it for free honestly.
SHOP THIS POST 25% OFF
Well, these are just some of my picks that I'm thinking of getting them today. I'll let you browse quietly and please drop me a DM on Instagram or via comments bellow and let me know what did you steal from this offer.
I know a few of them already purchased the Guerlain Terracotta Sahara Jewel XXL Powder so happy shopping! There are some hot offers going on, so let me know what items are tempting you!