Hello beauties!
When it comes to reviewing a fragrance, this can be one of the most subjective articles. I truly find it hard to review Guerlain Meteorites Le Parfum the new 2018 edition. This is by far, the most requested review of this month so I'm trying to organize my words. The same fragrance may smell different or unrecognizable on different people. I'm just advising that you get to the store and sniff this one before you make purchase decision.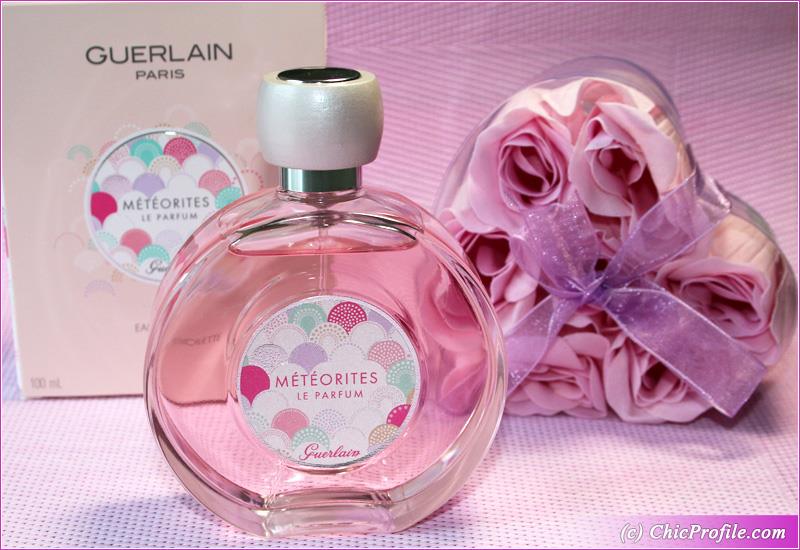 Where to buy:
UK – Now at Debenhams, Escentual (best price -> £46.80 instead of £52.00)
Guerlain Meteorites Le Parfum Review
I bought online at Debenhams (they had a 20% sale last week) without trying it before because I knew I wanted to have it no matter what. I'm in love with Guerlain Meteorites and I love the powdery smell that somehow takes me back to childhood. 🙂
I had high hopes for the new edition of Guerlain Meteorites Le Parfum. Maybe, too high. So many of you asked me via DMs after my Instastories went live the other day, what's wrong with this fragrance. Doesn't it smell just like the famous Meteorites Perles (or compact powder)? Let's recap what Guerlain says about this new scent.
Guerlain Meteorites Le Parfum (£52.00 for 100 ml / 3.3 fl oz) is a new Eau de Toilette created by Guerlain Perfumer, Thierry Wasser. It has floral, fruity and powdery notes that reveal all of the delicacy and femininity of the famous Meteorites multi-coloured pearls.
The packaging
Let's skip to the easy part now which is the packaging. I can't help seeing the resemblance between Meteorites Le Parfum bottle and Chanel Chance or Terracotta Le Parfum. Even though we are looking at a beautiful satin print which reproduces the symbols of the Meteorites range, doesn't seem impressive at all. The wooden cap of a baby pink color looks more ecologically rather than high end.
Overall the packaging looks very girly, insinuating a fragrance for a younger audience. It doesn't mean that it actually is, but I would have preferred a more luxurious packaging inspired by Les Meteorites Perles beautiful limited edition cases.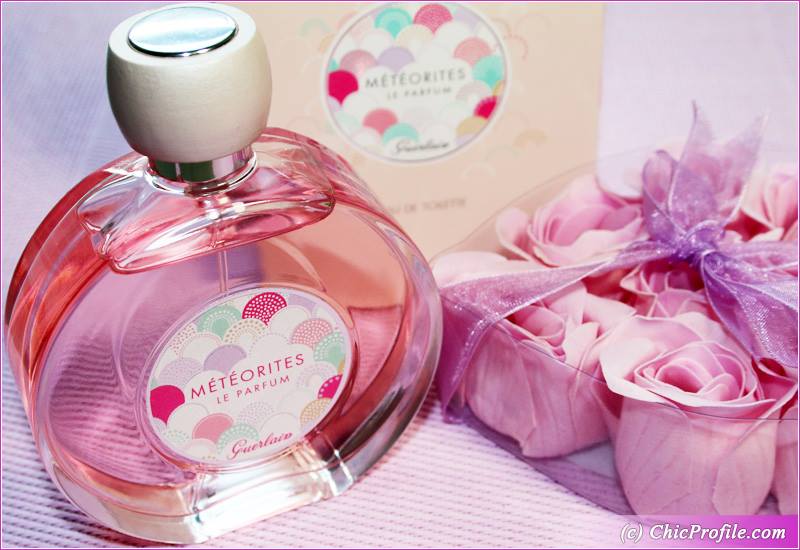 Guerlain Meteorites Le Parfum Notes
Now let's move on to the scent itself, which is what really matters after all.
Top notes: bergamot, apple note, green notes
Heart notes: rose, violet
Base notes: white muscs, woody notes
My impression
It's definitely a powdery and sweet fragrance. Maybe too sweet for some of you. It does take a bit of the scent from Meteorites Les Perles, but this will fade away pretty quickly. It's a bit fruity and can be perfect for Spring, but can be too sweet to wear during those hot summer days.
Honestly I'm 50-50 about this fragrance. As much as I like the Meteorites scent, this perfume doesn't preserve it. I constantly have to apply it again and again. This Meteorites scent which is the first olfactive impression that you get when you spray it on yourself, it doesn't last on me for more than 10-15 minutes.
It's definitely "not an olfactive powerbomb" if I can quote Monsieur Guerlain. It's not a perfume that will linger on you for the entire day. I personally felt the need of re-apply every 3 hours. It just fades away so quickly. Call me crazy or not, I did asked other people to tell me if they can sniff the perfume on me after 4-5 hours and they said I might be wearing something very very subtle.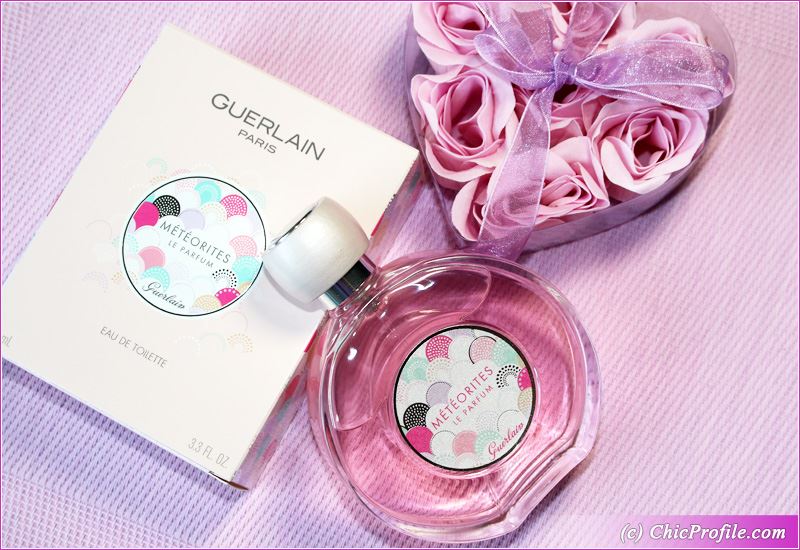 I was honestly hoping that Guerlain Meteorites Le Parfum would actually be a perfume and not an Eau de Toilette. I was a bit disappointed by this but is not something that I couldn't have overlooked if the scent was more long lasting.
Once that first meteorites smell goes away, a powdery scent takes over. I would have loved for the violets to take over at this point, but I personally find it more powdery than fruity or floral. Actually on me it doesn't smell like a fruity fragrance at all, but then again you'll have to test for yourselves.
Final thoughts & recommendation
If you are Guerlain lover like me, you'd probably want to get this perfume without even smelling it first in the store. If you are a beauty of perfume collector, you'll definitely get it for sure. But if you are not in a hurry to get it and you want to make sure you'll use it and not make it another piece of your perfume collection, just go to the store and try it on. Ask for a perfume sample if it's possible and if not, try it on yourself, walk around the store for 15 minutes or just come back later.
Allow yourself time to see how it really feels on your skin. Even now as I'm writing this I can sense only the powdery accords on myself and not so much the floral or fruity ones. It may definitely smell different on you, but I guess is not the fragrance that I was hoping for. 🙂
I'm definitely going to still wear it, but I need to keep the bottle close by. I can't count on it to linger on my skin for more than 3-4 hours. A perfume is such a personal product. It can be entwined with a memory and this is personal. 🙂
SHOP THIS POST