Hello beauties!
Getting 20% OFF on Makeup Palettes at Cult Beauty is a hard thing to resist. You didn't get the chance to buy that palette as it was to expensive before? Well now you can save a bit of money and take advantage of the 20% OFF discount. I'm talking Huda Beauty, Anastasia Beverly Hills, Viseart, Hourglass, Karl Lagerfeld, BECCA, Zoeva and so many others.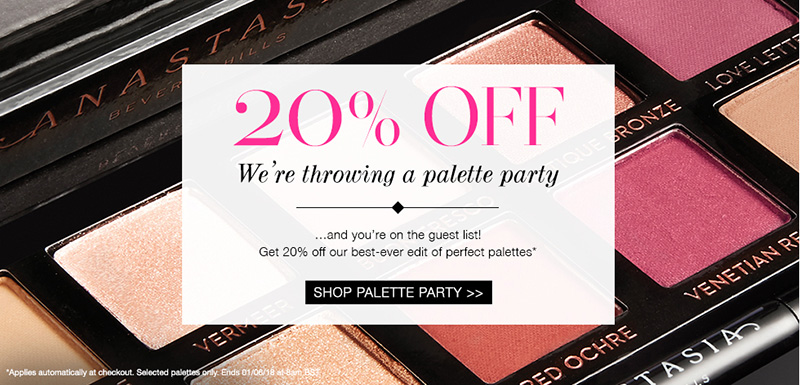 Availability
UK & International – Now until 1 June 2018 at Cult Beauty (the discount applies at checkout automatically)
Cult Beauty 20% OFF on Makeup Palettes
There's a heaven of makeup palettes at Cult Beauty right now and they are discounted by 20%. I would love to get my hands on some of them.
I have reviewed all the Huda Beauty Palettes if you want to check out swatches. Later this week I'll be reviewing the new Rose Gold Remastered Palette but for now you have live swatches HERE on my Instagram. So now you can get the Desert Dusk Palette for £44.80 instead of £56.00 and the mini Obsessions for £19.50 instead of £25.00.
SHOP HUDA BEAUTY 20% OFF
If you've ever been tempted by the famous ABH palettes, now you can get them a bit cheaper. When the Modern Renaissance Palette launched it was crazy expensive to get it in my country back then so I said pass. Today I'm thinking seriously of paying only £34.4 instead of £43.00 and buy it. At least I know it had so many positive reviews and the quality is awesome.
SHOP ABH Palettes 20% OFF
SHOP BECCA 20% OFF
SHOP HOURGLASS 20% OFF
Have fun shopping!