Hello beauties!
Lancome Rose Glow Custom Highlight Drop is one of the new four shades launched this Spring. Actually Lancome Custom Glow Drops Collection (swatches) launched about a month ago and I hurried up to the counter to see it. Rose Glow is a shade that will complement light and medium skin tones, while Bronze Glow is for deeper skin tones. The four shades are divided into 2 highlighters, one strobing and one sculpting shade. If you like Cover FX Custom Enhancer Drops, Lancome Custom Highlight Drops is a cheaper version.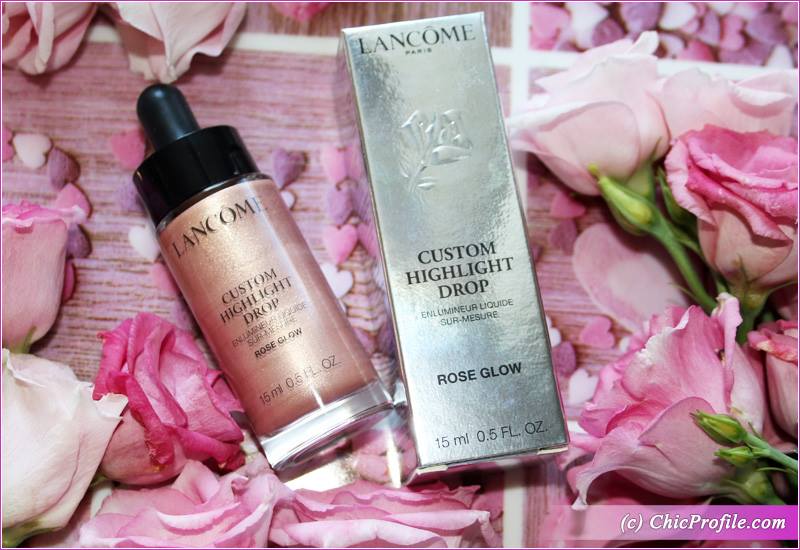 Where to buy:
U.S. – Now at Neiman Marcus, Saks, Nordstrom, Macy's
UK – Now at Debenhams (10% OFF), Look Fantastic, FeelUnique, Harrods, Selfridges, Lancome UK
Germany – Now at Douglas.de
Lancome Rose Glow Custom Highlight Drop Review
Lancome Rose Glow Custom Highlight Drop ($35.00 / £26.00 / €35.00 for 15 ml/ 0.5 fl oz) is a medium, rosy copper with warm undertones and a pearly sheen. The color payoff is excellent with a metallic finish. It's pigmented and easily buildable but you can customize it as you like. It can come as sheer as you desire, depending on how much you apply.
The formula is liquidy, but not so liduidy that feels runny. It just stays put on the skin without running down your cheeks so you can work out the product. The formula blends seamlessly with the foundation or on top of it. There are so many ways to use this product, but we'll get to that in a bit.
The finish is metallic but I like that I can customize the opacity. As a light skin tone, I don't need too much pigmentation or intense finish. What I really liked is that when I tried to build up the color (for review sake) I used even 3 layers and it didn't emphasize my skin texture or pores. It looks so seamlessly and well blended on top of my foundation. I absolutely love the effect. The texture is very lightweight and is suitable for all skin types. I'm a combination skin and it lovely on me.
You can see me wearing Lancome Rose Glow Custom Highlight Drop HERE on my Instagram. If you are a follower you've definitely see me wearing it a lot in my Instastories and Highlights.
Throughout the wear it stays put, doesn't look cakey or patchy at all. It doesn't settle into fine lines so it can be wore by more mature women as well. I'm in my late 30's so I do have a problem with any liquid formula that will emphasize my lines. Lancome Rose Glow Custom Highlight Drop just doesn't do that. It wore well on me for about 10 hours.
How to Use Lancome Rose Glow Custom Highlight Drop
As I said, there are so many different ways to use this product. If you want to get an all over glow you can mix it with your foundation. It blends so easily and looks beautiful thanks to its light-reflecting pearls. Be careful not to put too much because it has an intense shimmer. It works seamlessly with any foundation. I've tried it with Dior Forever Undercover, Diorskin Forever Perfect Mousse, MustaeV Skinny Tint Foundation, Giorgio Armani Powder Fabric.
If you are looking just for a highlighter then you'll use it on top of your foundation. I personally apply it with my fingers on top of my cheeks and then use a dampened beauty blender. During the day I like a beautiful glow but with a softer intensity. It's totally up to you how much intensity you want and can build up the color easily. In the afternoon I tried adding up to 2 extra layers and it still didn't look cakey at all. The intensity was a higher metallic finish, which is great for an evening makeup look. You can then use it on the nose bridge, cupid's bow or brow bones. Totally up to you!
There are days when you don't want to be bothered with makeup and you want to keep it simple and casual. In this case all you have to do is mix it with your moisturizer.
Works wonderful as a shimmery eyeshadow. You can use it as a base and add powder eyeshadows or a bit of glitter on top of it. Or you can just keep it simple and just go with it all over your lid and that's it.
What I don't like about Lancome Rose Glow Custom Highlight Drop
The perfect product is rare to find. Is either the formula, the pigmentation or the consistency and the way it applies and looks on the skin, or even the packaging. Thank God that my only problem with Lancome Rose Glow Custom Highlight Drop is regarding the packaging. It comes in a sturdy, transparent glass bottle with a pipette as an applicator. Right on the bottle you'll find the instruction on how to use it. Definitely you'll have to shake the bottle before picking up the highlighter with the dropper. So far, so good! What I don't like is the dropper or pipette, call it as you wish. As the formula is not very liquidy, it picks up product, but not too much.
For me personally is enough what I get from the dropper but I'm using just a bit amount of product. In case you want more pigmentation you'll have to dip the dropper a few times to get more product. Sometimes I just shake the bottle and just put some product directly on my finger so I can tap it on my cheeks. Just like I used to do with Revlon Colorstay Foundation back in the days. 🙂
SHOP THIS POST