Hello pretties!
I'm so very happy to give you my full review about MustaeV Skinny Tint Foundation, a product that I've been using for two months now. Over the years I've tested a lot of foundations and I prefer those which can offer me a natural coverage and a soft satin glow as I have a combination and sensitive skin type. My go to foundation for years has been Max Factor Second Skin Foundation (review, photos) and since it has been discontinued two years ago I've been constantly looking for the perfect one and now I finally found it.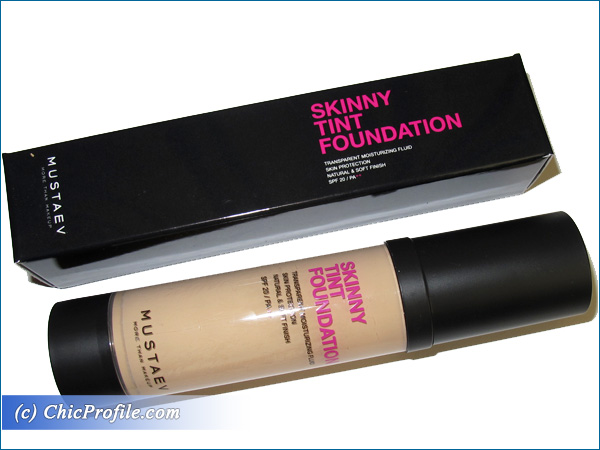 Availability
Now @mustaevusa.com (15% Discount using discount code: chicprofile), @mustaev.co.kr
MustaeV Skinny Tint Foundation SPF 20 in Bright Beige ($33.00 for 40 ml/ 1.5 fl oz) is a light beige with warm undertones which is suitable for those with fair, light and medium skin tones.
I first got to try this product as a sample a couple of months ago and Bright Beige shade was a perfect match for my light skin tone. Currently MustaeV offers only 3 shades but is working on expanding its spectrum of colors.
The packaging is very simple, easy to open and use as the product comes in a transparent plastic bottle with a black cap and a pump. I have to say that I was surprised in a good way to see that it contains more product than the other foundations and the price for this quality is very affordable.
I've posted over the past few months different makeup looks (photos) using MustaeV Skinny Tint Foundation SPF 20 and as you will see from the photos it provides a sheer, natural coverage which can be built to a medium coverage. It glides easily across the skin without looking streaky or cakey and it can be applied with foundation brush, sponge, beauty blender but I honestly prefer to use my fingers. It's true that I rarely have skin problems, like zits or blemishes that I need to cover but I like how incredibly lightweight and natural this foundation looks on my skin.
Many times I've got people asking me what product I've been using that makes me look so fresh, natural and glowing even when I had only 3 or 4 hours of sleep. If you've tested Max Factor Second Skin Foundation and loved it and if you usually prefer light coverage foundations then you should definitely give this one a try.
It gives the skin a dewy finish and I believe it would be suitable for all skin types as it maintains skin hydrated all day long but without making your complexion looking oilier. As a combination skin type I'm always concern about foundations that will make my T-zone look greasy or oily after a couple of hours but that has never been the case with Skinny Tint Foundation.
It's true that I've been using this foundation while here was winter and we had snow and terrible cold temperatures but also now in the spring when the climate is warmer. I will keep using this foundation during the summer as well when the temperatures are crazy hot and I will update this article and let you know how this product performs.
I always apply a loose powder on top of MustaeV Skinny Tint Foundation and my complexion looks flawless for about 6 hours and after that I start noticing that my T-zone starts to look just a bit shiny so I use an oil-control paper.
Honestly this has become my go-to foundation for everyday looks, especially when I look tired and I want a fresh healthy appearance. It is blendable and buildable, it feels lightweight and comfortable without fading or caking and also offers SPF 20. The formula is light and liquidy, gliding easily and effortlessly across the skin, evening out my complexion. It doesn't cover pimples or blemishes on its own but when I use a concealer it does a pretty good job on hiding imperfections. I lets the skin breathe without drying it and it feels smooth and natural.
It wears well for 12 hours without fading but I did had to use a oil-control paper after 6 hours as I don't like even the bit of shine on my complexion.
Enjoy more photos…