Hello pretties!
Lancome L'Absolu Lacquer added 18 new shades (swipe for videos) to their lip color line in a new packaging. Lancome First Day, Be Unique, Ultra Rose L'Absolu Lacquer shades were my top three picks. On the day of the launch I headed over to Selfridges, without knowing the new shades have already arrived. There was a huge counter in the middle of the beauty sector hosting these L'Absolu Lacquer precious shades. So I took a seat and started trying on a couple of the new colors. Selfridges offers a Gift with Purchase to celebrate the launch of Lancome L'Absolu Lacquer. Keep on reading for a detailed review and lip swatches.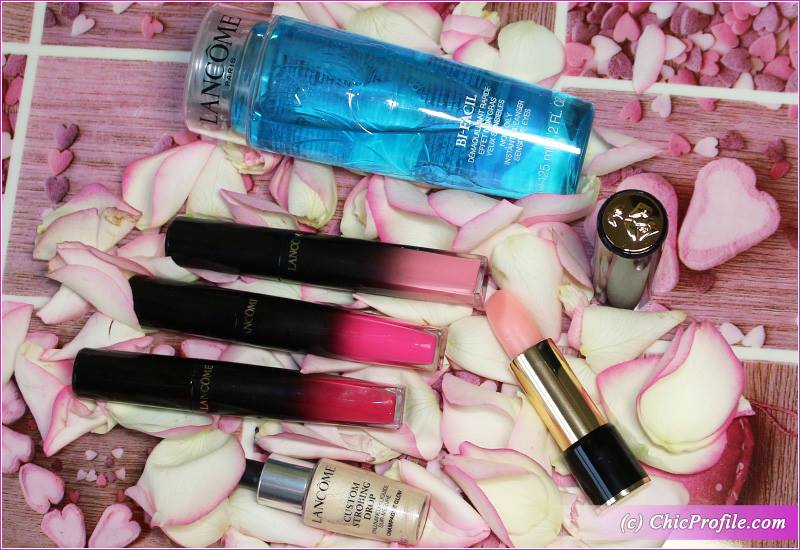 Availability
UK Launch Date – 14 March 2018 exclusively at Selfridges, Lancome.UK | soon at Harrods, Debenhams
U.S. Launch Date – soon at Sephora, Saks, Neiman Marcus, Nordstrom
Lancome First Date, Be Unique, Ultra Rose L'Absolu Lacquer Review
Lancome L'Absolu Lacquer (£23.00 for 8 ml / 0.27 fl oz) is a buildable shine and color longwear lip color with a lightweight formula and high-shine lipstick finish.
Even though the lacquers have the same formula, each color performs differently on the lips. I have three shades to show you today but I'm inclining in getting some nudes as well. So keep checking my Instagram to find out when I'll get more shades of Lancome L'Absolu Lacquer. You know I've always been driven towards pink so my picks of No.312, No.344 and No.378 won't come as a surprise for my faithful readers.
What all the shades have in common is the buildable coverage and shine. The bright pinks, red and plums will definitely look more intense on the lips and very close to an opaque coverage. It's up to you if you want to apply just one layer or follow up with two or three layers. The color will definitely intensify and you'll get even a more long lasting effect. For me personally one or two coats are enough.
The formula has a sweet scent which is not discernible on the lips. The packaging is luxurious and elegant, embossed on the top with the golden rose Lancome signature. I just love how chic and elegant the tube looks, with a gradient shade starting from a luscious black going down in the shade of the each liquid lipstick. The doe-footed applicator has a pointed tip that gives a precise application even without using a lip liner. 🙂
Each shade performed differently on me, from the way it looked to its long lasting effect. What I like most about these liquid lipsticks is the weightless formula with a moisturizing and hydrating feel that goes on for hours. Ups! I forgot to mention that beautiful, high-shine effect of a lip gloss.
Lancome L'Absolu Lacquer Application Tips
You can wear these lip colors in so many ways. If you choose your favorite color (or colors, cuz who said you need to pick up just one) you can set up the pigmentation.
Let's say you are drown towards a sheer, natural look with a dewy shine finish. That is easily translated into one coat of color. You can wear it on a casual day, at the office or whenever you feel like you just want to go more natural.
If you want a more intense color with a high-shine finish then two coats will do the trick. Maybe you want more pigmentation without that completely full coverage effect. A color that will bright up your complexion and show off that juicy shine. This is my second way of wearing Lancome L'Absolu Lacquer.
If you are planning a night out, romantic dinner, clubbing or you just simply want a dramatic lip look then go ahead with 3 layers. The full coverage of the three layers will definitely get heads turning as the color impact and ultra lacquered shine are so strong. I would definitely wear three layers if I were to go clubbing or at a party where I know my lips will be touching the glass (him 🙂 ) pretty often. That color will stay on for hours even when the shine will be gone.
All the three shades I've tried leave a stain behind, but the intensity depends on the color itself. Of course reds and bright pinks will leave a more intense stain that will linger on for a few hours more. The light pink just leaves on a more natural stain which made me curious to try on the nude shades. I'm really looking forward to see how long lasting are they and how strong they'll stain the lips.
In the photos bellow you can see the stains the color left behind after I swatch them. I let them sit on my arm just for about one minute till I took the photos. After that I removed the lacquer swatches but the stains were already showing.
I previously reviewed Lancome Rose Glow Custom Highlight Drop (swatches) which I really like. You should go check out that review and let me know in the comments bellow or DM's if you want a review for the Champagne Glow shade as well. 🙂
SHOP THIS POST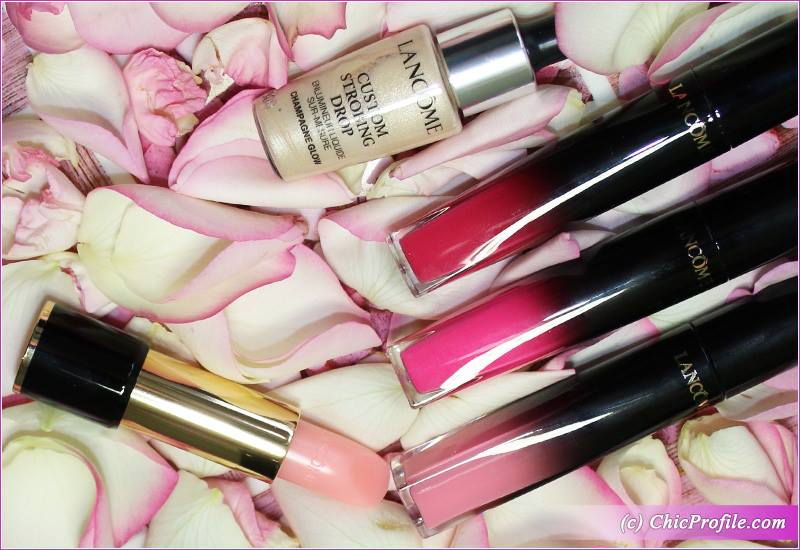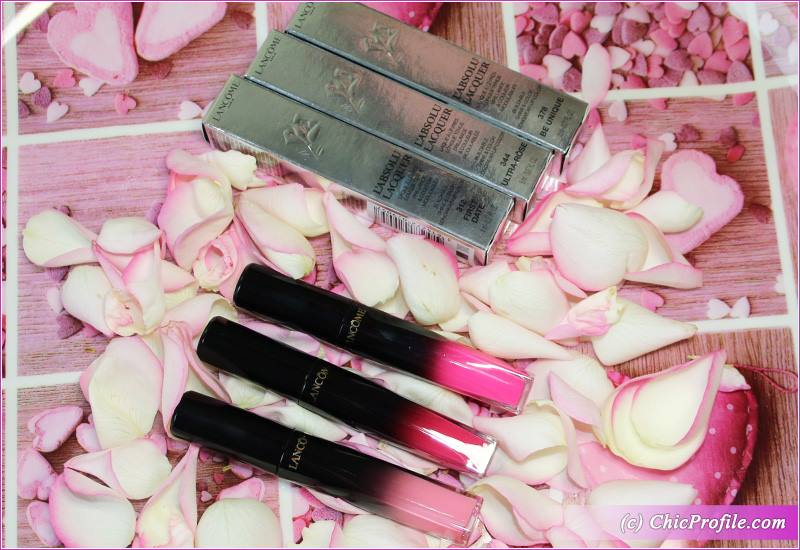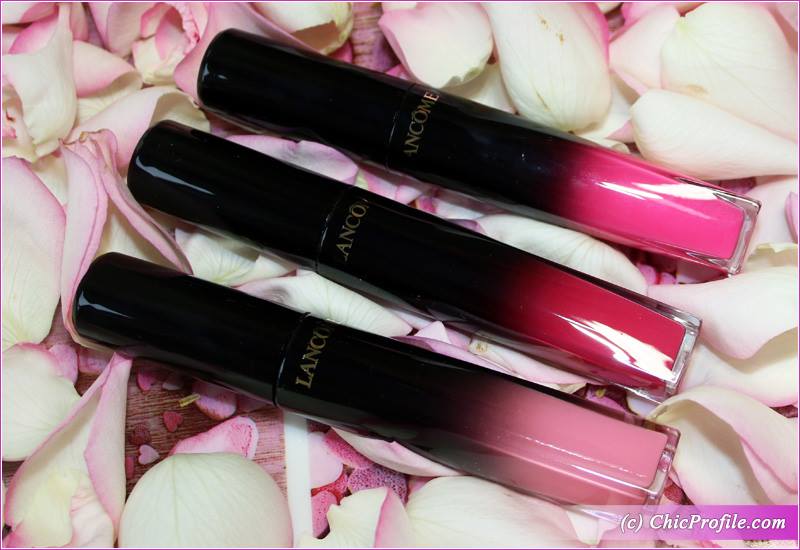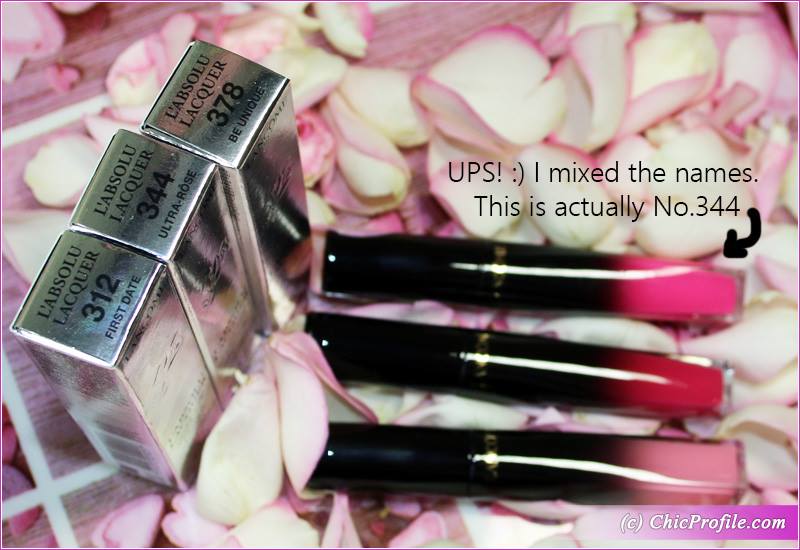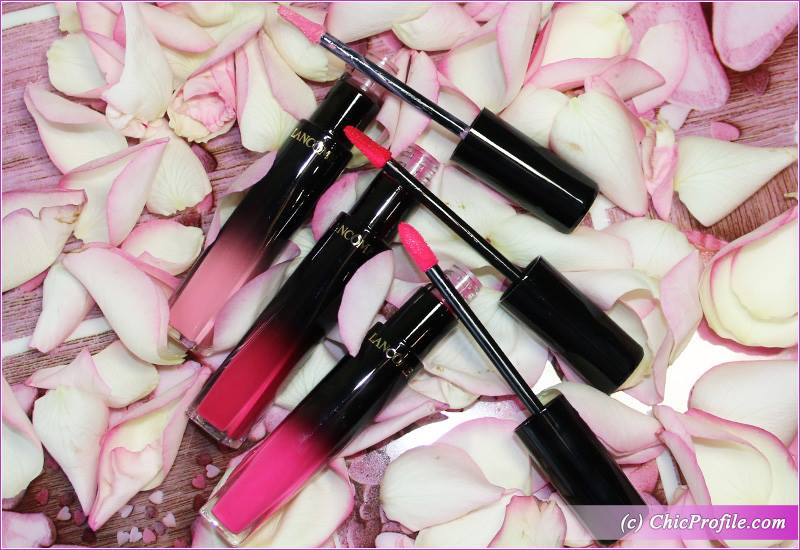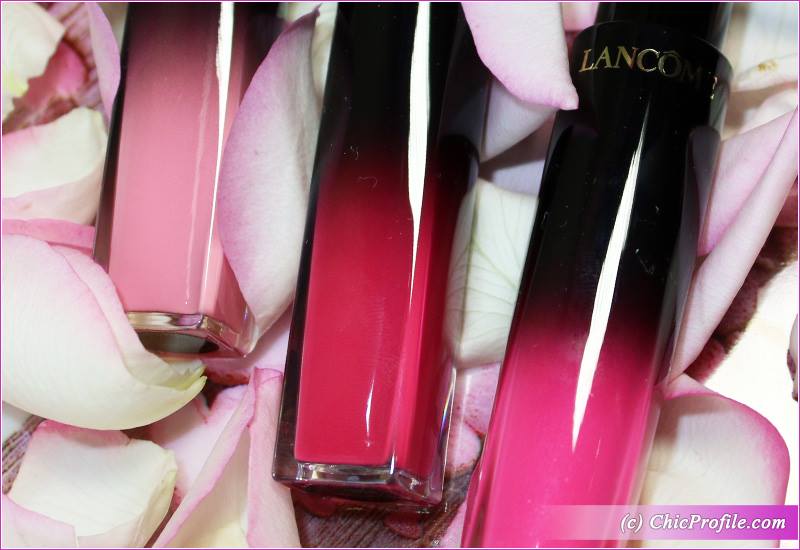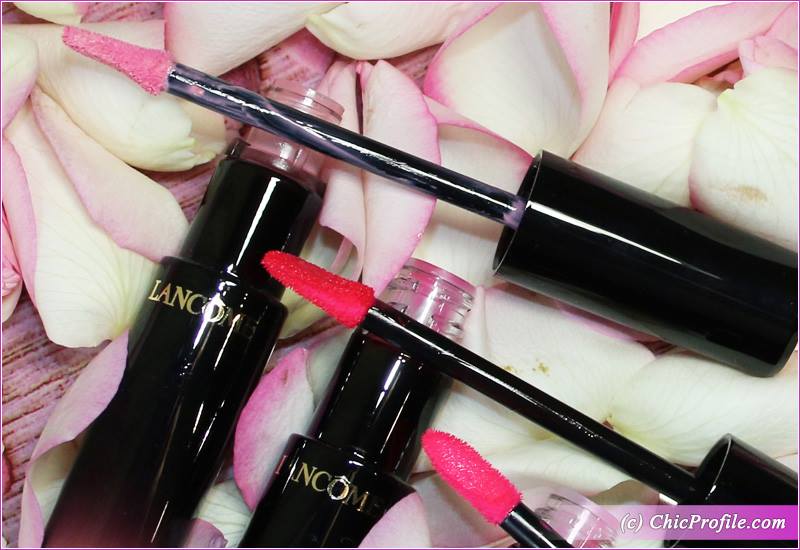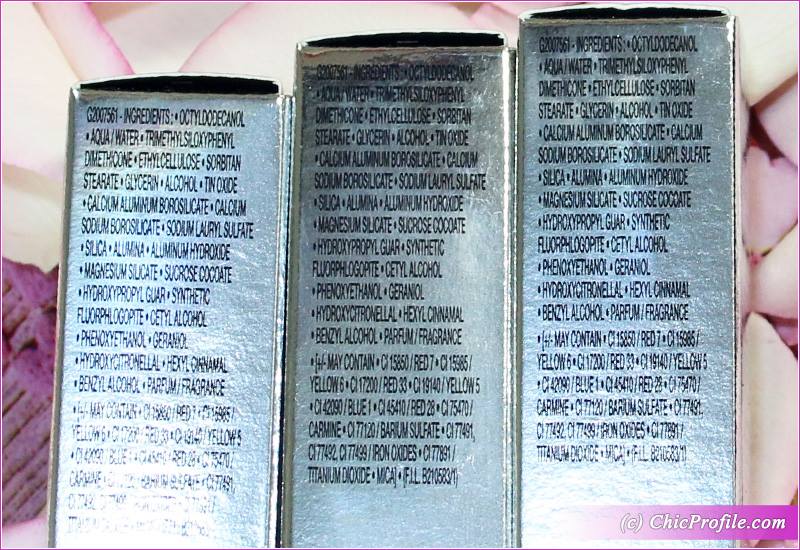 Lancome L'Absolu Lacquer Swatches (under neon white light)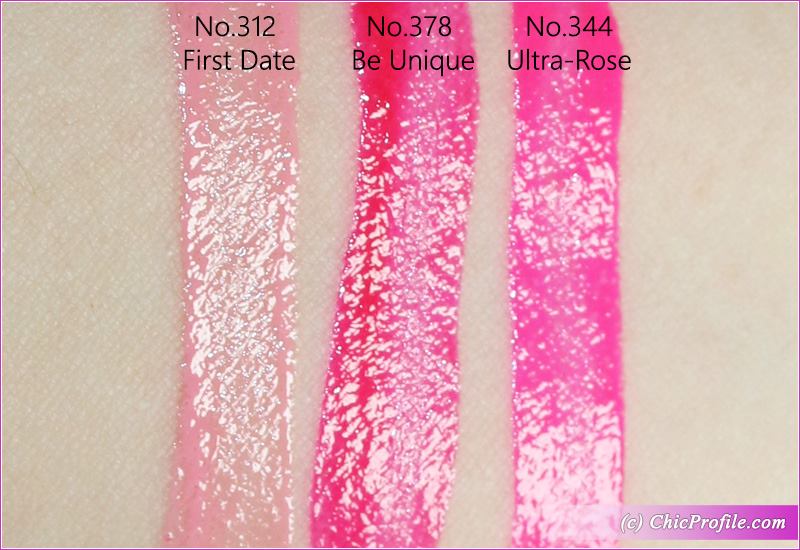 Lancome L'Absolu Lacquer Swatches (under natural light)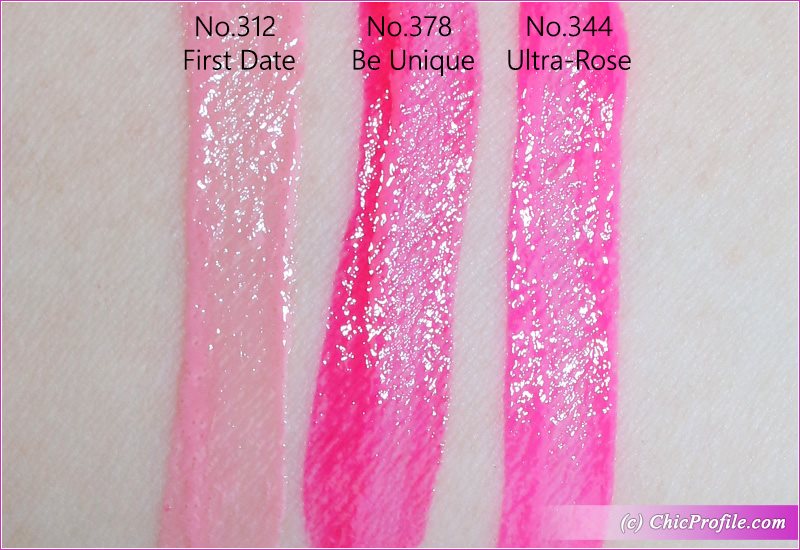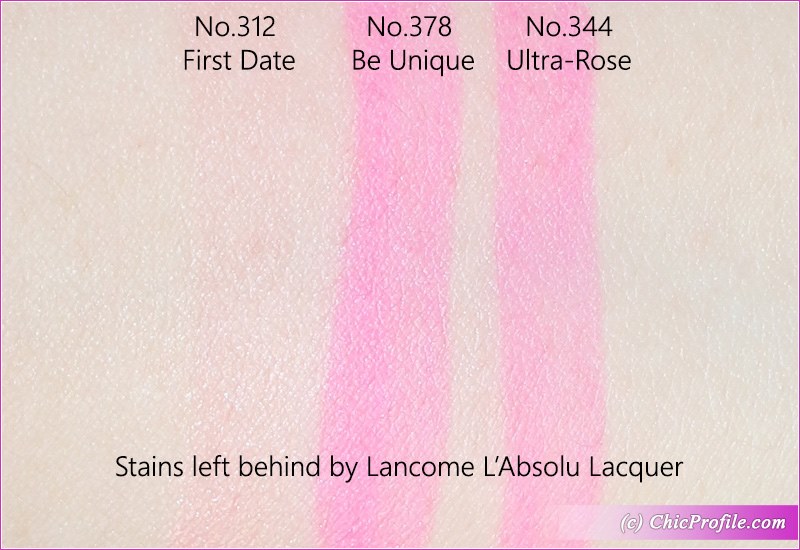 No.378 Be Unique Lancome L'Absolu Lacquer Swatches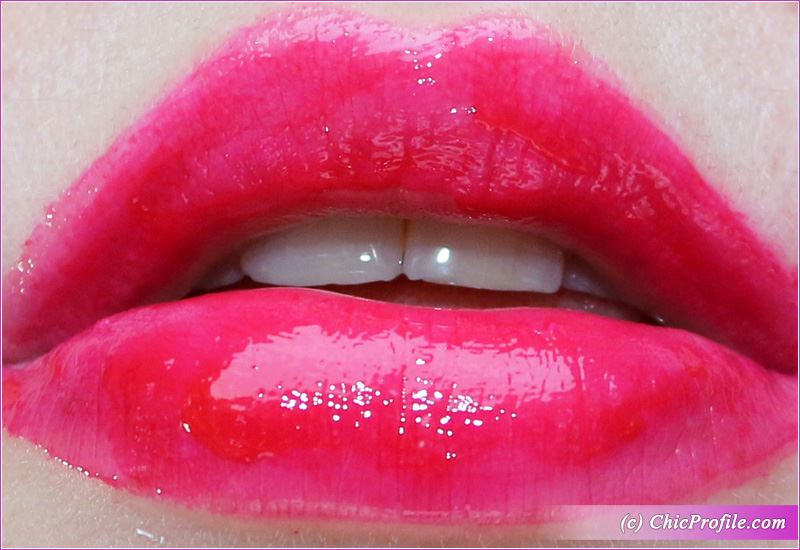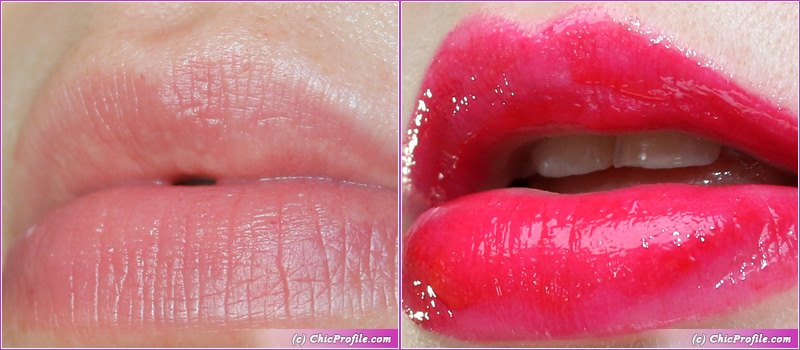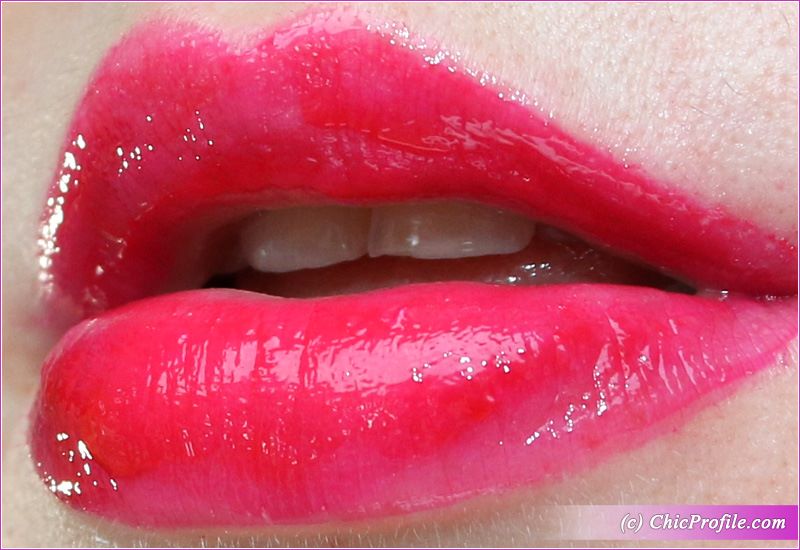 No.312 First Date Lancome L'Absolu Lacquer Swatches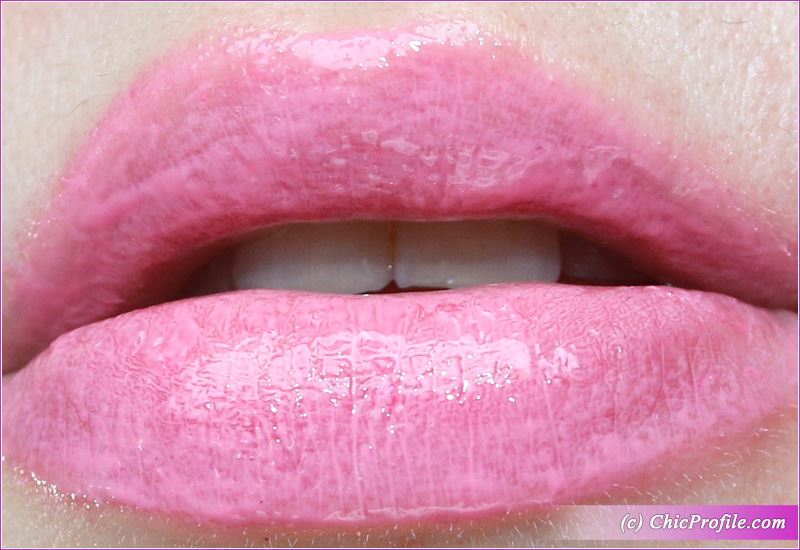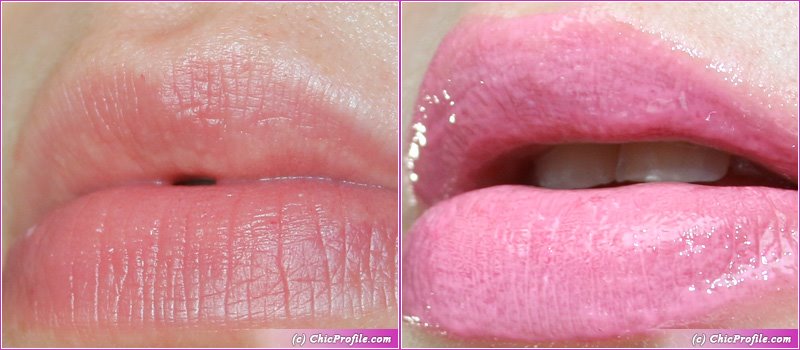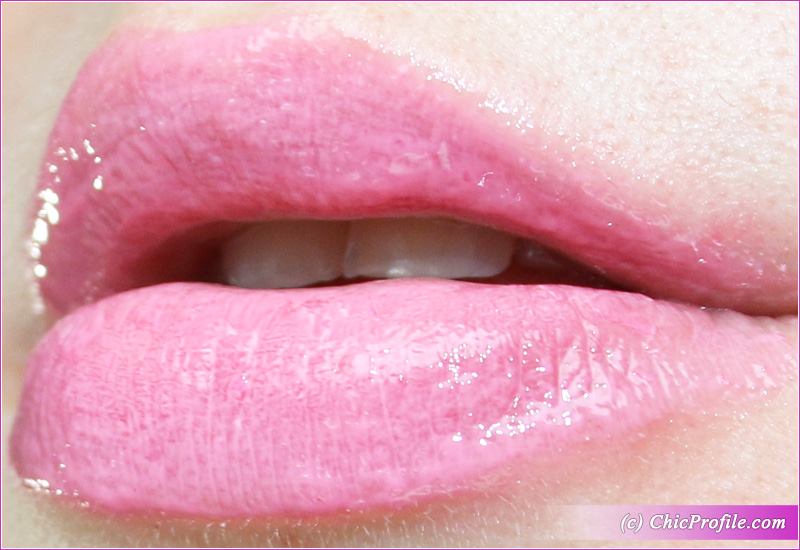 No.344 Ultra-Rose Lancome L'Absolu Lacquer Swatches