Hello beauties!
This year Lancome Rose Lancome L'Absolu Rouge Lipstick comes in a limited edition packaging to celebrate Chinese New Year. I admit that I actually got this one just for the packaging because I already own the Rose Lancome No.368 shade. Yes, that's right and I even REVIEWED Lancome Rose Lancome back in 2016 when the collection launched. It's a permanent shade that received a limited edition packaging for Chinese New Year. You can actually get it a bit cheaper in the classic, normal packaging. This shade is one of my most time favorites so I had to re-purchase it.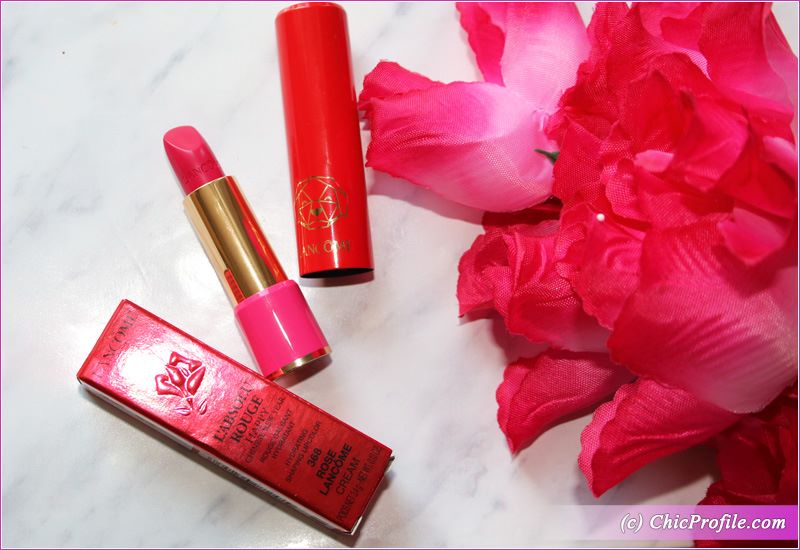 Where to buy:
U.S. – Now at Nordstrom, Neiman Marcus, Sephora, ULTA
UK – Now at Selfridges, Harrods
France – Now at Sephora.fr
Germany – Now at Douglas.de
Lancome Rose Lancome L'Absolu Rouge Happy Chinese New Year Review
Lancome Rose Lancome (368) L'Absolu Rouge lipstick ($32.00 / £25.50 / €35.50 / 155.00 Lei for 3.4 g / 0.12 oz) is an intense raspberry-pink with cool undertones and a creamy, natural sheen.
As I already reviewed this shade back in 2016 since is a permanent color, I'll keep this review short. The packaging is on point, very luxurious and chic and exactly got gets me in a new lipstick. The color is absolutely gorgeous, luxurious and elegant. Is the kind of blue undertone raspberry pink that makes me look elegant and brightens up my face.
I like the texture, formula and finish all together. It glides amazingly across the lips in one swipe providing an intense, opaque coverage. The formula is creamy, lightly hydrating and feels comfortable on the lips. Doesn't sink into lip lines, on the contrary it gives a nice, natural sheen.
I don't know what more can I add at this lipstick anymore. For me is perfect! Perfect color, perfect formula and lasts long time on the lips as well.
They didn't change the formula for the Chinese New Year edition and I'm happy the quality remains the same. I got the same 7 hours wear with this formula with a strong stain left behind. I personally like when lipsticks leave a stain behind, because it takes me at least 2 hours further into the wear. It may be bothering for some, but I personally like it. The formula was lightly hydrating throughout the wear so my lips didn't feel dry for a second.
SHOP THIS POST