Hello pretties!
SUQQU New Base Range launches next week with two new products. In spring and summer, when humidity is at its highest, the downside of wearing foundation comes to light: sticky, powdery, shiny patches due to sebum secretion. I, for instance light to keep my makeup as light as possible during those months. I'm reaching out to the airy lightness of a primer and very light liquidy textures for foundation. SUQQU launches Nude Wear Liquid, a drop of beautifying essence with a loving, nurturing texture, and Blooming Glow Primer.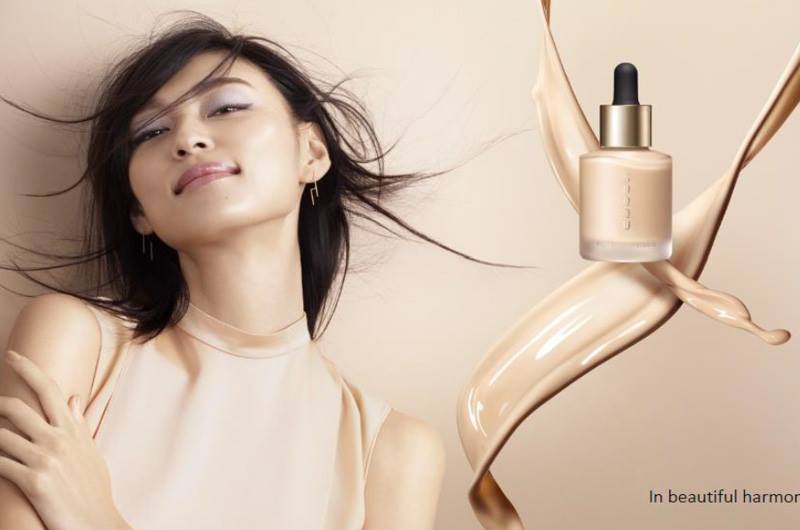 Availability
UK Launch Date – 15 March 2018 at Selfridges, Harrods
SUQQU New Base Range Spring Summer 2018
SUQQU Nude Wear Liquid – New – £46.00
The serum-like foundation has a smooth, rich texture which glides onto the skin producing a fresh radiant look, blending in with absolutely no residue. Skin will have a lively and silky finish.
The formula is infused with "Light Complex", blended with high-reflection oils that gather and diffuse light, so with a high degree of translucency and light-refraction, gives a beautiful radiance that last. It also contains moisturizers to prevent roughness of skin. With a two layers structure of oils and water, the 11 moisturizing oils provide maximum hydration:
Moisturizers: Neem Extract (Melia Azadirachta Leaf Extract), Glycyrrhizate and St. John's Wort Extract.
Beauty extracts produced in Japan Olive Leaf Extract, Angelica Keiskei Leaf Extract, Alpinaspeciosa Leaf Extract and Okura Extract.
Moisturizing Oils: Evening Primrose Oil, Camellia Oil, Rice Squalane, Rose Hip Oil
SUQQU Blooming Glow Primer – New – £40.00
The pink primer gives a hydrating, moisture fresh hit for a high-radiance finish. Delicate as a watercolour pigment, the pink color blends in perfectly no matter what your skin tone tone is, softly tinting dull-looking problem patches for a healthy complexion. It contains light-reflecting lavender pearls to give skin super clarity, while light-deflecting orange pearls make it glow with a natural-looking light. Both types of deflecting pearls boast vibrant pigmentation.