Hello sweeties!
Is my great pleasure to review Dior Sweeten 5 Couleurs Eyeshadow Palette today. As you know this is a limited edition release part of Diorsnow Spring 2018 Collection. From this collection I also bought and reviewed Diorsnow Spring Coral Blush'n Bloom so you can easily say these are my favorite products. Don't forget that Dior is coming up with Addict Lacquer Plump line in March so keep an eye for my reviews. I've already posted swatches on Instagram if you are interested.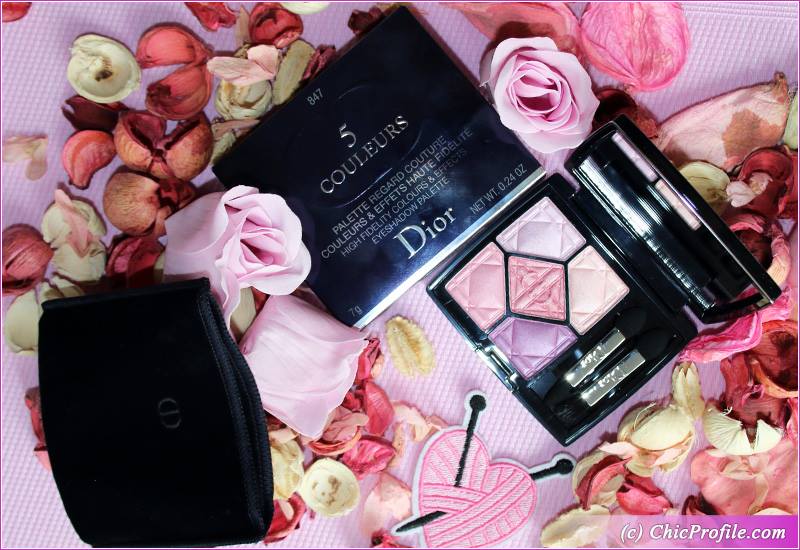 Where to buy:
UK Launch Date – Now at Selfridges, Harrods and Covent Garden Boutique
Dior Sweeten 5 Couleurs Eyeshadow Palette Review
Dior Sweeten (847) 5 Couleurs Eyeshadow Palette (£45.00 for 7 g / 0.24 oz) is a combination of five rosy and lilac shades in very light tones. This is what I can easily call the perfect eyeshadow combination for spring. Well, at least for my taste since you know I'm obsessed with these shades.
They all have a good color payoff, but don't expect a super pigmented eyeshadows here. They will show very well on the lid, but the focus is a luminous makeup. So what you'd basically get is a that satin, almost metallic finish and sheen. It's absolutely lovely if you want a very metallic pastel look. HERE is one of my makeup looks but you can see more on my Instagram Highlights.
I like using this palette for a day makeup look, when I'm looking for a fresh, luminous and light makeup. The shades instantly brighten up my eyes and give me that feminine, youthful look. I would have definitely preferred a matte finish shade in this palette, at least as a transition color. The lightest shade is quite sheer and has a lot of silver sparkle.
The formula is not very creamy or buttery, but it's definitely soft and light. When I dip my brush into the pan they kick off a bit of an excess powder. The dark lilac shade has a formula that feels a bit dryer than the rest. I personally like this palette because of the color combination. I can't say the eyeshadows have a great quality as they could work a bit more on the formula.
They apply well, easily buildable and blendable. They adhere well on the lid if you use an eyeshadow primer to intensify that metallic finish. I tried a makeup look only using these five shades but as a hooded eye girl, I definitely felt the need of a matte transition shade. You can't use satin and metallics without at least a matte color. At least this is what I felt.
Otherwise the palette is really nice, the colors combination is lovely. I got around seven hours wear with them before I noticed they slightly loose their intensity.
SHOP THIS POST