Hello sweeties!
Dior Addict Lacquer Plump just dropped earlier this week in stores. I was very excited about this release as I've posted so many sneak peeks photos and videos of swatches on Instagram. You can check out my post HERE for all the swatches! I was super enthusiastic about this launch when I heard Dior is coming up with a new formula, plumping effect and burst of color. The shades are divided into 3 categories (Pop-Chic, Electro-Shock, Glitter-Killer). I bought a shade from each category and also a limited edition one. Yes! While some of the shades will be joining the permanent collection the others are listed as limited edition. Join me for LIP SWATCHES and close-up photos.
Where to buy:
U.S. – Now at SEPHORA
UK – Now at Selfridges, Escentual (best price £25.65 instead of £28.50) and soon at Debenhams, Harrods
Dior Addict Lacquer Plump Review
Dior Addict Lacquer Plump ($37.00 / £28.50 for 5.5 ml / 0.18 fl oz) line is available in 18 shades. This is a plumping lacquered lip ink that provides intense, long-wear color and an incredibly comfortable texture.
I bought these at Selfridges when they launched and I enjoyed also a redeemable makeup as well as Gift with Purchases. You can see in the photos all the nice gifts I got when I purchased the Lacquer Plumps. So make sure to get your GwP if you are shopping at the counter. I got a Dior Trousse Pouch, Matte Signature Palette Eyes & Lips from the Timeless Look Collection, 2 samples fragrances of J'Adore in Joy, a Dior phone accessory and a sample of Dior Forever Undercover Foundation which I already reviewed.
If you want to save some money you can go and see these lacquers in the store and then order online. Online at Escentual Dior Addict Lacquer Plump retails for £25.65 instead of £28.50 which is the price in store. I'm thinking of getting more shades, as you guys suggested Glitteratti (live swatches) and I'll definitely buy them online this time.
Now let's talk about the colors as I swatched them all. The pigmentation is fantastic, the intense juicy shine effect is absolutely gorgeous. Some of the shades leave a pretty heavy stain so you'll know they wear a long time. Other shades are more forgiving when it comes to staining your lips.
They all have this water-weight formula that you can barely feel it on your lips. I feel like I have nothing on, just the feeling of bare lips. While some of the shades will still show a shine and wet lips effect, the others will dry down to a natural sheen.
Now let's talk about those gorgeous glitter effect shades. So many of you asked me how they feel on the lips. Are the glittery particles chuncky? Can you sense the glitter when you press your lips together? Are they even wearable or just looking pretty?
Here I'm wearing 898 Midnight Star with a glittery formula. The color swatches and looks amazing but I just don't like how it looks on me. It's so pigmented, stains like hell and the formula is amazing. You'll get that intense glittery shiny effect but with a smooth and comfortable formula. You just won't even notice the glitter is there. This applies for all the glittery shades. They give an intense color coverage, super pigmented, weightless formula and beautiful shine.
An oil-in-water emulsion infused with pigments and enriched with a natural-origin hibiscus extract for a plumping effect and hyaluronic acid for moisturization, along with a refreshing ingredient. This is how the formula of these Lacquer Plumps is described. They are some juicy lipstick-ink that will give you a strong color while it tints lips and gives them 8 hours color wear. Check out Dior Addict Lacquer Plump swatches and the stains they left behind.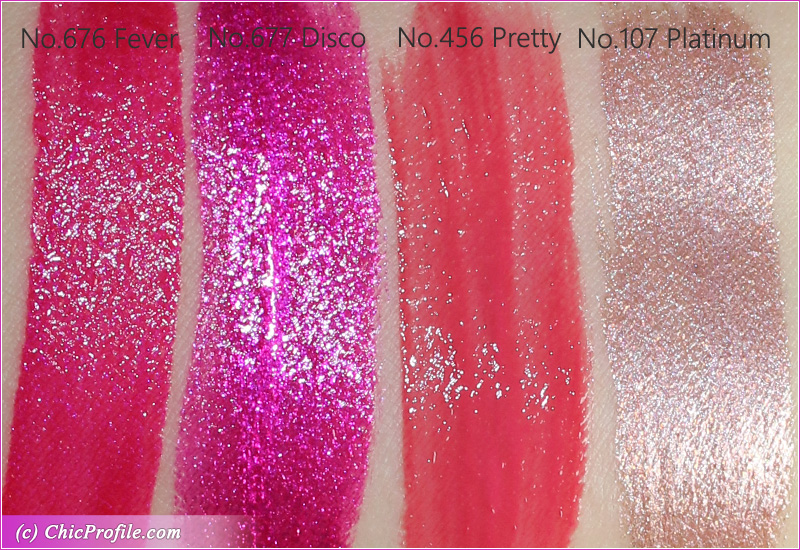 Swatches taken under white neon light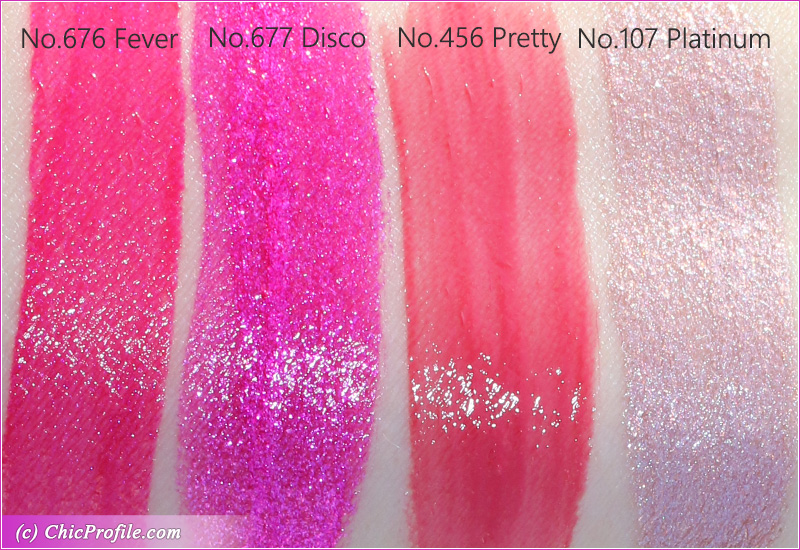 Swatches taken under natural sunny light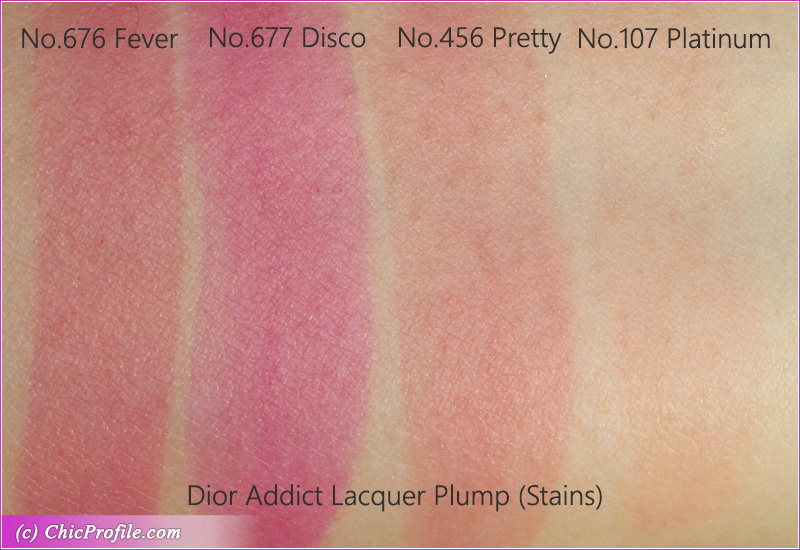 Dior Addict Fever (676) Lacquer Plump is a bright, bold fuchsia with blue undertones and a high shine finish. This is the color that Bella Hadid wear in the promo ad for Dior Addict Lacquer Plump. This is my kinda of shade and I absolutely need to have. I said it before, I just can't stop smiling when I'm wearing a hot pink on my lips. It just brightens up my face instantly and gives me such a good feeling.
The color payoff is excellent, buildable to an opaque coverage with an intense, juicy shine. The consistency is thin but glides evenly across the lips without sinking into lip lines. You get that juicy, high shine effect that will make lips appear fuller. Wait a second! The formula does actually deliver a volume-boosting and shaping effect which a super hydration feeling. Even after you remove the color, the lips still feel moisturized.
I got around with 8 hours wear and a strong stain left behind which lingered on for quite some time. This is one of my favorite shades from this line and you'll definitely see me wearing it often. Just keep an eye on my Instagram.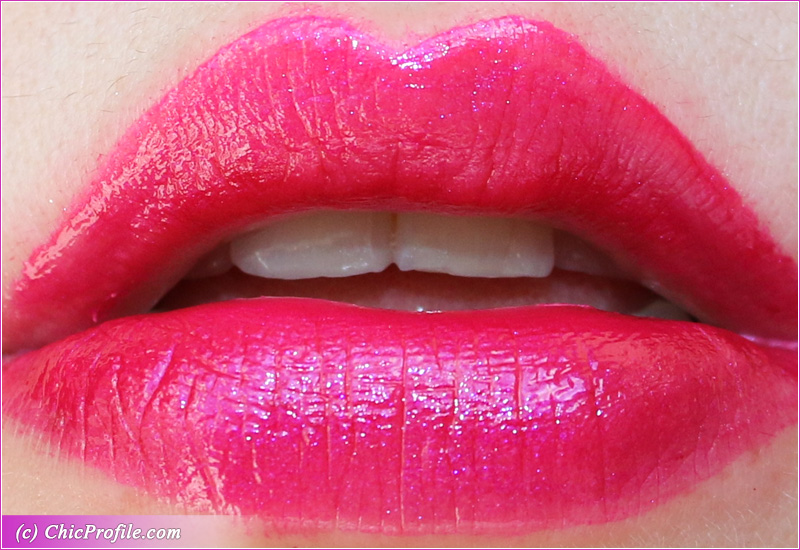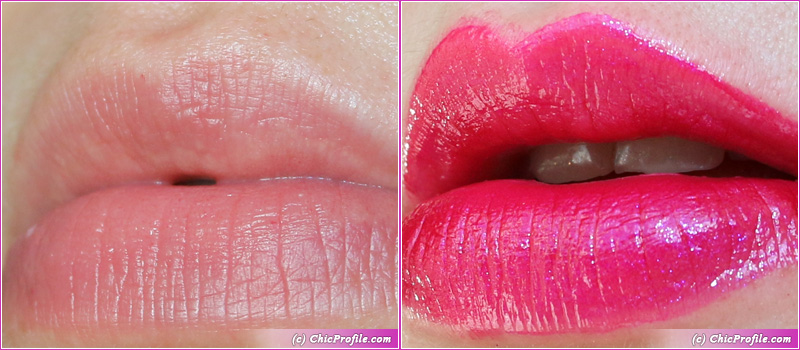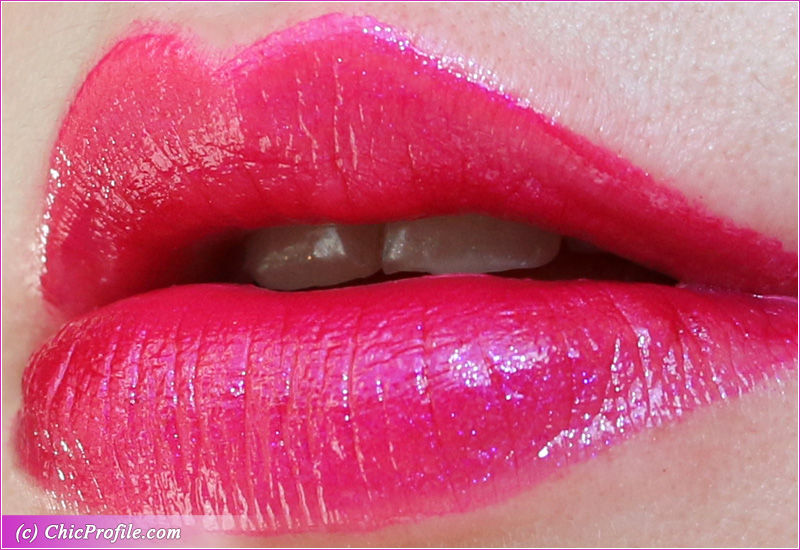 Dior Addict Disco (677) Lacquer Plump is a bright fuchsia pink with fine glitter particles and a metallic finish. It had excellent color payoff with almost an opaque coverage in just one layer. The formula is thin, feels very light and comfortable on the lips. You get that comfortable sensation from its water-weight formula.
The glitter particles are not chunky so you just won't feel that is glitter on your lips. Depending on how the light hits u can see subtle violet or purple effects. This is definitely not for those who are color shy, as it is intense, rich and highly pigmented. I'm in love with this glittery metallic effect that this color is providing. You won't get any of that sandy sensation that u are actually wearing a glitter finish on your lips. You'll just enjoy the effect.
If you want to take this shade to the extreme, just wait for the first layer to dry before applying a new one. This color wore the longest on me, for almost 7 hours, leaving a strong stain behind.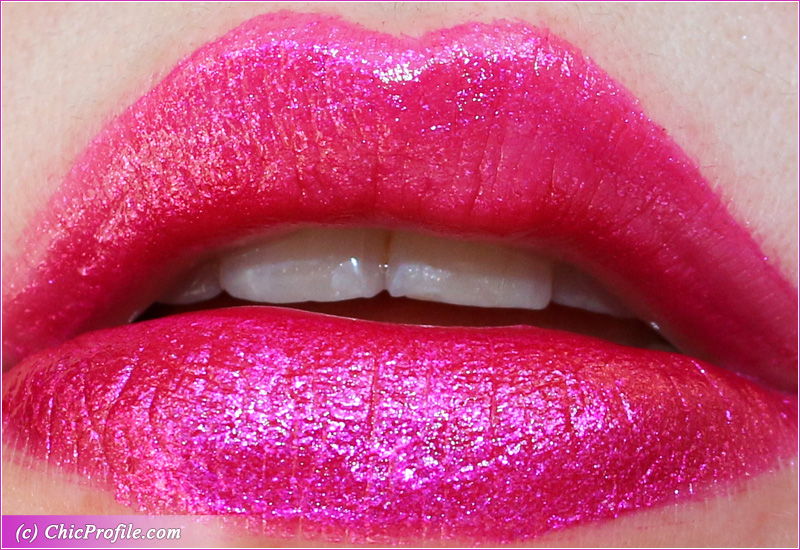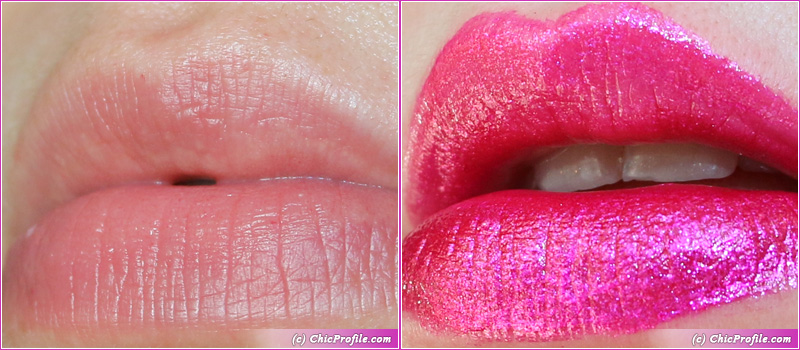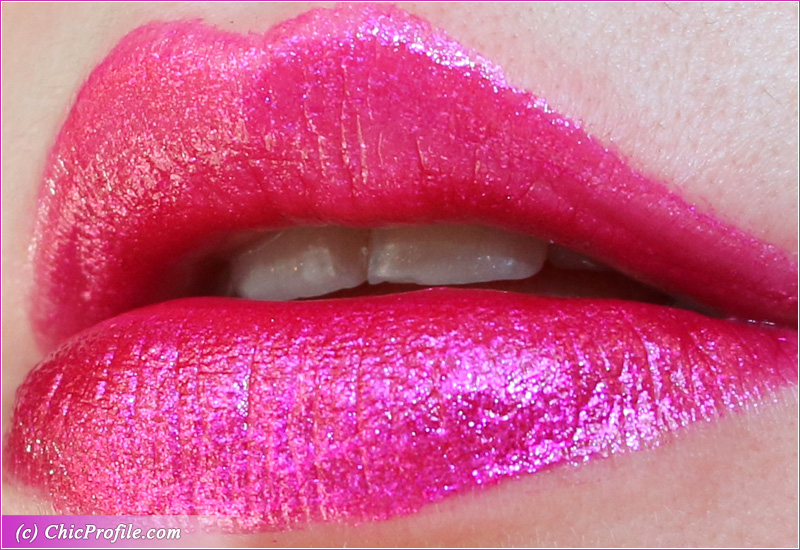 Dior Addict Pretty (456) Lacquer Plump is a rosewood with slightly warmer undertones and a natural shine. The color pigmentation is good, easily buildable to an opaque coverage with a second layer. Once it dries down it gives more of a natural sheen rather than a high shine.
Dior Pretty is an universal shade I believe, that will complement any skin tone. It's the kinda shade that will go with many makeup looks or just worn in a casual day. The formula is the same same as well as the consistency so that weightless and moisturizing feeling remains.
The formula doesn't sink into lip lines at all, on the contrary you'll get voluminous, plumed and fresh looking lips. I got around six hours wear with this color and left a stain behind. The stain was not so intense like the ones left by the more intense pink or fuchsia shades.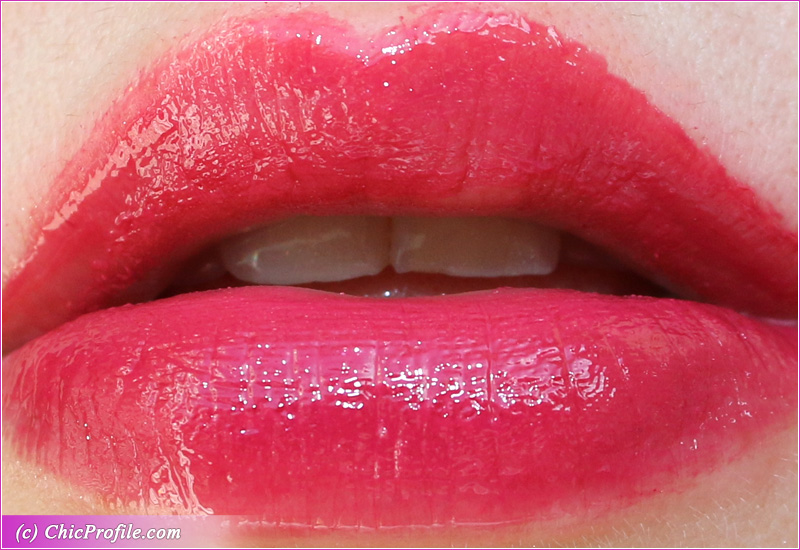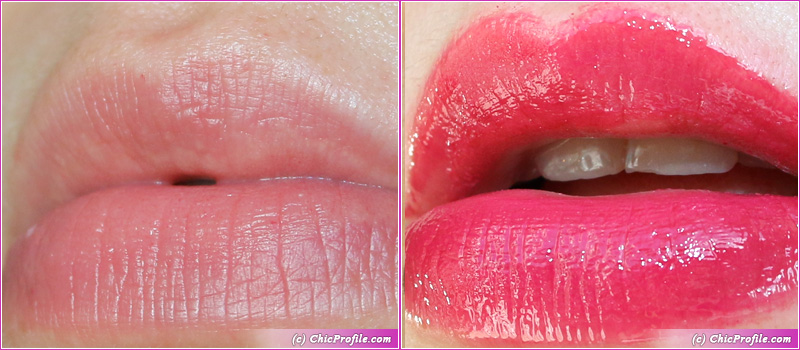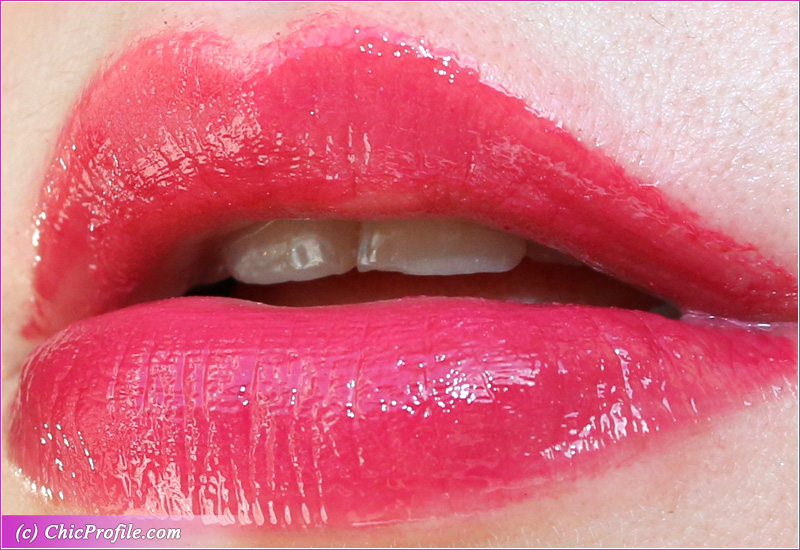 Dior Addict Platinum (107) Lacquer Plump is a light, glittery silver-nude with a high metallic effect. This is a limited edition shade that I purchased because I really liked how it swatched on my hand. It has a good color payoff that it's easily buildable.
Even though is a pretty shade I don't really like how it looks on me. I'm a light skin tone and it doesn't really complement me. I'd see this shade looking better on medium or darker skin tones that can really pull off that metallic effect.
The color looks really luminous and I love how it refracts the light and brings luminosity to the lips. It doesn't sink into lip lines and it glides across lips evenly. I got around 3 hours wear with a very sheer stain left behind.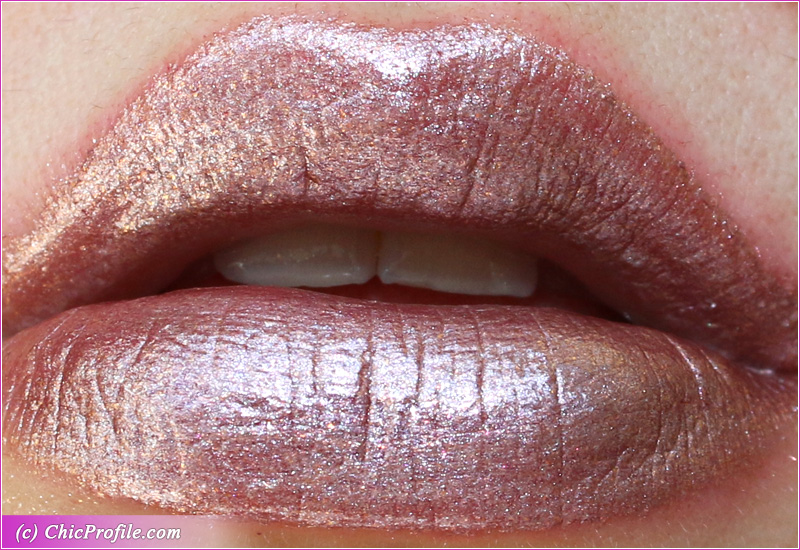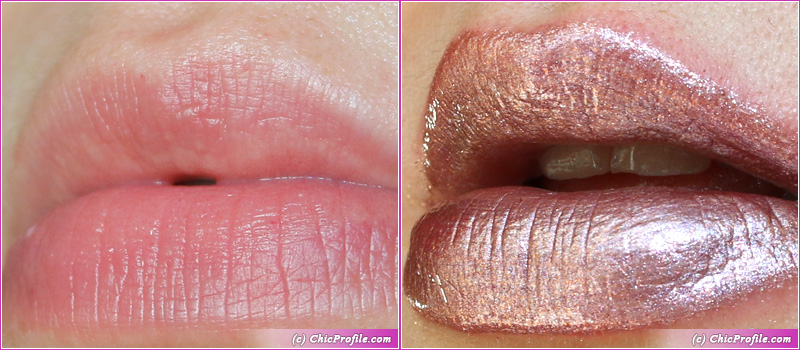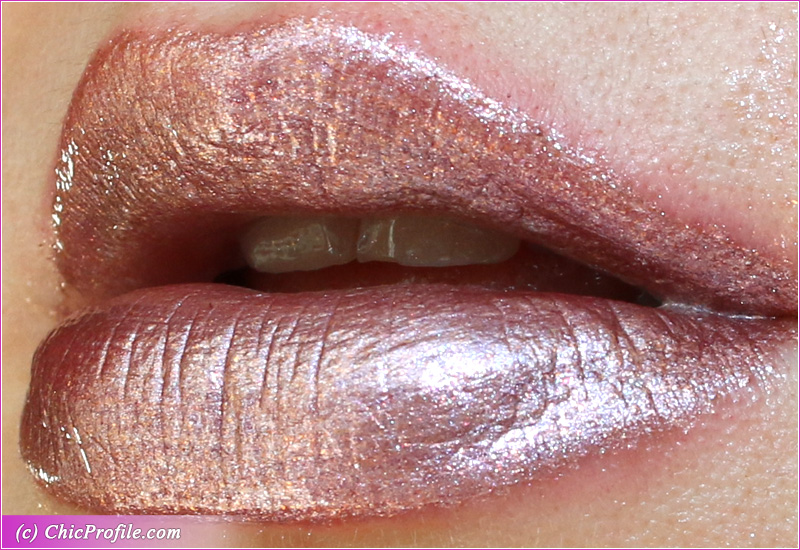 SHOP THIS POST