Hello beauties!
Last week when Lancome New L'Absolu Lacquers launched, I promised I'll be back with more shades to review. If the first ones I reviewed were some hot pinks, today I'm showing you Lancome Only You and Nuit & Jour, a classic red and nude. 🙂
They have the same amazing formula and consistency just like the other shades in the range. Let's see how they perform on the lips and how well they wear. Each color performs differently, the neon, red or pinks leave a hard stain while the nudes and softer shades are more forgiving.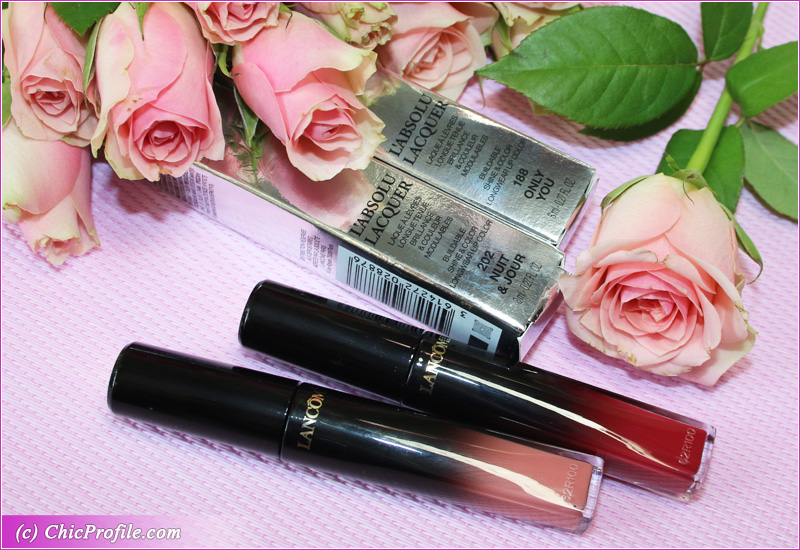 WHERE TO BUY:
U.S. / UK – Now at Selfridges, Lancome.UK Harrods, Debenhams Sephora, Saks, Neiman Marcus, Nordstrom
Lancome Only You, Nuit & Jour L'Absolu Lacquer Review
Lancome L'Absolu Lacquer (£23.00 for 8 ml / 0.27 fl oz) is a buildable shine and color longwear lip color with a lightweight formula and high-shine lipstick finish. It's available in 18 New shades. I reviewed three of the new shades last week so if you are into pinks, do check them out.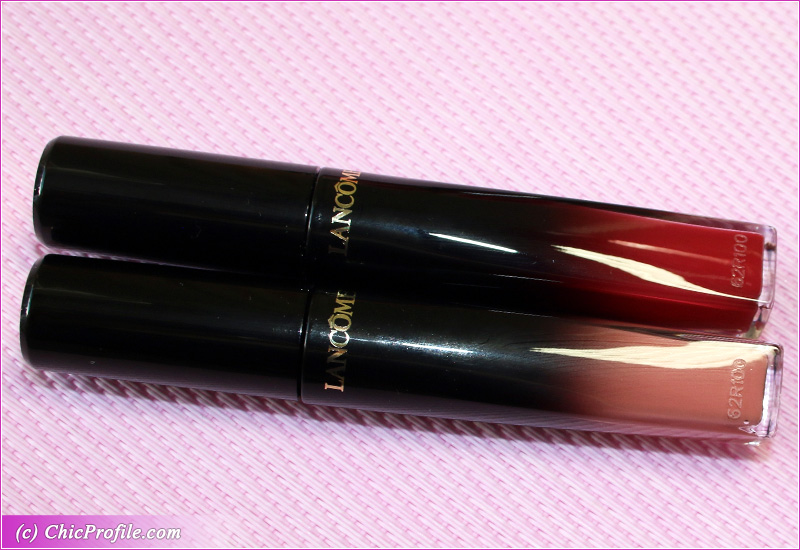 Don't miss the reviews of Lancome First Day, Be Unique, Ultra Rose L'Absolu Lacquers. In my previous review you can find Application Tips. As these lacquers can be worn with just a juicy sheer color or with a dramatic intense color. With each layer the color is intensified so is up to you how you want to wear them.
You can apply up to three layers. Unfortunately some of the lightest shades don't perform so well. They don't give you an even coverage, they look patchy and you can't really get that opaque color. I personally prefer the intense pinks but the reds or purples perform awesome as well.
You can check here all of the 18 new shades and make sure to go through all the photos and the video. 🙂
Lancome Only You (188) L'Absolu Lacquer looks like a medium raspberry-red on my hand but on my lips it transfers a bit to a warmer red. The color pigmentation is absolutely fantastic. It's semi-opaque in one layer and completely opaque after the second layer.
The color has a wet, juicy shine which makes lips appear fuller and plumped. I love this new formula that offers the intensity of a lipstick with the shine of a lip gloss. But wait, Lancome L'Absolu Lacquer is more than that. This gorgeous No.188 Only You shade will leave a strong stain behind that will linger on your lips for hours. It happened to wake up the next day with my lips still stained from this color.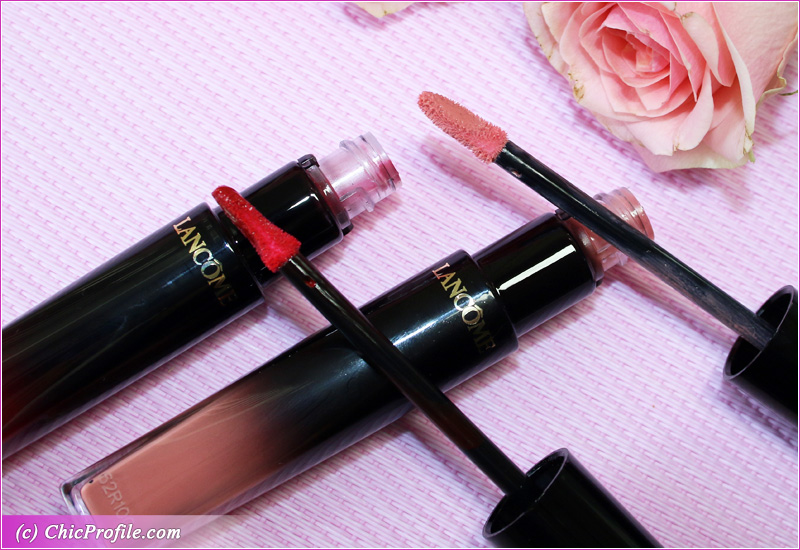 The consistency is thin and very light, gliding evenly across the lips. Because it's such a rich and pigmented shade it does apply evenly and covers the lips perfectly. It's the kind of shade that will empower you, making you look elegant, sexy and feminine at the same time.
I think is the kind of red that will complement any skin tones. I'm not usually wearing a red lip as I'm very picky about red shades, but this one does really complement my skin.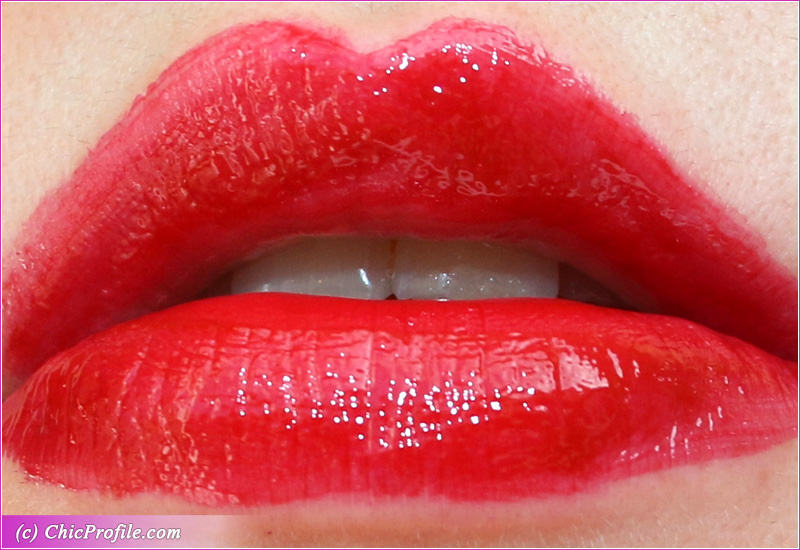 The formula doesn't sink into lip lines, on the contrary it gives you an instant fresh, full pout so I'm definitely recommending for more mature women as well. Lancome Only You L'Absolu Lacquer is a shade that can be worn at any age and will give you that juicy, wet lips effect.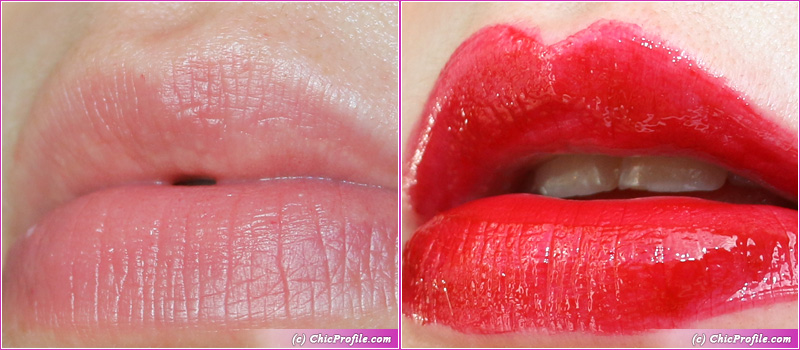 It feels weightless on the lips, non sticky or tacky at all. The innovative oil in water emulsion is lightweight and gives me up to 7 hours of wear. The glycerin leaves my lips feeling hydrated throughout the wear.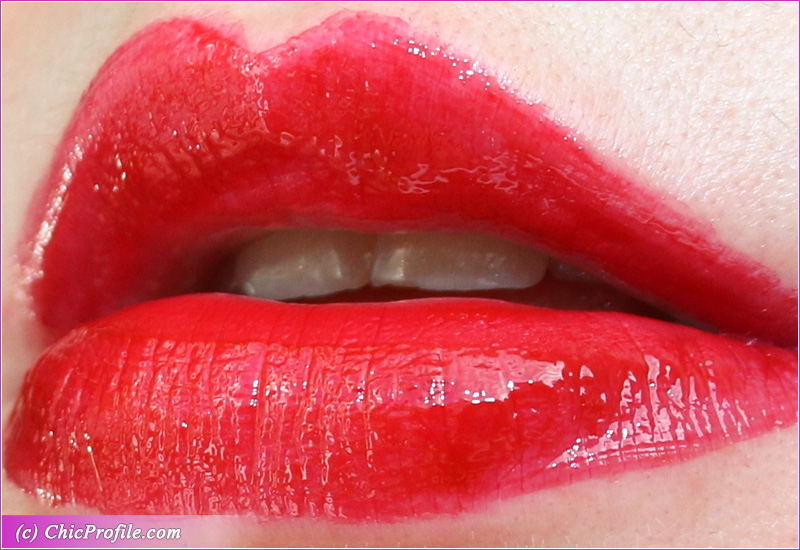 Lancome Nuit & Jour (202) L'Absolu Lacquer is a medium coral-beige with slightly warmer undertones and a shiny finish. The color has a good color payoff and can be build up to a medium intensity. It's a very wearable, casual shade that can be worn with a natural makeup look. The name itself Nuit & Jour translated into Night & Day suggest that it a color appropriate for any time of the day. I personally like to switch to more intense colors in the evening. 🙂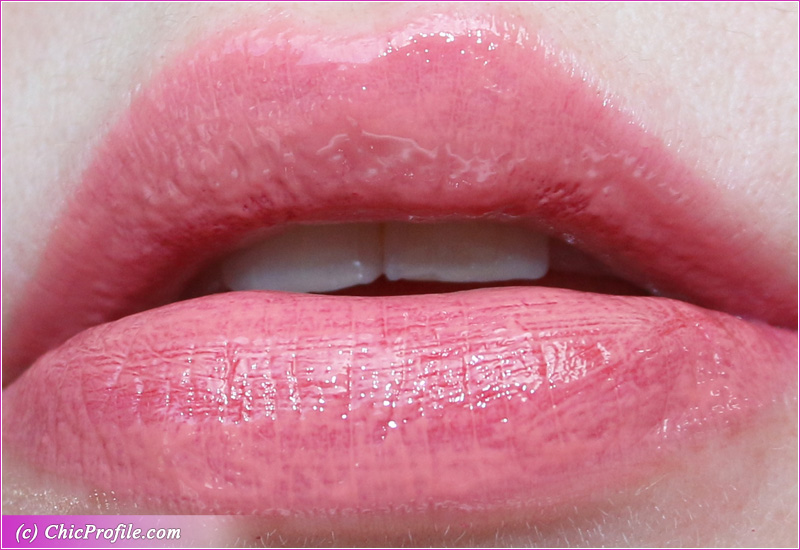 Even though I like this warm toned nude, I'd have to say it didn't look quite good on my lips. I applied the first layer but it didn't gave me an even coverage. I let it dry for a bit and then went with the second layer hoping to even out the color and give it more intensity.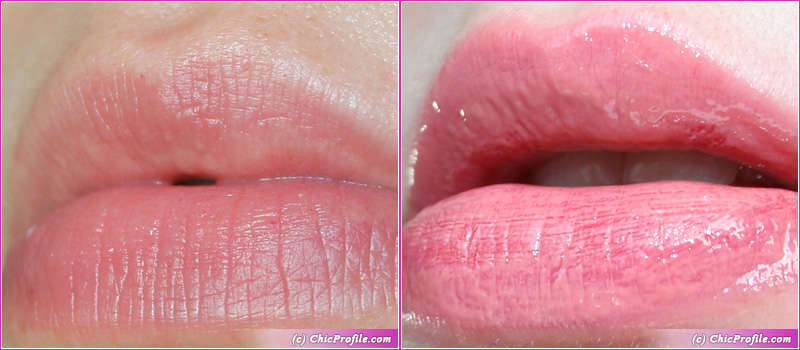 That didn't go well either and it appeared patchy on some part of the lips. You can see what I mean in the close up lip swatches photos bellow. Unfortunately I wasn't able to get a more intense pigmentation or at least to make it look even on my lips. The formula is the same, the consistency and how it feels on the lips are also the same. Only the color didn't perform so well on me.
The color tended to set into my lip lines and emphasizes them so I didn't really like that. As I said, I feel that the lighter shades don't give an even coverage.
I had around 4 hours wear with a very sheer stain left behind. My lips were hydrated and felt smooth throughout the wear.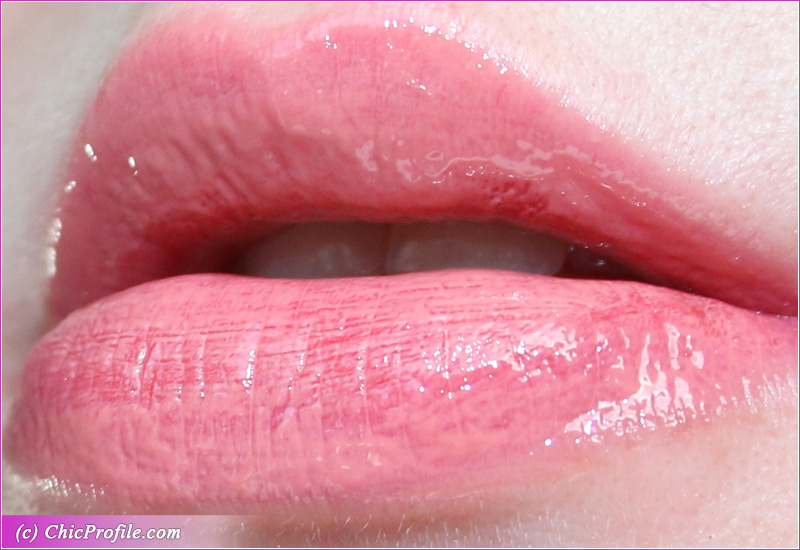 SHOP THIS POST