Hello beauties!
Dior Diorskin Forever Undercover Foundation is a new release for Spring 2018 and comes available in 24 shades. There are a few shades for darker skin but I think they deserve a few more. This is a 24H wear full coverage fresh weightless foundation. I was really curious to try this one out since I announced the launch on the blog. I'm not into full coverage since I don't feel I need it, but when I heard this is water based things changed. It promises a lightweight feel and a semi-matte finish as well. Even though I have combination skin I prefer a semi-matte finish rather than a matte one. Everything looked good on paper so I knew I'd definitely have to try it.
I got this foundation in PR but I'd have purchase it anyway. You know I went a bit crazy buying Dior makeup this spring. 🙂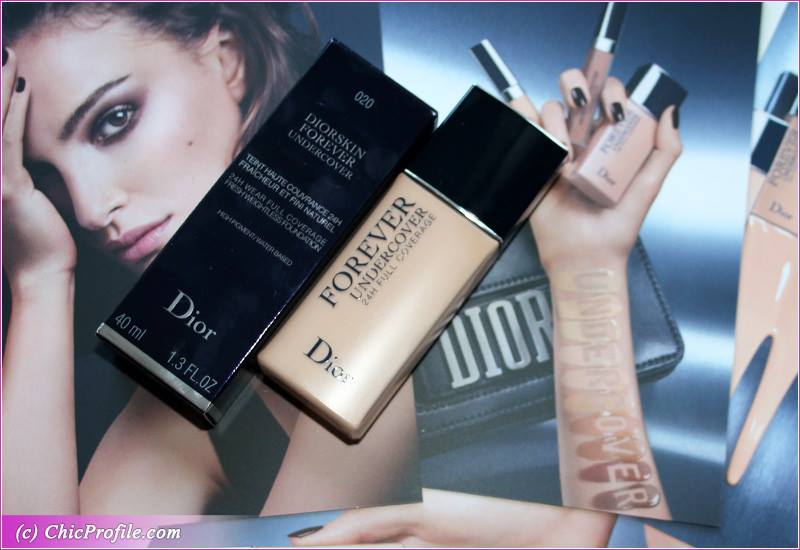 Where to buy:
U.S. – Now at Saks, Neiman Marcus, Nordstrom, Sephora
UK – Now at Selfridges, Debenhams, Harrods, Feel Unique
Europe – Now at Sephora.fr and Douglas.de
Dior Diorskin Forever Undercover Foundation Review
Dior Diorskin Forever Undercover 24H Full Coverage Foundation ($52.00 / £34.00 / €45.00 for 40 ml / 1.3 fl oz) represents me in the shade No.020 Light Beige which is a light with neutral undertones. For me the shade is perfect as I'm also using No.020 for Diorskin Forever Perfect Mousse Foundation (review, swatches). I love, love, love the mousse foundation so I wanted to make a comparison to the new one.
Now getting back to our star of the day here. It's indeed a full coverage foundation with a semi-matte finish. It's easily buildable so you can add an extra layer if you think you want more. For me even one layer is enough as I don't have skin imperfections or any major problems that need that extra coverage. Of course I have some days when I get some breakouts now and there, but one layer of this full coverage foundation is more than enough. I tried  building it up with a second layer just for the sake of testing and reviewing this product. It performed really well, didn't look cakey or patchy at all.
It gives this natural, flawless finish with a lightweight feel at the same time. I usually associate full coverage foundations with a heavy feel, mask-like sensation on my face. This isn't the case. I honestly think is one of the few full coverage foundations with a weightless feel. I can still sense it on my face, but definitely is comfortable and not heavy at all. I can smile without feeling like I have a mask on.
The formula is fluid but not very liquidy. If you apply it on your face directly from the bottle it won't start to run down your complexion. You have plenty of time to work the foundation into your skin and blend it perfectly. It doesn't dry down so fast and I absolutely love that it allows me to blended easily into my skin.
It gives me a healthy, fresh and even looking complexion. Having an water-based formula is what I love most about this foundation. Water-based foundations have always been my favorite (combination skin again) and looked so natural on me. It has a high concentration of correcting pigments which conceal imperfections.
It doesn't emphasizes my skin texture or pores and it doesn't look flat matte on the face. It last well on the skin from morning till evening, without budging or starting to look patchy. Of course I haven't tested it when I go to the gym as others have. I never wear makeup at the gym, when I'm sweating and my skin needs to breathe. But I'll tell you this. I've used it in different days with or without any loose powder on top.
With a loose powder it behaves really well throughout the day, stays put and I have no shine. But because it's a semi-matte finish, even the lightest touch of powder will totally make it matte and I can't say I absolutely prefer that. Wearing it on its own it does look better on me I think, or is just my preference. Yes, I know, you are hearing this from a combination skin, but that's just me.
It will stay put for over 12 hours. I won't lie and say that it looks perfect from morning till night. The only thing I could complain is that after 8 hours  I get a shine on my T-zone. It doesn't look greasy or oily, just a bit shiny. For me that is more that I can ask, as other foundations start looking oily on me after 3-4 hours even set with a powder. This one doesn't. My solution is to use a bloating paper and go on.
How I apply Dior Diorskin Forever Undercover Foundation
You can obviously apply this foundation as you like: brush, fingers, beauty blender, sponge. From all these variations I like to use my beauty blender. I just noticed for me is the best option. It allows me to blend the foundation really well and worked it more into the skin so it stays put throughout the day. It also gives me more of natural, careless finish. The downsize would be that you'll use more product that you'd if you choose a brush. An extra plus is that you can easily build it up with a second layer and get the same natural, effortless look. Anyway is up to you.
When I choose to wear the loose powder on top of Diorskin Forever Undercover Foundation I also use my beauty blender. I gently apply just a touch of powder only on my T-zone.
By the way, did I tell you how perfect this foundation goes with Diorskin Forever Undercover Concealer (review, swatches)? They are from the same family, why shouldn't they get along. There are days when I hardly use them together, just because the foundation conceals everything and gives me enough coverage. I do pair the concealer with other foundations and with this one when I have a bad face day or breakouts.
Dior Diorskin Forever Undercover Foundation Packaging
Now let's talk a bit about the packaging. I think you might now by now that it comes in a plastic transparent squeezable bottle. Is a practical packaging, easy to use but it doesn't come with a pump. I guess it doesn't look so luxurious anymore because it's a plastic bottle after all. I'm still thinking if I'd prefer it in a more luxurious packaging and with a pump.
Dior Diorskin Forever Undercover Foundation Makeup Look
Gosh, I've been wearing this foundation almost every day for the past month. I think I already drove you guys crazy with my selfies on Instagram. I posted as well on my page as on my Instastories and Highlights. I had days when I slept only 4-5 hours and days when I had some breakouts too, but there were also days when my skin was looking perfect. I wanted you to see how this foundation looks on me on any other day. Here are just a few examples.
Here you can see some close-up photos if you swipe left. There are more photos on my Instagram if you are interested (check highlights as well).
SHOP THIS POST