Hello beauties!
For the past few weeks I've been applying blushes with MustaeV V31 Blush Brush which has rapidly became my favorite tool. If you are not already familiar with MustaeV I will let you know that's a famous Korean brand delivering high quality makeup products and makeup tools used by famous Korean make-up artists like Kowonhye and not only. The brand has become available in the US this year and many of those who tried its products consider that MustaeV is a worthy adversary of MAC Cosmetics and whisper of MustaeV makeup products having a better quality.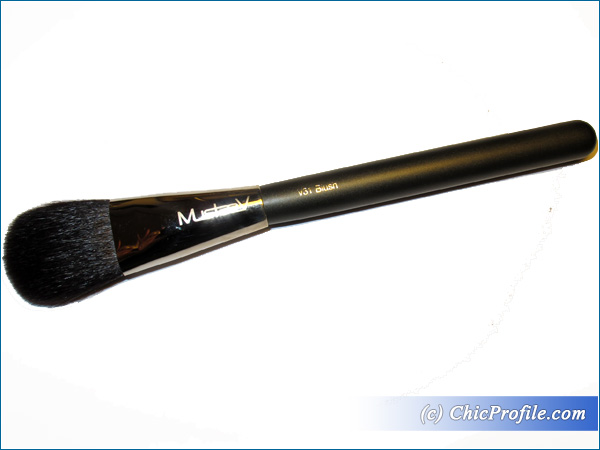 Availability
Now @mustaevusa.com (15% Discount using discount code: chicprofile) (International Shipping)
MustaeV V31 Blush Brush ($50.00) is made of soft, deluxe natural goat hair. I own a couple of blush brushes but this one screams luxury right from the packaging to its design and how it applies the product. The V31 blush brush is part of the Secret Collection and has a long, skinny handle plated with chrome, lasered with the MustaeV logo and fits perfectly in my hand.
The brush is intended for the application of subtle and vivid color on the cheeks. The bristles are super soft and they pick up the right amount of color I need to apply on my cheeks. I washed it a couple of times and I was amazed to see it didn't loose any hair so that's really encouraging. I've been using this blush brush for almost a month now and I haven't had any problems with the bristles falling out. I know the price is on the expensive side even comparing with MAC which is $35.00 but MustaeV has a far better quality and the bristles are softer.
What I really loved from the beginning is the attention to details as the brush comes in a plastic case with a transparent head protector which is a great way to protect your brush against cross contamination with other brushes. This protector does not stick to the bristles and it comes off very easily.
It picks up a fair amount of product and applies it evenly and smoothly across the cheeks without scratching the skin allowing me to built up the color if I feel like by layering two or three layers. It's very easy to work with and a real pleasure to use it.
Enjoy more photos…