Hello beauties!
Chanel Chance collection will be welcoming a few new items next month. There are so many versions of Chanel Chance fragrance and each one has to have its own line. Chanel Chance body oil is already available in a limited edition but there are other scents joining in. Keep reading for more details!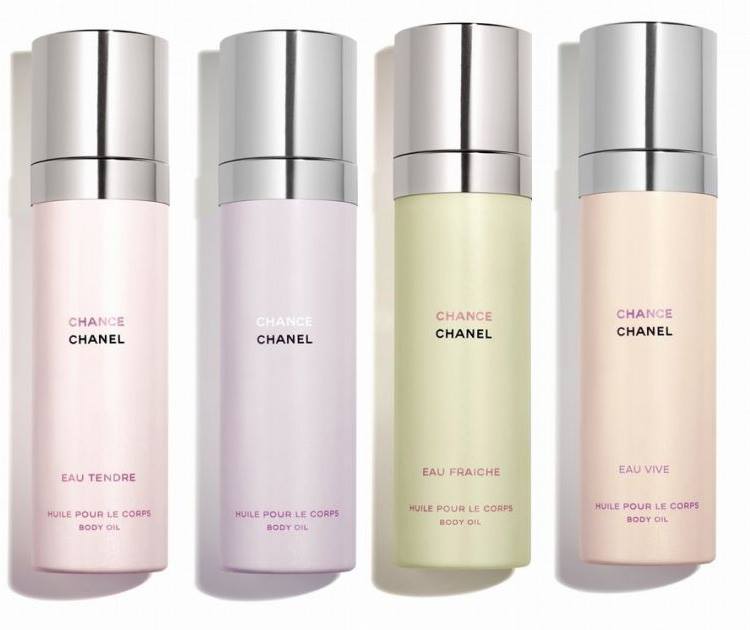 Availability
Asia Launch Date – 5 January 2018
Chanel Chance Fragrance and Body Care Spring 2018 Collection
A weightless formula that leaves skin silky soft and delicately scented with the unpredictable sensual floral notes of Chance.
Composition
The body oil spray is infused with the unexpected and warm notes of Pink Pepper, Jasmine and Patchouli.
Chanel Chance Eau Tendre, Eau Fraiche and Eau Vive body oil sprays will also be joining the limited edition collection in spring 2018.
Next month Chanel will be launching Chance Eau Vive Eau de Toilette Twist and Spray in Asia. I've seen the classic version of Chance and Eau Tendre twist and spray but there's a new shiny pink bottle joining the collection soon. Just like the others the new Chance Eau Vive is the perfect portable fragrance that you can slip it easily into your handbag, weekender or suitcase.
To refill, twist open to expose the atomizer. Pull up on the atomizer to remove the empty fragrance canister and replace it with a new fragrance canister. Gently press the canister into the case and twist down the top to close.
Last but not least is the new Chance Eau Tendre Touch Up Perfume that I discussed in a previous post. The cushion trend is very popular in Asia so there's where this fragrance is going to be launched first (or maybe exclusively, I don't know yet). The pink compact comes with a white sponge included that you can use it to apply the fragrance. 🙂 How do you feel about this type of packaging for a fragrance?
SHOP CHANEL CHANCE