Hello beauties!
You probably still remember Bobbi Brown Jungle Luxe Eye Shadow that I showed you back in the Summer. This is a limited edition shade released as part of Bobbi Brown Camo Luxe Fall 2018 Collection which is still available. I purchased this single eyeshadow along with the Camo Luxe Palette (swatches, photos).
I even surprised myself when I choose to purchase this shifting green eyeshadow as you know I almost never wear green shades. Oh well, my makeup collection is multichrome shade like this one so I said why not trying something new for once. I wore this color back in the summer after I bought it and even posted a makeup look on my Instagram account (which have been disabled).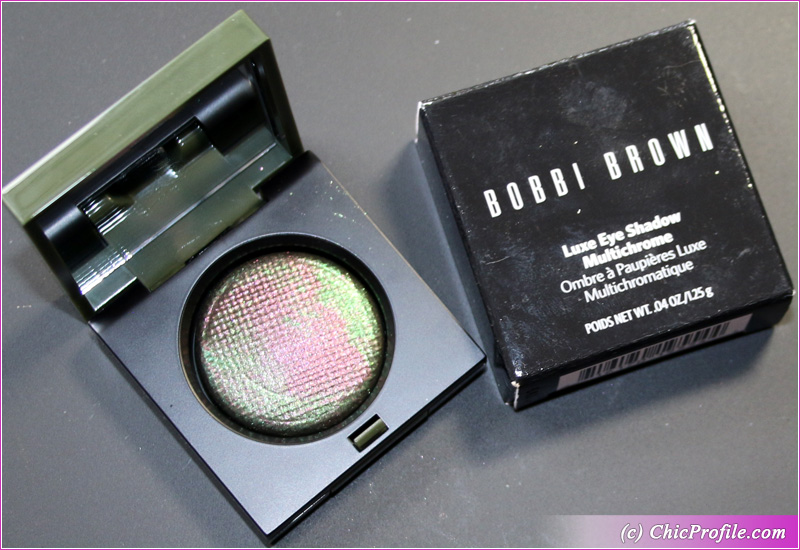 Where to buy:
UK – Now at John Lewis,  Debenhams, Fabled, Look Fantastic,
Bobbi Brown Jungle Luxe Eye Shadow General Impression
I honestly forgot I haven't reviewed this product yet. Since I moved and organized my entire makeup collection I put in a box all the products that I've been using for the past couple of months and I didn't get to review.
I'll be reviewing only those products who are still available for purchase. Stay tuned for more upcoming reviews or bookmark Chic Review tag so you won't miss them. I'll be reviewing the Camo Luxe Eye & Cheek Palette next with that gorgeous highlighter.
I love shade-shifting and multi-dimensional eyeshadows like this one but I do admit something more pink or plum would have been my favorite shade. The eyeshadow comes in a limited edition green packaging to match the Camouflage theme of the collection. It also has a small mirror inside which I think is pretty cool.
Bobbi Brown Jungle Luxe Eye Shadow Review
Jungle Luxe Eye Shadow (£22.95 / $35.00 for 1.25 g / 0.04 oz) is a dark green with a gray base and multidimensional pink and green shift. This eyeshadow is really impressive and not that it comes truly opaque in a single swipe because it doesn't.
It has a good color payoff but the best thing is you can use it wet or dry depending on the effect and pigmentation that you are after. What I like most about it is the multichrome effect that has in different lights where you get to see a bit of that pink sparkle.
Applied dry and in a single layer has a medium coverage with a lot of sparkle. If you apply it wet you'll definitely get more pigmentation and the green will look darker. During the application I got a little bit of fall out, which was a bit noticeable later on the day after 5-6 hours wear.
The texture is smooth and soft, the shimmer particles are finely milled. It does kick off a bit of excess powder in the pan when I dip my brush into it. Just make sure to tap off any excess before applying it to your eyelids. Applied without an eyeshadow primer I noticed this shade left a soft gray stain behind.
If you love the 3D effect of this camouflage-inspired shade I think you should definitely try it on. It's truly a unique color, very appropriate for the holiday season. The shade didn't crease throughout the wear but it started to fade after 7 hours wear.
You should definitely wear a primer before applying this shade, even a sticky eyeshadow primer that can keep in place the shimmer and prevent any fall out. Applied with dampened brush I had minor fall out even throughout the wear. Applied dry I got noticeable fall out during the application and throughout the wear.
SHOP THIS POST
Enjoy more photos…