Hello pretties!
I've been teasing Bobbi Brown Fall 2018 Collection on Instagram, actually Instastories for the past few days. You guys wrote me asking to see more of this collection so yesterday I posted a few videos on Instastories (go check them out while they are hot). When I woke up this morning I was blown away by the amount of DMs you guys left me asking for swatches. So here I am to show you swatches of Bobbi Brown Fall 2018 Collection.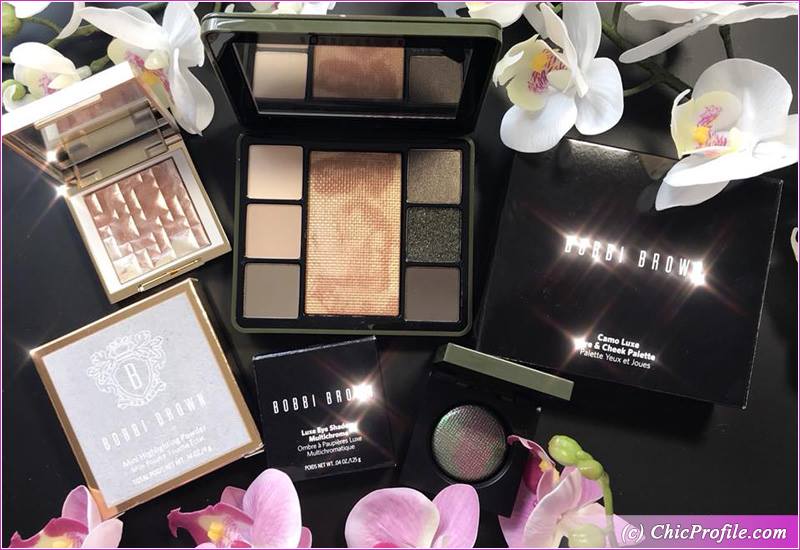 Availability
U.S. Launch Date – September 2018 at Nordstrom, Neiman Marcus
UK Launch Date – TBA at Selfridges, Harrods
Bobbi Brown Fall 2018 Collection SWATCHES
Let's have some fun shall we?! 🙂 I'm just posting swatches of all these products for time being while I play with them for a few days. I'm hoping that next week reviews will be up on the blog.
All these three products are part of Bobbi Brown Fall 2018 Collection but of course there will me more than just these. I'm curious to see the rest of the collection as well.
I've already recorded live swatches yesterday as well so I'll be posting them in Instastories tomorrow if you guys are interested in seeing those as well.
Now let's start with what I think it will be the star of this collection, Bobbi Brown Camo Luxe Eye&Cheek Palette. As you can see we are looking at a camouflage design, while the palette is a bit heavy I'd say. It has a mirror enclosed and a magnetic closure.
It features six eyeshadows and a highlighting powder. Now you all know me so well, if you've been reading Chicprofile long enough. I'm not going to lie and say these colors are right up my alley. I'm still devoted to pink, plums and nudes, you know that. But I can't argue that this is a great palette for those who like these kind of shades.
Green and khaki have never been among my favorites, but you do have a small selection of nudes to play with for a day makeup look. So there are four matte eyeshadows, one metal, one sparkle and a highlighter. To tell you the truth, the highlighter captured my heart right from the first swatch.
You can see in the photos bellow that I swatched it from different parts so that's why the color variations. Obviously that when you'll be dipping or swirling your brush the colors will be mixed. It's pigmented and has a good color payoff. Ups, I'm stopping right here and save the details for the review.
Do make sure to check my Instagram as I'll be posting photos there with makeup looks when I use these products. 🙂 All the swatches were taken on bare skin without any primer or base applied previously. It's just one swipe! 🙂
Camo Luxe Eye & Cheek Palette – Limited Edition
Bone – matte eyeshadow
Wheat – matte eye shadow
Cool Grey – matte eye shadow
Smokey Brown – metal eye shadow
Camo – sparkle eye shadow
Cool Brown – matte eye shadow
Warm Glow – highlighting powder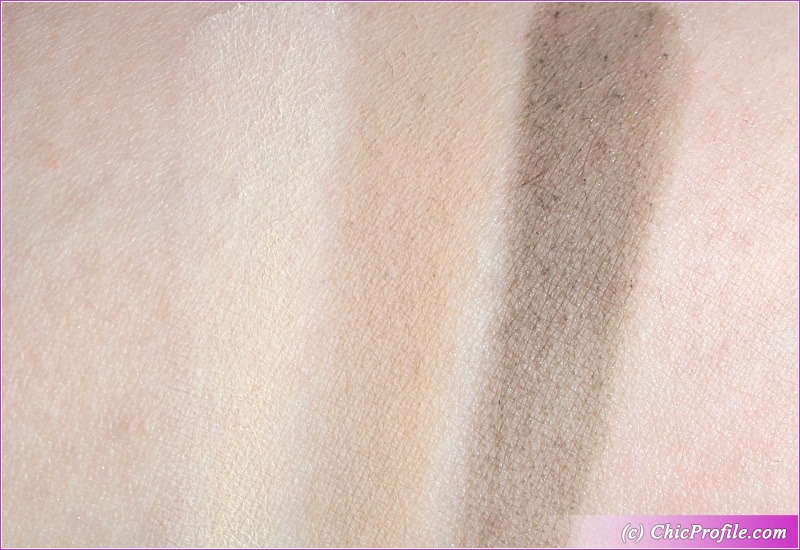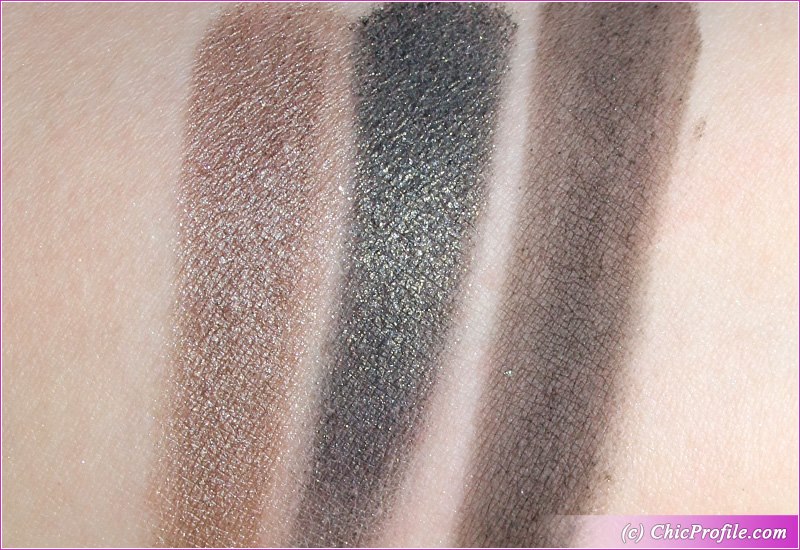 Bobbi Brown Warm Glow Highlighting Powder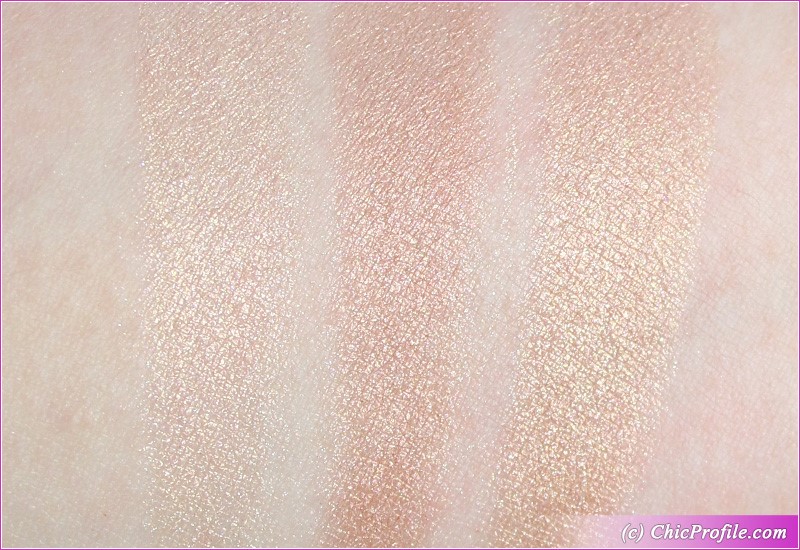 Now we are moving on to our smaller hero here, Bobbi Brown Jungle Luxe Eye Shadow Multichrome (1.25 g / 0.04 oz). This one comes in a green packaging, not camouflage design this time but it has a small mirror enclosed. If green would be my favorite shade then Jungle eyeshadow would definitely make it into my top favorite Fall 2018 eyeshadows.
It's truly gorgeous and I do give credit to the multichrome effects that make it look different depending on how the light hits. I definitely can't wait to see the rest of the shades. I'm pretty sure I'll find at least one that I'll use. 🙂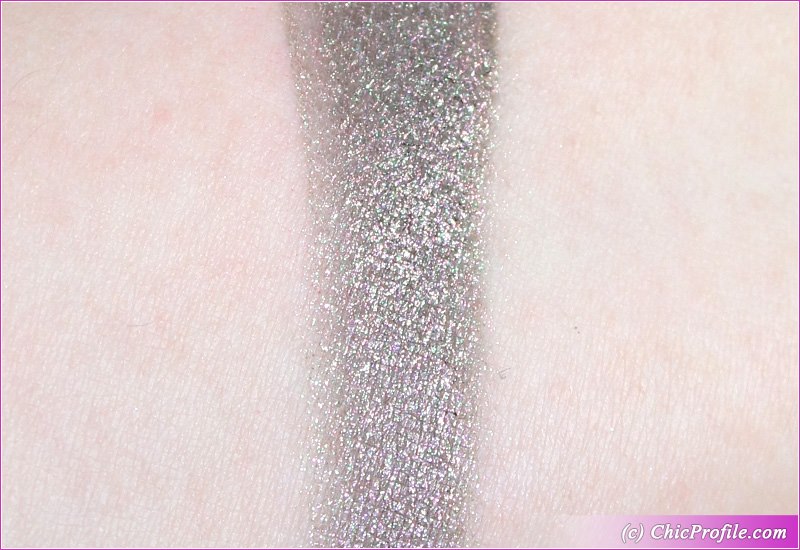 Last but not least we have Bobbi Brown Pink Glow Mini Highlighting Powder (4 g / .14 oz). I actually blogged about this shade recently when Bobbi Brown UK had the 20% OFF sale. Basically is a new shade that just launched in a full size format ($48.00 / £35.50) and will be released in a mini-size as part of Bobbi Brown Camo Fall 2018 Collection.
It definitely has a different pattern now, which looks gorgeous and I absolutely love mixing the shades. I tried to swatch both colors of the highlighter but you'll definitely get a mixture of these two when you'll be using your brush. 🙂
I personally like travel size or mini size makeup items. It has been years since I have hit pan on any makeup product. They are not only cute and travel friendly but they cost a lot less and after you finish it you can decide if you want to go full size.
I will use this highlighter tomorrow as today I'm wearing Warm Glow highlighter from the Camo palette mentioned above. Of course I'll post my makeup looks on Instagram when I'll be wearing this shade as well. 🙂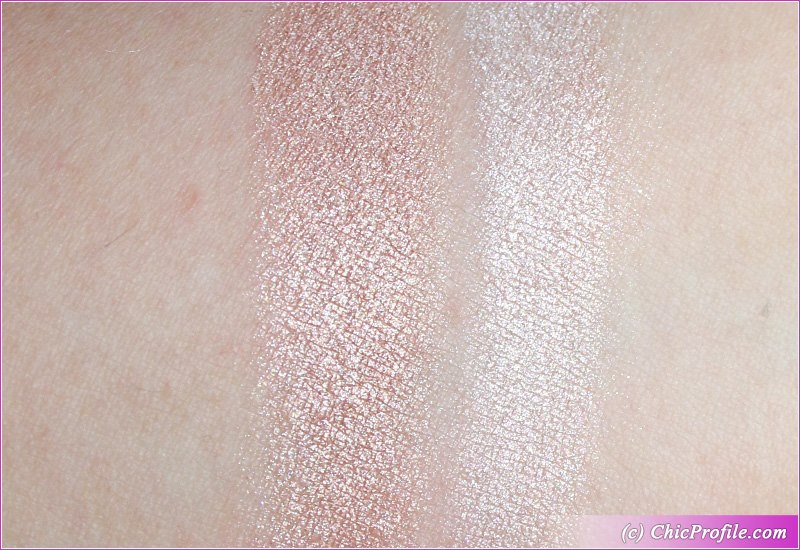 Well lovelies, these are all the news and information I got so far regarding Bobbi Brown Camo Fall 2018 Collection. I'll make sure to update you once more information becomes available.
In the meantime do drop me any msg, mails or DMs with your requests. 🙂 I will try to post the reviews next week!
Have a lovely weekend everyone!