Hello lovelies!
This evening after I finished blogging I run to Instagram to upload the latest there on my page as well. Shock, panic mode! After trying to log in, unsuccessfully, several times I received a message that my Instagram account was disabled! I'm writing this post while I'm waiting for this problem to be solved.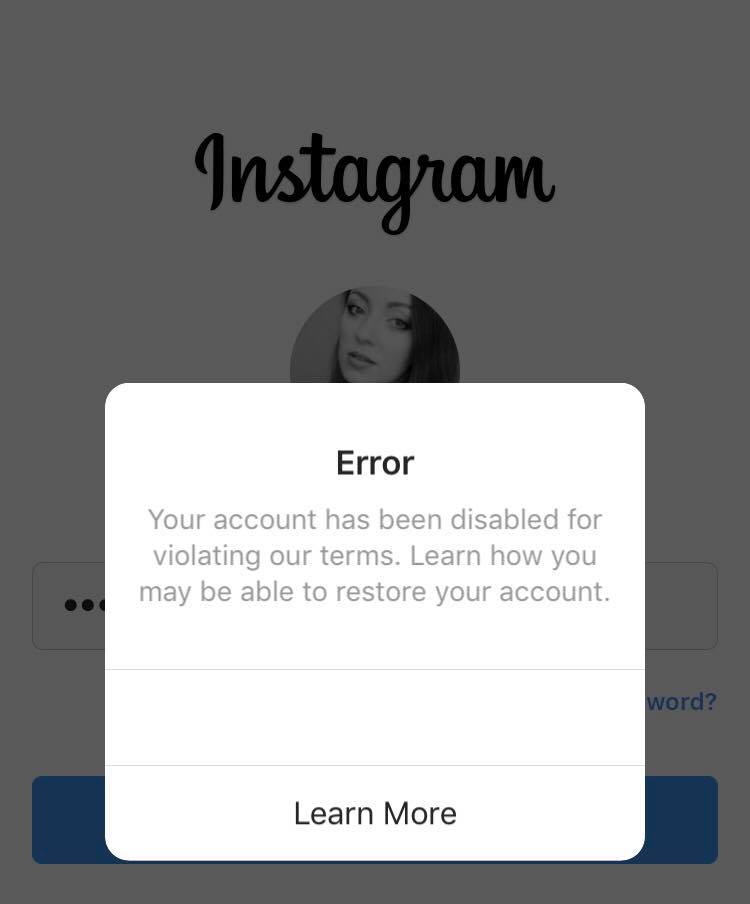 Every time I heard someone talking about their Instagram account being disabled I was feeling an instant chill in my body. Having my business Instagram account for Chicprofile being disabled is a living nightmare. I worked for this account so hard, especially since I moved to London and I'm happy to have a genuine, loving, supporting audience of real followers.
If you follow Chicprofile on Instagram on a daily basis you know that my photos were started to be reported more often by a certain high end brand. I opened a topic about this on my Instagram page and also shared on my Instastories. I'm not afraid to name names and say it was Dior. They often report my content even though they have no copyright over those photos because they are either my personal photos, re-posts from other accounts which I always mention in the description or personal photos that are sent to me.
I kept quiet about this situation here on the blog, but sometimes I had shared it lightly on my Instastories. I'm part of several beauty groups on Instagram and it sadness me to know that other accounts have been reported after they've shared the same content as mine or even re-posted my photos.
The latest photos that were reported by Dior were featuring products from Dior Spring 2019 Collection. While on Asia, the entire Dior Spring 2019 Collection is known by everyone, for some reason I'm not allowed to post it. The photos that I've shared from different Asian accounts that I'm following were reported (they were not promo photos) while the original accounts still had them on their profile. Don't get me wrong here, as I don't want Dior to take it on those accounts, that's not my issue.
My issue is with Dior and other brands with similar behavior which have started reporting photos only from certain accounts. Are you thinking about embargoes, different release dates in every country? Because if you are I had too, more than once and I'm telling you this.
Once a photo is posted on social media (in my case, dozen of photos from this particular collection) you can't set an embargo and expect that Instagrammers from other countries won't share it. It's social media after all and we all know how it works. If someone posts a photo and is located on the other side of the world, me as a consumer, makeup addict, passionate or just someone interested in digging up the info will find it and share it.
This is one of the main purposes of social media, interacting and connecting people, help them discover new things out there even though they are not available in their countries. Chicprofile has always been about bringing you the latest news or talking about brands that are available worldwide or even limited edition collections exclusive to some countries.
You can't expect me, my readers or anyone out there to not look up photos of information about the products we are interested in! Once I've found the information and photos I'm looking for, you want me to wear a blindfold and pretend that I did not see them and not post about them?
What should I believe when my photos are constantly being reported while the original sources still gets to keep theirs? That is not OK for me and a few others to re-post the photos that already exist for months on those accounts? How can you forbid me from sharing photos, while other accounts can still keep them on? This is 2018, once a photo has been posted out there on social media it will be re-posted by others.
At this point I'm starting to believe it's personal, because other accounts got even thank you messages from their local Dior department for sharing the news with their followers. To tell you the truth some Asian pages even offer those products for sale. You can buy them from different personal shoppers that usually have their own connections. If you are in this industry for long enough you may now a thing or two, you may know how the wheel spins even though you are not allowed to say how the mechanism works.
I'm always buying my Dior products which I later review on the blog and present them on Instagram. I'm not receiving Dior PR as some may think and I'm usually buying 90% of the products that I'm blogging about. I rarely receive PR believe it or not and when I do is just one time as a thank you gesture.
In the 10 years that I've been blogging Dior sent me only 4 products in PR: one foundation and 3 Lip Glow shades. I think that says a lot about my love and support for this brand throughout these years while I kept buying products with my own money and sharing my honest reviews with you guys.
Now I keep refreshing my e-mail and wait for a reply from Instagram concerning my appeal. It amazes me how Instagram instantly shuts down your account without asking you for proofs as well. Many bloggers, influencers and makeup lovers have been in this sad situation where their accounts have been disabled or even worse: deleted.
Maybe in another article I talk about how certain brands favorite the Instagram pages of the influencers / bloggers they work with. Once a new product or collection is announced they allow only those influencers to post the news while reporting photos or content of anyone else. You are not even given the chance to play a fair game anymore! Social media and especially Instagram are not fair and honest playgrounds anymore! I was asked not only once to take down my photos so another Instagrammer can post them first and get the views. You want an explanation for this? I received one, a lazy one that left me with a sour taste.
If you won't be seeing me anymore on Instagram you can always find me here on the blog, Facebook or Twitter. I stopped trusting and relying on social media for a long time now, because it feels like a boat where the brands have control and once they start reporting your photos it's just a matter of time before your account gets disabled.
If you had similar experiences or thoughts regarding this topic you can share them in the comments bellow!