Hello lovelies!
SUQQU Sakurazome Flawless Lip Gloss is one of the 12 new shades part of SUQQU SS2018 Makeup Collection. You know I'm a lip gloss gal so it was a real pleasure to put this shade to the test. I showed you on Instagram my SUQQU mini haul so keep checking back for individual reviews. SUQQU Flawless Lip Gloss is the first ever lip gloss from the brand that brings color whilst adding volume, radiance and moisturization. There are 10 new shades that will go permanent and two limited edition ones.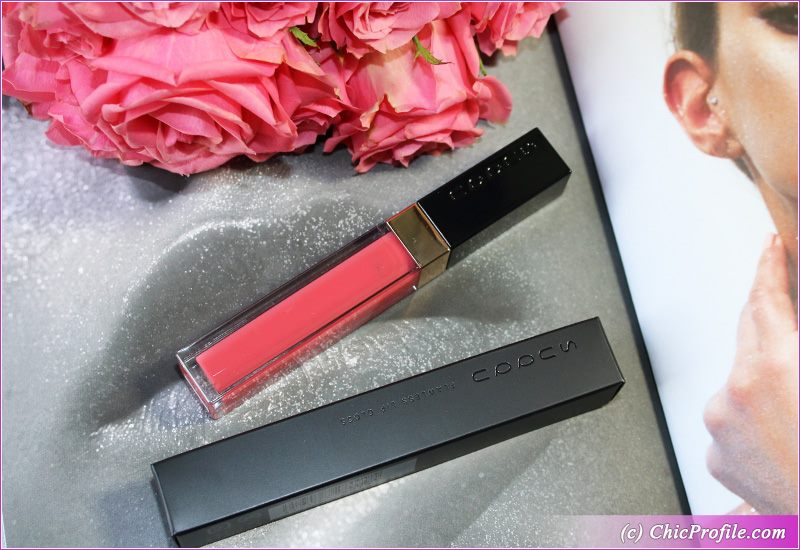 Where to buy:
UK – Now at Selfridges, Harrods
SUQQU Sakurazome Flawless Lip Gloss Review
SUQQU Sakurazome (03) Flawless Lip Gloss (£24.00 for 6 g) is officially described as a lovely innocent pink. It's a light, sweet coral with a touch of pink, warm undertones and a super shiny finish. It delivers a semi-sheer coverage with a feeling of translucency. SUQQU Sakurazome changes a bit my natural lip color but without being highly pigmented.
I absolutely love the silky lustrous finish. I instantly get that wet-lips effect that makes my lips appear fuller, plumped and looking fresh. The gloss doesn't have any shimmer particles so you are getting that boost of shine only from the formula.
It has a light, smooth consistency with a comfortable texture that spreads on evenly across the lips. There's not stickiness or heaviness to the feel, just pure elegance radiance. The feeling is super comfortable with a formula that doesn't sink or emphasizes lip lines. On the contrary, this is the kind of lip gloss that can be used by older women just as much. It gives you instantly vivid lips, bluring those lip lines and adding moisture and a veil of shine even to the most damaged lips.
When I press my lips together I don't feel any stickiness or tackiness. The color is not rich or pigmented but it brings out your lips natural beauty. The color in the tube matches the color you'll get on your lips. You'll get a wonderful semi-sheer color with a long-lasting freshness.
The formula is enriched with two types of light weight oils that spread smoothly over the lips, hydrating and making them smooth and soft.
I got around three and a half hours wear with this formula. The color didn't leave any stain behind and the moisturizing sensation kept lingering on. My lips felt smooth and soft even after the color was gone. I'm honestly seeing this gloss more like a treatment for the lips. Even though its pigmentation is not its forte, the lustrous effect is definitely on point. The super comfortable and weightless, moisturizing sensation when you wear this lip gloss is again something to consider.
You've seen me wearing this shade HERE on Instagram the other day. So many of you asked me about this color. In the photos (swipe for close-up) I'm actually wearing SUQQU Sakurazome on top of SUQQU Mizukajitsu Extra Glow Lipstick (upcoming review). Do I need to tell you how perfectly they go together? 🙂
This sweet and light coral shades instantly brighten up my complexion. I bet they'd look gorgeous on tanned or darker skins too. 🙂
SUQQU Sakurazome Flawless Lip Gloss Packaging
The lip gloss comes in a clear, heavy glass tube with a black cap and a golden ring. The packaging appears very simple, but classy and elegant at the same time. I'd say is minimalist but has a touch of that luxurious, well made packaging.
It comes with a straight doe-footed applicator that picks up enough gloss for a single application. I have small lips so for me one dip is enough but if you want to build up the color just a bit and get more of that shine you can definitely go for a second application.
I'm checking the SUQQU counter again tomorrow and I'll be trying on some of those pink lip gloss shades. Don't forget that also tomorrow is the launch of SUQQU New Base Range.
SHOP THIS POST