Hello beauties!
I'm happy to bring you the first news for SUQQU Spring Summer 2018 Makeup Collection. Launching next month the collection is inspired by the Japanese kimono artistry, "Kim Choi", bringing kimono gorgeous metal powder trim accents to the make-up series. There's a huge collection gathering a total of 32 products in seven categories, without mentioning the new foundation or skincare products. The products will arrive on the UK market but I don't have a launch date yet. Let me entertain you with all the info I have after the jump.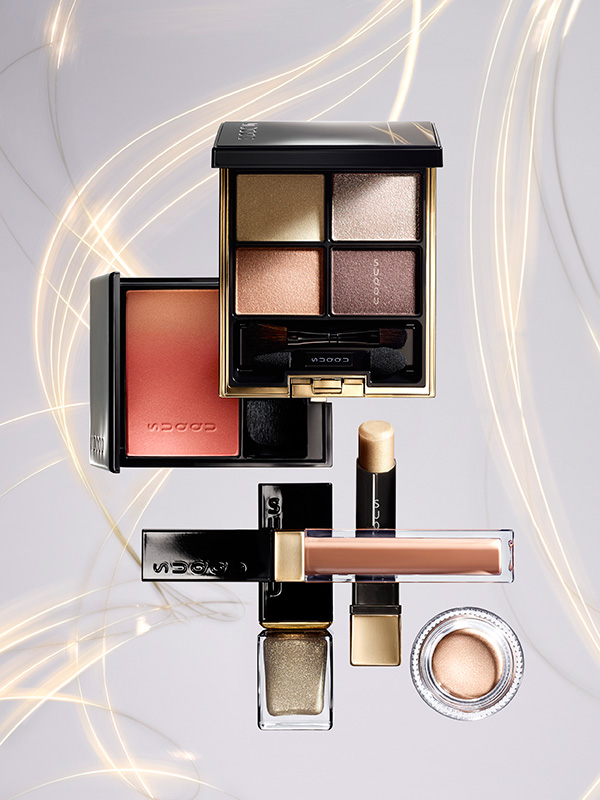 Availability
Asia Launch Date – January 2018
UK Launch Date – 1 February 2018 at Selfridges for a 2 week preview | 15 February at Harrods, Fenwick of Bond Street
SUQQU Spring Summer 2018 Makeup Collection
SUQQU presents the new spring/summer collection for 2018, inspired by the art of 'Kindami', adding gold or silver leaf to fabrics to create luxurious luminosity.
An art form integral in the creation of a Kimono.
Designing Colour Eyes – £46.00

Three new radiant colour palettes for Spring/Summer 2018 made with soft tones that beautifully blend into the skin. Each palette includes a highlighting shade for radiance, an accent shade for a pop of colour and a deeper tone to finish the look.
08 Hikarikogare: A yellow brown with wet gold. A brown that goes well with the skin tone, and an elegant dazzling gold with a fresh radiant sparkle
09 Ryougetsu: An icy grey with silvery moonlight. A striking looking combination of grey and khaki, overlaid with a silvery sheen like moonlight on the surface of a lake
114 Hanaakari: A pinkish bronze with a flushed pink. A soft pink bronze accented with a flushed pink for a dazzling sparkle, like a red strobe light (Limited Edition)
Pure Color Blush – £32.00
08 Momodaidai: Apricot orange with clear coral suits any makeup and skin tone, for that spring-sunshine finish
09 Ayakagerou: Layer the cool and modern light brown with the rose beige for a sharp, stylist finish
106 Hanairoka: The soft blood-red gives a slightly flush look, layered with the subtle pink leaved a sophisticated prettiness (Limited Edition)
Extra Glow Lipstick – £25.00
Light and airy in texture, this lipstick can be used to mute strong colours.
14 Mizukajitsu: A fresh tomato red that brings beauty and natural complexion to the skin
15 Yoinjimi: A deep brown that blends naturally with the skin, giving sophistication with a single stroke
109 Kindami (limited edition): Use this spectacular gold on it's own to add a dazzling shimmer, or layer over another colour for added subtlety – the epitome of Kindami's glamour.
Flawless Lip Gloss – £24.00

The formula contains a lightweight composite oil giving the lips three-dimensional effect with a moisturizing feeling. There's no tacky or sticky feeling. Shades #02, #04, #05, #06, #07, #101 and #102 contain pure pearlescent gold particles.
01 Amecha: Stylist milk-tea beige
02 Akachakou: All-purpose beige
03 Sakurazome: Innocent pink
04 Kirabeni: Golden strawberry with a pinky red
05 Benisango: Naturally sparkling soft coral
06 Irobara: Dusty rose
07 Akashion: Deep blackberry to match with any skin tone
08 Akamitsu: Blood red that gives the appearance of a healthy freshness
09 Shizukubotan: Juicy pink, fresh and clear to enhance natural lips
10 Tsuyuanzu: Milky apricot, dewy and fresh
101 Tsuyabudou: Radiant purple with clear sparkle (Limited Edition)
102 Tsuyaremon: Clear yellow, refreshing and radiant (Limited Edition)
Gel Eyeliner Pencil – £20.00
The soft fine pencil will make it easy to define your eyes with three effortlessly chic new colours that can be matched to any eyeshadow shade.
04 Light Brown: A soft brown to gently define the eyes perimeters. Goes well with warm-coloured eye shadows.
05 Grey: By proving just the right amount of shade, the cool grey yields perfect eye definition. Goes well with cool-coloured eye shadows.
101 Purple: The vibrant purple gives the perfect accent to your eyes, complimenting eye shadows with base hues. (Limited Edition)
Deep Nuance Eyes Cream Eyeshadow – Limited Edition – £22.00
A cream eye shadow to master the light of spring. The purity and
delicacy of the lustre in this limited-edition shadow means that even a
single shade creates a striking look.
101 Limited Edition: Use this platinum beige as an eyeshadow base, or to highlight the outer corners of the eyes with extra luminosity
102: A shiny pink that emits a delicate and subtle sparkle
103: A deep brown with glittering top notes that produces a graduation on its own
104: This clear lavender shadow will season your eyes with a little spring time chic
105: A polarising pink with a sparkle of blue pearls, projecting a natural, cool and silvery shade
Nail Color Polish – Limited Edition – £18.00

Three new bright spring shades to accent the natural tones of the collection.
104: This healthy looking bright orange is nuanced with red for a bright,
sunshine feel
105: The crushed gold radiates a gorgeous glitter
106: A clear red grape, translucent and fresh