Hello beauties!
I'm happy to bring you the first news for SUQQU Spring Summer 2018 Makeup Collection. Launching next month the collection is inspired by the Japanese kimono artistry, "Kim Choi", bringing kimono gorgeous metal powder trim accents to the make-up series. There's a huge collection gathering a total of 32 products in seven categories, without mentioning the new foundation or skincare products. The products will arrive on the UK market but I don't have a launch date yet. Let me entertain you with all the info I have after the jump.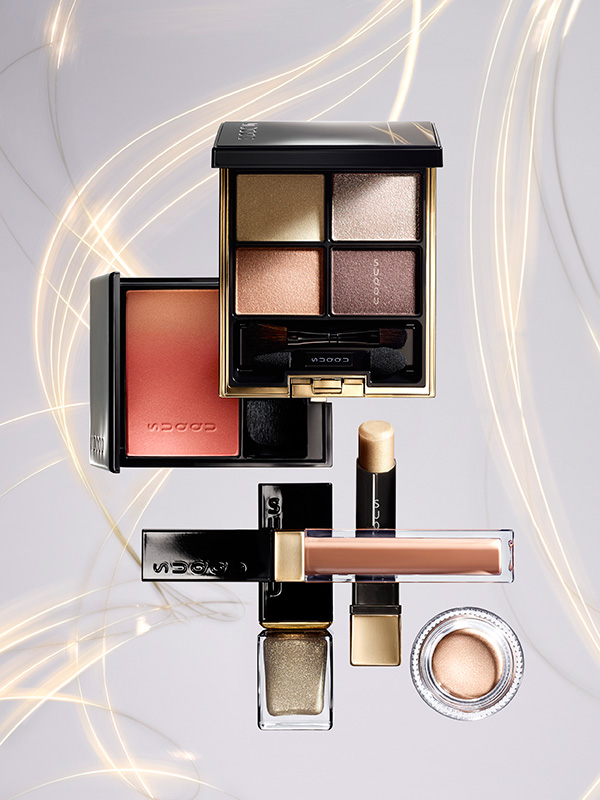 Availability
Asia Launch Date – January 2018
UK Launch Date – 1 February 2018 at Selfridges for a 2 week preview | 15 February at Harrods, Fenwick of Bond Street
SUQQU Spring Summer 2018 Makeup Collection
SUQQU presents the new spring/summer collection for 2018, inspired by the art of 'Kindami', adding gold or silver leaf to fabrics to create luxurious luminosity.
An art form integral in the creation of a Kimono.
Three-Dimensional Eye Color Palette – £46.00

Three new radiant colour palettes for Spring/Summer 2018 made with soft tones that beautifully blend into the skin. Each palette includes a highlighting shade for radiance, an accent shade for a pop of colour and a deeper tone to finish the look.
08 Hikarikogare – sparkling brown and gold shades
09 Ryougetsu – a combination of gray and muted gray shades
114 Hanaakari – soft pink copper with sparkling red peach and brown (Limited Edition)
Pure Color Blush – £32.00
08 Momodaidai – pinkish coral for all skin types
09 Ayakegerou – nude
106 Hanairoka – sheer blood red hues and contrasting pale pink (Limited Edition)
Extra Glow Lipstick – £25.00
14 Mizukajitsu – tomato red
15 Yoinijimi – dark brown
109 Kindami (Limited Edition) – glossy gold
Flawless Lip Gloss – £24.00

The formula contains a lightweight composite oil giving the lips three-dimensional effect with a moisturizing feeling. There's no tacky or sticky feeling. Shades #02, #04, #05, #06, #07, #101 and #102 contain pure pearlescent gold particles.
01 Tea
02 Red Tea
03 Cherry Dying
04 Huang Hong
05 Red Coral
06 Rose
07 Red
08 Red Honey
09 Peony
10 Lu Xing
101 Tsuyabudou (Limited Edition)
102 Tsuyaremon (Limited Edition)
Gel Eyeliner Pencil – £20.00
04 Light Brown (New)
05 Grey (New)
101 Purple (Limited Edition)
Deep Nuance Eyes Cream Eyeshadow – Limited Edition – £22.00
101 TSUYAGINU
102 MAIZAKURA
103 AKAKAGE
104 SUKASHIAOI
105 HYOUKOU
Nail Color Polish – Limited Edition – £18.00

Three new bright spring shades to accent the natural tones of the collection.
104 Taiyouka
105 Mougetsu
106 Mizuyukari