Hello pretties!
Last month Huda Beauty Wifey Lip Contour joined the line as a new and permanent shade. There were two new shades released and Wifey which I got here is one of them. Of course this name may sound familiar and you are right. Huda Beauty Wifey Liquid Matte Lipstick (review, swatches) is already a permanent shade and a perfect match with this new lip contour.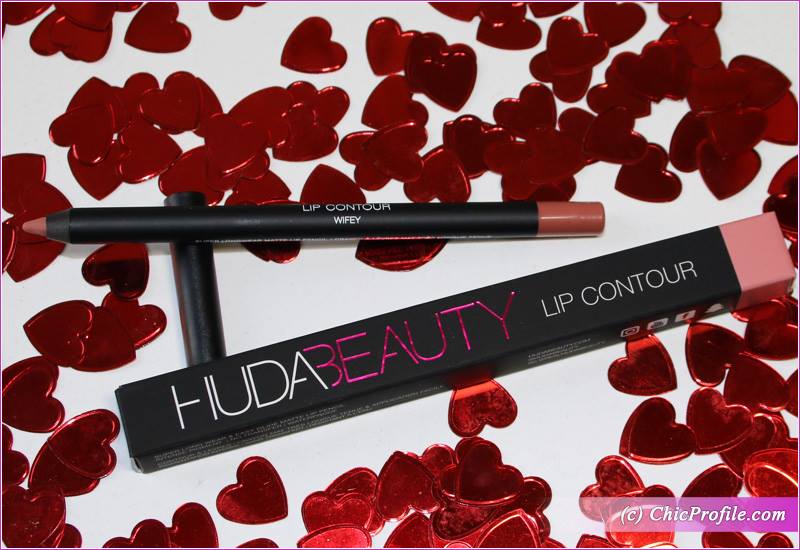 Where to buy:
U.S. – Now at Sephora, Cult Beauty
UK – Now at Cult Beauty, Selfridges, Harrods
Huda Beauty Wifey Lip Contour Review
Huda Beauty Wifey Lip Contour ($19.00 / £16.00 for 1.20 g/ 0.042 oz) is officially seen as a delicate pinkish nude. It's a medium rosewood-pink going towards nude with slightly warm undertones and a matte finish.
It has a good color payoff, being pigmented and intense. It delivers opaque coverage in just one swipe. I'm already familiar with Huda's lip contour formulas and performance so this is just about another shade joining the collection.
One of my favorite and go to shades is Huda Beauty Trophy Wife Lip Contour (review, swatches). Wifey goes more towards the nude side. Is a color that you can wear everyday at the office, school or on a casual day. I think it will look good on all skin tones and goes well with a variety of nude lip products.
The consistency is soft and smooth, glides on easily across the lips. It delivers a pigmented shade that can be worn on its own if you like. The finish is matte but it does emphasize a bit my lip lines. I wouldn't say it feels dry on my lips but it makes lips appear just a bit dry. A similar shade but with warmer undertones would be Huda Beauty Venus Lip Contour (review, swatches).
It feels comfortable on the skin, lightweight but it has a slightly drying sensation overall. I can't say it dries out my lips throughout the wear but it feels just a bit dry after a few hours wear. The formula is said to be waterproof and transfer proof but I wouldn't go that far. It's indeed long lasting and would take me to six hours wear even if I have something to eat. It lasts pretty good on the lips on its own and it definitely makes any lip product applied on top last longer.
I've met lip pencils that have a way dryer formula than Huda Beauty Lip Contours. So I would say is somewhere in the middle, as I also have those who are much more softer and last longer. I'm just saying that is a good lip pencil, lip contour, lip liner but not so extraordinary as it's marketed.
SHOP THIS POST