Hello sweeties!
Huda Beauty Faux Filter Foundation launched back in 2017 Fall and I was there at the counter when it did. I remember having my shade matched by a MUA and returning home with several Huda Beauty products. I know I postponed this review too long and trust me that I have more Huda Beauty products that I haven't talked to you about. Since the foundation launched I wore it several times with different makeup bases, under different weather and climate so I pretty much test it a lot.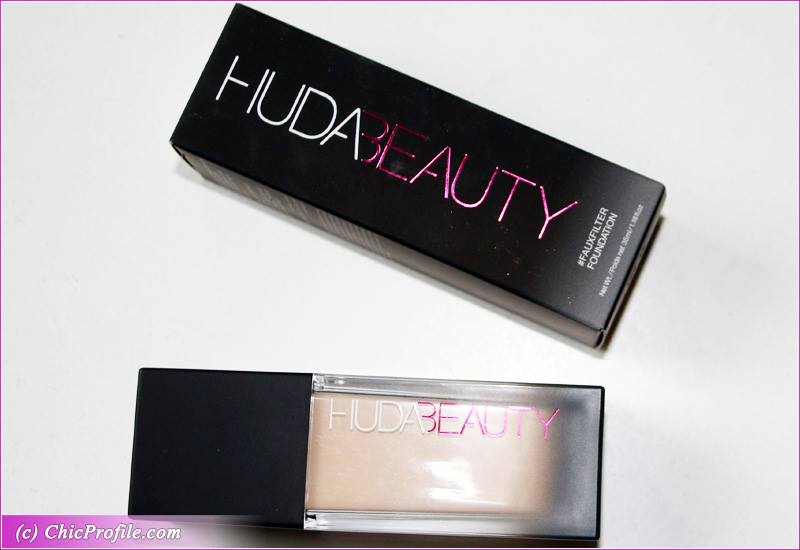 Where to buy:
U.S. – Now at Sephora, Cult Beauty
UK – Now at Cult Beauty, Selfridges, Harrods
France – Now at Sephora.fr
Huda Beauty Faux Filter Foundation Review
Huda Beauty Faux Filter Foundation ($40.00 / £32.00 /€40.00 for 35 ml / 1.18 fl oz) range comes in 30 colors from lightest to darkest. I like that it offers such a wide variety of colors and especially darker tones can find a match.
Since I moved to London last year, I started getting attached to this brand and I've bought a lot of its products. You can READ HERE my Huda Beauty reviews and there are more coming. I didn't particularly needed a foundation when #FauxFilter launch but I bought a lot of Huda's products since I discovered the brand. So, I also purchased the Complexion Perfection base primer and Buff Blend Brush so I could test this foundation properly.
Huda Beauty Faux Filter Foundation is meant for all skin types and provides a full coverage. You already know my story with full coverage foundations by now. I rarely need a full coverage foundation so I'm more prone towards light and medium coverage. Nonetheless it happened to me more than once to love a full coverage foundation and use it regularly. The key would be to feel weightless and to not give me that mask sensation.
The Faux Filter Foundation was pretty much reviewed by everyone I guess so in case you can take one more review, here it goes. As I said, I got matched by the Huda Beauty counter to shade 120B Vanilla which is for fair skintones and has a beige undertone. Unfortunately when I tried it at home, the color was too light for my complexion. In the store, the light was not that great and I couldn't see the difference, but at home and especially outside under natural or sunny light it was more than obvious. I guess I'm not a Vanilla girl, but I kinda make it work with a Guerlain bronzer or Armani Sunrise Countouring & Highlighter Palette.
The coverage was perfect! Full-coverage in one layer, concealing blemishes and skin imperfections leaving a semi-matte, powdered finish. As a combination skin type, I'm in for a semi-matte finish as I don't need to use powder. The foundation did a great job evening out my skin tone, concealing as I said any skin imperfections and covering very well without needing to use my concealer. So far so good, I'd say! The semi-matte finish was something that I really like and the overall filter-like finish was nice.
On the other hand…I don't know where to begin. I have to arrange my thoughts for a second. Here we go!
The formula is heavily scented, at least for me. I can feel the smell lingering on my face after I applied the foundation. It is a pleasant smell but for those who are sensitive to scented products you may keep this in mind. The consistency is creamy, not very liquidy I'd say so it won't run down your face when you apply it. This could be a plus as you'll have more control during your application. I tried it both with the Buff Blend Brush and beauty blender so I'm sticking to the last option. I feel that the beauty blender gives it a more natural finish, as natural as it works with this foundation.
The foundation dries down pretty quickly so you'd have to blend it pretty fast. That's why I prefer to apply it with the beauty blender. If I didn't work it out fast into my skin I noticed how it tended to dry a bit patchy. I couldn't really do much more at that point to even it out. The finish effect allows you to skip the setting powder step if you want. For me that was a plus, but I also tried it with powder on top.
Now, if you love your foundation high coverage I'm sure you'll appreciate Faux Filter. I can't say it felt heavy on my skin, but it had a noticeable weight feeling. I couldn't say it was weightless and lightweight and I didn't feel that I was wearing foundation, because I did. On the other hand I won't say that I had that feeling like I was wearing a mask. It was something in between, but definitely felt like I had a veil of foundation coverage, especially when I smiled. I'm used to a weightless feel so don't judge me if I don't like the sensation of a full coverage. Many women appreciate a full coverage and that's totally fine. I guess is rare (or almost impossible) to have a foundation covering so well blemishes, scars, hyperpigmentation or redness with a second-skin feeling.
I wore the foundation for the entire day when I first test it and up to 10 hours several times. Indeed it is long lasting, gets you throughout the day. It doesn't oxidises so this should make a lot of people happy. On me it started to look a bit shiny on my T-zone after 6 hours when I didn't wore powder. I don't like the matte finish the powder gives to this foundation so I'd prefer to skip this step. Not to mention that the filter finish made me confident that I can wear it without the touch of a loose powder. Well after 6 hours I needed to use a bloating paper to minimize the shine.
For many women out there I'm pretty sure Huda Beauty Faux Filter Foundation is a 10 out of 10. I've seen so many tutorials and women genuinely liking this product. Unfortunately is not for me, not something that I'd see myself wearing. I guess exceptions can be made and if I'd found myself in a situation with a bad face day and needing to out I'd probably give it another try.
Everytime I read another review, saying how amazing this foundation really is and seeing another tutorial on Youtube I'm inclined to give it a go. I apply it and then I remember how quickly I need to start blending and how am I'm suppose to get use to the sensation that I'm actually wearing foundation. Just because of this sensation that is not common for me, I tend to keep the rest of my makeup to a minimal. I had to add bronzing powder to make the shade more wearable for me but I'm keeping the blush and highlighter to a minimum.
Throughout the day I notice how it emphasizes my fine lines, especially those from my under eye area. Towards the evening even though I had a good night sleep the day before, my under eye area looks so wrinkled. Everytime I smile my lines are emphasized more than they look without makeup. You can start throwing tomatoes at me but I feel that I look much older when I'm wearing this foundation. It emphasizes fine lines more than it has too. 🙁
Huda Beauty Faux Filter Foundation Packaging
The foundation comes in a transparent glass bottle with a pump and a black cap. Is easy to hold and use so no complaints here. If we were to talk about the pump, I'd say it dispenses a lot of product. Or maybe just for me? I'm barely needing a half a pump. I've seen girls applying 2-3 pumps so I think that's definitely too much, at least for me. What do you think?
How is Huda Beauty Faux Filter Foundation for you?
I think this product is the first Huda Beauty product that I'm 100% sure that is not for me. Is not a product that I'd see myself wearing but I know is appreciate it by many of you out there. I'd definitely love to hear your opinion about this product. How many pumps are you applying it, do you love the finish and how does it wear on you. 🙂
SHOP THIS POST