Hello pretties!
SUQQU Hanairoka Pure Color Blush is part of the new SUQQU Spring Summer 2018 Makeup Collection. If you check my Instagram Highlights you can see a short preview of this collection. I showed you what I received from SUQQU SS 2018 Makeup Collection and I'll be reviewing them shortly. I wanted to start with SUQQU Hanairoka Pure Color Blush because it's a limited edition.
Although I tried and bought a few SUQQU products, the brand is still new to me so I'm constantly discovering their products and textures. On a first look I was really impressed by the packaging, but more about this towards the end of this review.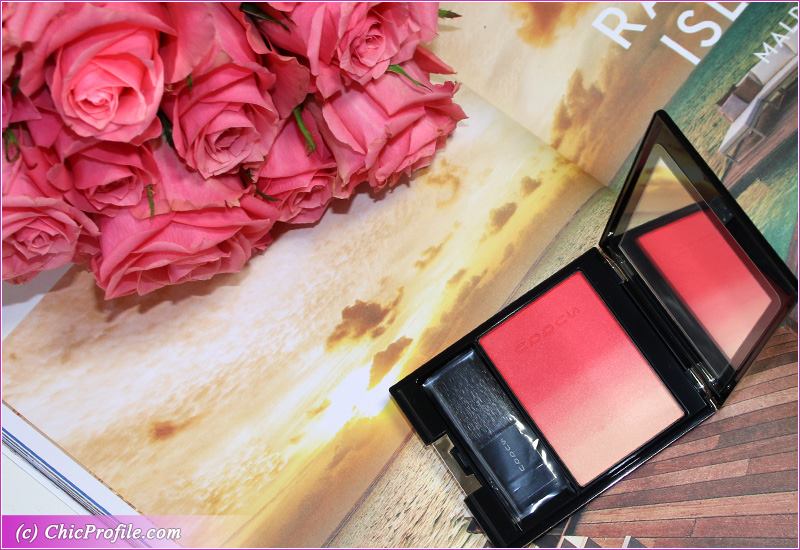 Don't forget to access my PATREON PAGE if you want to support me as an independent blogger and Chicprofile, but also to get the latest scoops on Upcoming Makeup collections before anyone else. I post exclusive content only for my Patrons! 🙂
Availability
UK – Now at Selfridges, Harrods
SUQQU Hanairoka Pure Color Blush Review
SUQQU Hanairoka (106) Pure Color Blush (£32.00 for 7.5 g / 0.26 oz) is officially described as a soft blood-red with a subtle pink. Even though I see it as a bright reddish-coral going towards a light beige it totally comes different on the skin.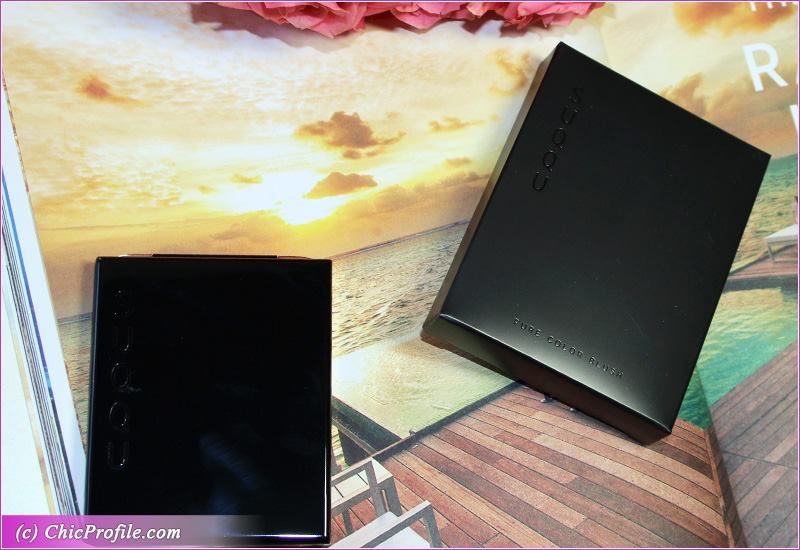 I was so pleasantly surprised to see that it swatches as a light pink with red, cool undertones and a satin finish. At first when I saw how bright the blush looks in the pan I was convinced it was not for me. I do love corals, but nothing as bright as this one looks like. Just a quick swatch on my hand and I was ready to give it a proper try and apply it on my cheeks.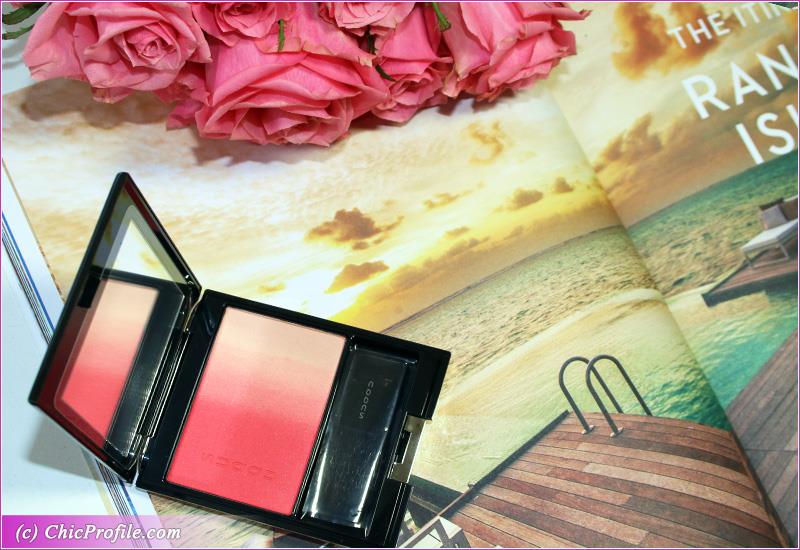 The color payoff is good, but without being extremely pigmented or opaque. You can definitely build up the intensity a bit but is meant to look softer. If you are in for a bright blush with vibrant color payoff, SUQQU Hanairoka is not the one for you. It will definitely complement lighter skin tones and those who appreciate just a touch of color on the cheeks. It instantly brightens up the face, giving a slightly flush look.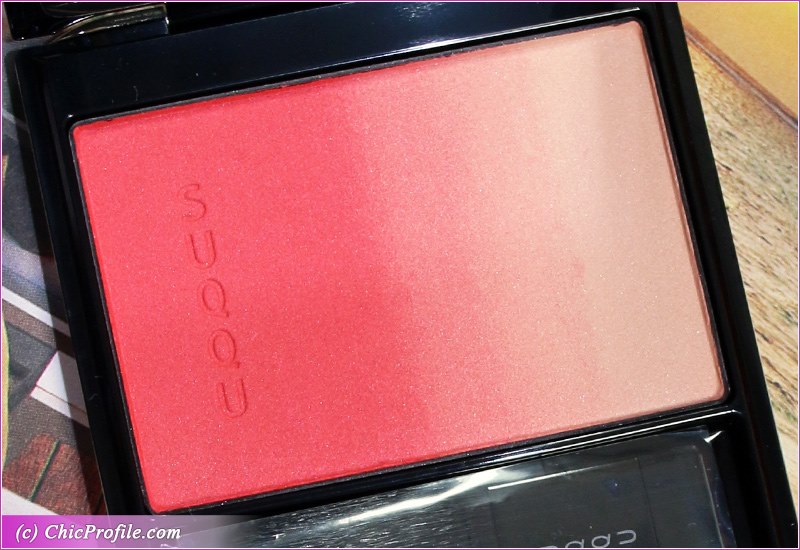 I just love the softer effect, that just adds a bit of freshness and sophisticated prettiness. Turning from bright reddish-coral into a soft pink on my cheeks it just makes it so much pretty for me. You know I'd choose pink over coral anytime. 🙂 I know the color looks pretty intimidating in the pan if you have a lighter skin but it goes on beautifully and is hard to overdo.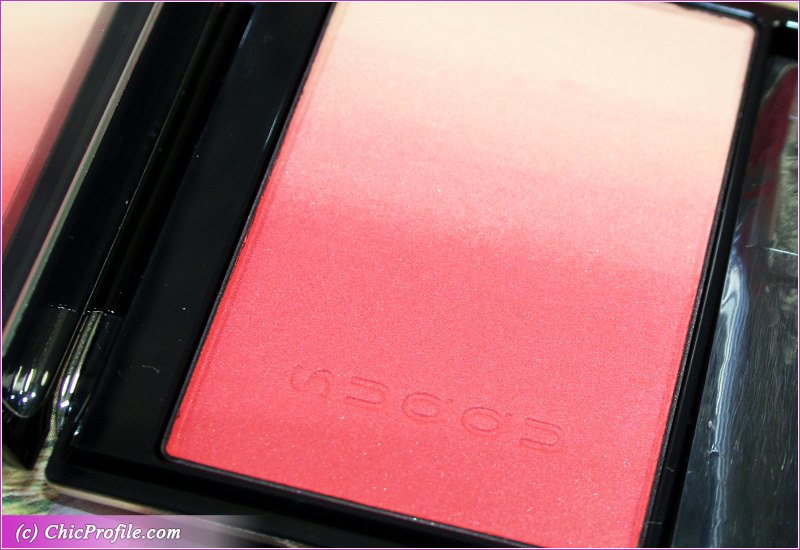 The texture is very soft and smooth and doesn't emphasizes skin texture or pores. If you look up close you can see very fine luminous golden particles that add luminosity to your cheeks. It adheres well onto the skin and blends so easily. You can go on with the lightest shade on the apples of your cheeks if you don't want to add any highlighter.
Suqqu Hanairoka Pure Color Blush Swatches under white light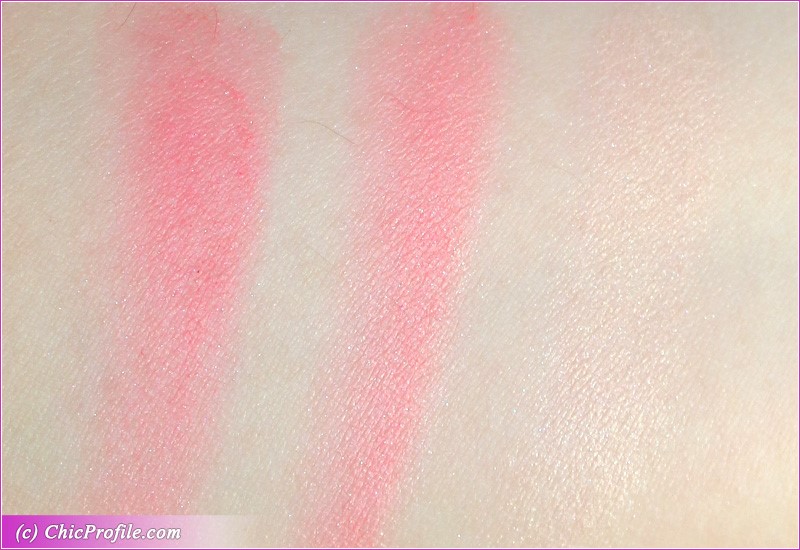 Suqqu Hanairoka Pure Color Blush Swatches in sunlight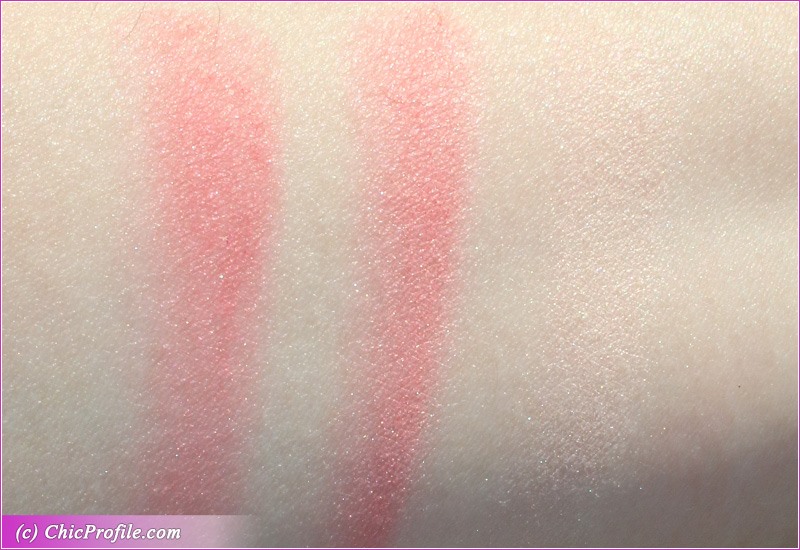 I got around nine hours wear with this formula before the color slowly started to fade. The blush didn't kick off powder in the pan when I dipped my brush and the formula doesn't feel dry at all.
Wearing SUQQU Hanairoka Pure Color Blush
You saw me wearing SUQQU Hanairoka Pure Color Blush the other day on Instagram. I'll definitely keep posting more photos when I'll be wearing this blush again.
Here's a recent update of me pairing SUQQU Hanairoka Pure Color Blush with a makeup look where I used Pat McGrath Star Wars Decadence Eyeshadow Palette (review, swatches).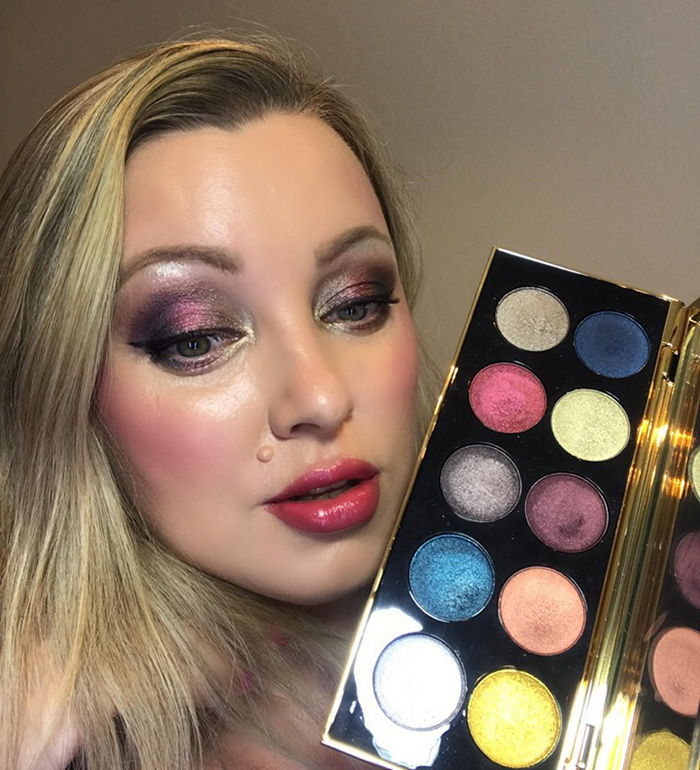 On my eyes, I'm wearing the new SUQQU Ryougetsu (09) Designing Color Eyes (review, swatches) from the SS2018 Collection along with their new lipstick and lip gloss. You can see them all here, until I'll get those reviews ready.
SUQQU Hanairoka Pure Color Blush Packaging
Believe me or not, I was very much impressed by the packaging of SUQQU blushes. A black case with a golden mirror-like bottom shouldn't be that impressive is it? Well for me it was when I picked up the compact and saw how lightweight it feels. Not to mention how sleek the blush compact is. I think this sleekness gives it the ultimate elegance feel.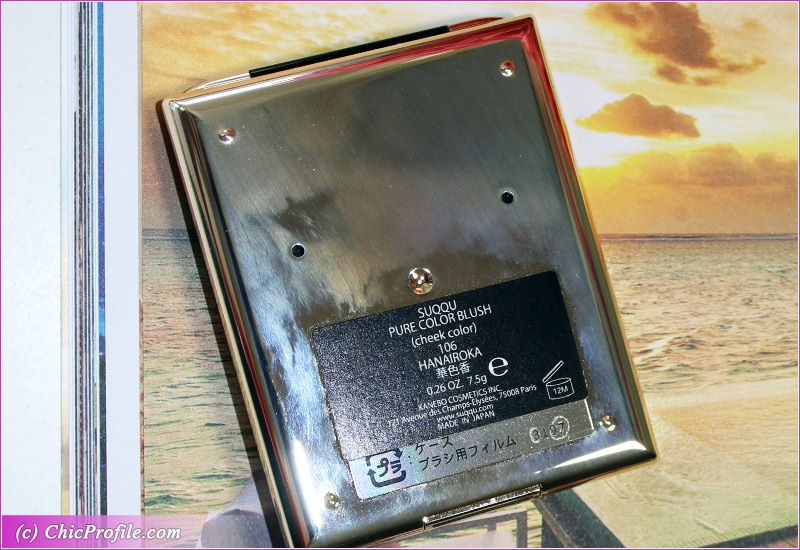 I don't know what materials they are using for the packaging to make it look so good and feel weightless at the same time. Inside it comes with a pretty decent mirror size and a mini blush brush which can be useful if you are on the go. I would definitely sleep this into my bag instead of carrying my Clinique double-ended mirror, as SUQQU is so much lighter and prettier. 🙂
What do you think of SUQQU products?
Let me know if you tried SUQQU products before and especially their blushes. I'm really curious to know what do you think about this brand. As I said, for me is still new, as I discovered it only last year when I moved to London. I'm still trying out a lot of their products and constantly going to Selfridges to enjoy their Ganking Facial Massage and Treatment.
In case you didn't know SUQQU Selfridges offers a redeemable Ganking Massage for £40.00. So not only you're getting the most relaxing and beneficial facial treatment but you can also spend the £40.00 on any SUQQU products of your choice.
UPDATE: Since the Selfridges SUQQU counter renewal in February 2018, the Ganking Massage is redeemable for £60.00 against any purchase. Just make sure to call first to book your appointment. 🙂
SHOP THIS POST