Hello sweeties!
Make Up For Ever Ultra HD Soft Light is a new sparkle-free liquid highlighter that just joined the NEW Ultra HD Collection this spring. It comes available in four shades and you can see Live Swatches HERE on my Instagram. I bought the lightest shade in Pink Pearl but you can definitely choose a darker one, depending on your skin. I actually saw these new highlighters in person two weeks ago at Professional Beauty London. Make Up For Ever was hosting a 40% OFF sale so I had to get my hands on this new highlighter. I was lucky to get it at the special price of £15.00. Even though it comes in only four shades, from pink to golden copper, I think they complement all skin tones.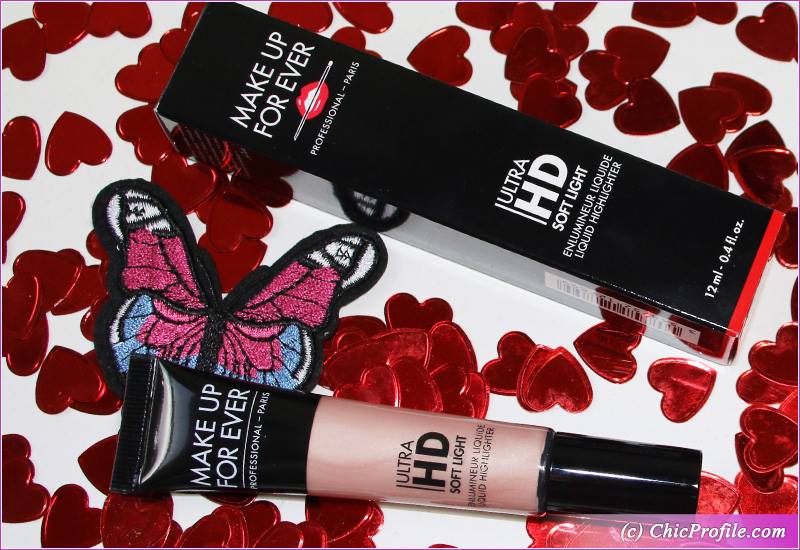 Where to buy:
U.S. – Now at Sephora
UK – Now at Debenhams, Feel Unique
France – Now at Sephora.fr
Make Up For Ever Ultra HD Soft Light Review
Make Up For Ever Ultra HD Soft Light No.20 Pink Champagne ($29.00 / £22.50 /€33.00 for 12 ml / 0.4 fl oz) is a very light, white-baby-pink with slightly cool undertones and a luminous finish. I like not only the light pink color but also the subtle sheen. Is not metallic, doesn't have sparkles or glitter particles inside. I can say it instantly gives your complexion a beautiful glow. It has a nice color payoff with a super light and creamy consistency.
I feel it just makes me looks so fresh and luminous in an instance. A new type of highlighter with a liquid texture that feels so lightweight on the skin. I do adore the metallic finish but this one is something else, unique and new. It gives such a soft, natural and subtle sheen. Looks good on my light skin tone and gives me a instant vivid and healthy look.
The texture is so easily blendable and works so nicely into the skin. It doesn't emphasize my pores or my skin texture. I can barely find the words to describe so seamlessly it blends into the skin and how beautiful it looks with any blush.
HERE you can see me wearing (close-up photos as well) Make Up For Ever Ultra HD Soft Light. That day was not the best light ever as it was so cloudy outside. I promise I'll post more photos on my Instagram and Instastories next time I'll wear this highlighter.
I think the best way I can describe this highlighter is just pure luminescence. It gives instant radiance to the skin while Soft Light blurs and smooths the look of skin texture. Honestly, you just have try it.
On me it last for about eight and half hours before it slowly starts to loose its intensity.
How I Use Make Up For Ever Ultra HD Soft Light
The easiest way is the classic way. Just simply dab it on your cheekbones directly from the tube and use a beauty blender or a dampened sponge. It will give a more natural finish, but you can always add more and build up the color a bit. This is my favorite way to use the Ultra HD Soft Light highlighter.
If I want to go with a more intense look, then I can add a powder highlighter on top of it. The other day I tried adding Becca Parisian Lights (review, swatches) on top of it and you can't imagine what a strong metallic and intense effect I got. 🙂 This is definitely for those who love an extreme highlighting effect.
You can definitely use it directly on the skin without any foundation. Just blend it nicely into the skin and you'll get that luminous, healthy look. Or you can mix it with your foundation and apply it all over your face for an alluring glow. What I also like to do is apply it on cupid's bow and a bit on the tip of my nose.
I think being a sparkle-free highlighter gives you so many more options on how to use it. Did I forgot to say that you can apply it on your brow bone or over your lids? Of course I did, but it's up to you how versatile you want to make this product.
Make Up For Ever Ultra HD Soft Light Packaging
I was going to end this article and forget to talk about the packaging. It comes in a  squeezable plastic tube with a part that is transparent and allows you to see the color and how much product is left. The packaging is very practical and easy to use. I just squeeze the tube and apply little dots on the apple of my cheeks. From there is super easy to blend it with your fingers or use a beauty blender.
SHOP THIS POST