Hello beauties!
I don't want to make you jealous but I can't help sharing the Pat McGrath Makeup items that I received. Yes, maybe I said the magic word – received – because I did got these products in PR. I was flattered and so grateful to have received a box filled of Pat McGrath makeup items as a thank you for the support that I've shown to this brand. So I'm quite new with the products, because we don't have them here in UK and I'm honestly craving to see this brand on the counters.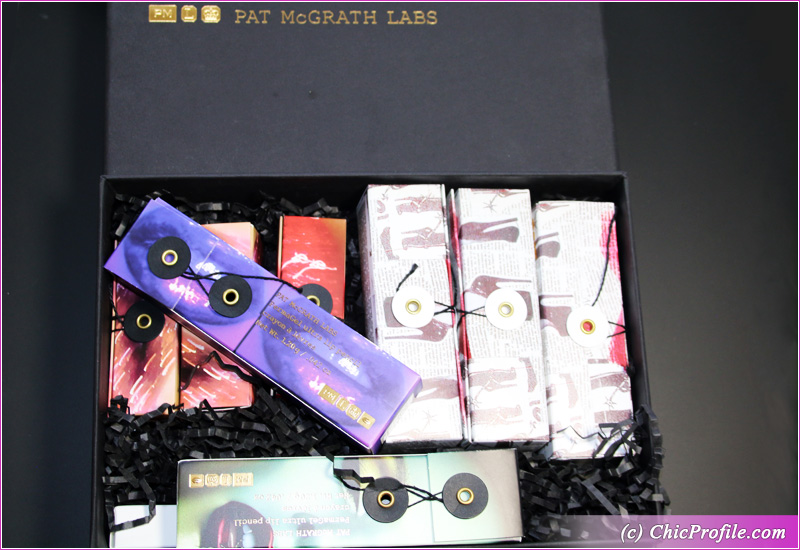 Where to buy
U.S. & International – Now at Pat McGrath
Pat McGrath Makeup
Basically this package came as an amazing surprise a short while after I purchased Pat McGrath Sublime Skin Highlighter Trio (review). I got some new colors, but also some of the classic ones. I've already tried all these products so watch out for my reviews in the upcoming days.
Once I've settled into my new home and start unpacking the beauty products I realized that I have to speed up on those reviews. 🙂
So for starters, I got three shades of MatteTrance Lipsticks ($38.00) and two of them are new: 041 Guinevere, 048 Christy and 056 Elson 2. I'm trying to save the excitement and my impressions for the upcoming reviews. But oh, my they have entered the category of best lipsticks I've ever tried.
Next I got three shades of Lip Pencils ($25.00) in 302 Manhattan, 303 Buff and 001 Major. These are waterproof lip liners and each of them comes with an individual sharpener. I'm going to start reviewing these first because, oh my, I've been abusing these shades for weeks now. 🙂
Last but not least I've got the three shades of Skin Fetish Highlighter + Balm Duo ($48.00 for 3.5 g / .12 oz). These were released back in Summer as part of Pat McGrath Skin Fetish Collection. At that time I bought only the Sublime Skin Highlighter Trio (review, swatches) palette that I've worn quite a few times in the hot season.
These duos feature creamy highlighters and a transparent balm. Just perfect for an easy day makeup and a fresh glow on your skin. I like to keep one of these in my bag at all times and touch up throughout the day. 🙂
What Pat McGrath products have you lovelies tried so far? I've heard amazing things about the quality of Pat products and I can't want to share my impressions with you.
SHOP THIS POST
Enjoy more photos…