Hello beauties!
I've been sitting on this beauty of Pat McGrath Sublime Skin Highlighting Trio palette for a while now. You see…moving to a new house was definitely time and energy consuming so I've skipped on a lot of reviews. Hoping to catch up on all those products that I've been testing lately, I'll start my review series of Pat McGrath products with this beauty.
I purchased this product, when it launched but I didn't have the chance to review it before. A while after this I got a wonderful gift from Pat's team, as a thank you and appreciation gesture. My heart just melted when I opened up the package and see all the beauties within. I truly appreciate brands that not only take care of their readers or bloggers but also of their customers. 🙂
Watch out for more reviews on Pat McGrath products because I have a lot to share with you in the upcoming days.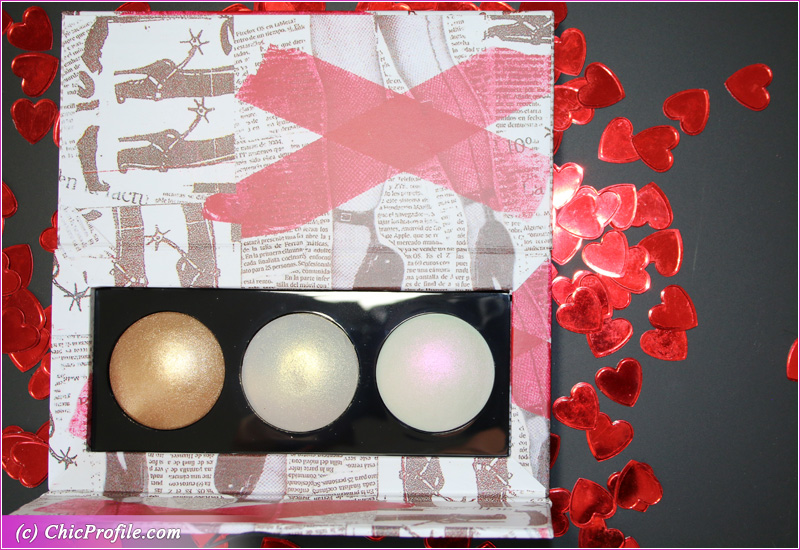 Where to buy:
U.S. & International – Now at Pat McGrath, Sephora
SHOP NOW
Pat McGrath Sublime Skin Highlighting Trio Review
Pat McGrath Sublime Skin Highlighting Trio ($50.00 for 0.42 oz. / .12 g) is a palette containing three metallic highlighters. The texture is suppose to be silky smooth and lightweight while the formula is easily blendable. The pigmentation is suppose to be buildable offering from fresh-faced fantasy to all-out aliengeic.
I noticed the texture is indeed silky and smooth but with a texture that leans more towards a powder rather than a gel. The pigmentation was on point, easily buildable if you want more intensity. So in this way I can work the shades even on my light complexion. The palette will ideal for those who desire a bright metallic finish as well and are not afraid of an intense glow.
If you desire more shimmer and shine, you can easily add 1-2 more layers and easily get to that intensity. Basically you can wear it how you like it, which makes it ideal for all skin colors and preferences.
You can choose to wear the shades individually or together for a gorgeous gleam, mimicking the reflection of light with glittering shine. If you wear the shade individually you'll get that pure light effect with an even color.
Iridescent Pink 003 is a light lavender with a pink-purple duochrome shift and a sparkling sheen finish. It has a good pigmentation, showing off beautifully on my light skin. You can easily build up the coverage up to a full opacity with another layer of color.
The texture felt smooth and soft to the touch even though it had a sparkling finish. I tried it with different brushes and it work well every time. I easily picked up the product (with a less denser brush as well) even though the formula was feeling more creamy. I liked to apply this highlighter with my fingers as well but regardless the soft creamy to powder formula it still performs well when using a brush.
It complements beautifully my light skin, without emphasizing my pores or skin texture. I personally like to stop after one layer as I like that satin, duochrome effect. When I add 2-3 more layers I get a more intense, metallic finish that I'm not really use to wearing.
I think deeper skin tones will definitely enjoy at least two layers of this highlighter. Basically, I love it because it gives you the freedom and choice to wear it as you like it, from a satin to a highly metallic finish.
On me the color lasted well for about 9 nine hours without creasing or traces of fall-out.
Fine Gold 003 is an intense, white gold with a luminous silver shift and metallic finish. I noticed very fine sparkling particles in this color. The texture felt so smooth and silky to the touch and applied beautifully.
The pigmentation was on point, looking almost opaque in one layer. This is definitely an intense highlighter shade so keep away if you are color shy. It's easily blendable, adhering well even on bare skin. All the swatches I took were on bare skin so you can see the colors' real pigmentation.
If you prefer a metallic intense finish then going with a second layer of color will definitely get you that effect. If you prefer a more luminous finish, I'd stop after the first layer. This shade lasted about eight hours on me, a little less than the previous one.
Bronze Nectar 003 is medium gold with warm, yellow undertones and a metallic finish. It has a great color payoff with a rich and intense pigmentation in one swipe. The texture is smooth and velvety, just a please to swatch it or blend it.
The application was perfect, delivering an even color and no fall out. You will get a beautiful metallic sheen if you blended easily or add another layer. I bet this color will look beautiful on medium and darker skins.
It wears well for almost nine hours without any fall out.
SHOP NOW
Enjoy more photos…