Hello sweeties!
In the past few months I've been enjoying a lot of products from Make Up For Ever. I'm sorry for coming with them so late as I know they were part of the summer release. Make Up For Ever Glitzy Face Palette (£39.00) that I've been enjoying all summer long is on sale now. I took this palette with me when I traveled as I have all the shades I need for a basic, fresh or nude makeup look.
I'll still be reviewing this palette next week, even though it was part of the Summer collection, because I definitely think is a great value for money. I've been using the shades in the palette not only as eyeshadows or blushes but also for contouring and lining my brows.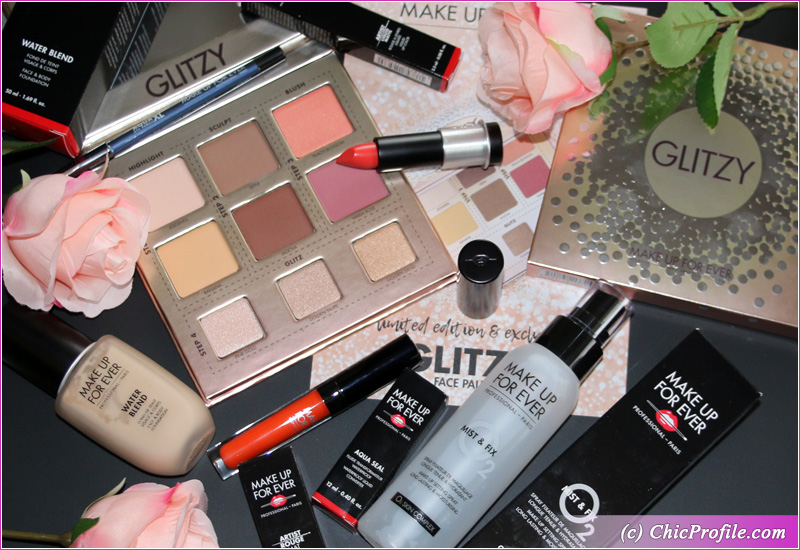 Where to buy:
U.S. – Now at Sephora, Jet.com
UK – Now at Escentual, Debenhams
Make Up For Ever Products I've been enjoying lately
So basically for me this palette was my holy grail, my best travel buddy as I took with me when I traveled in Romania. I wanted to travel very lightly and not pack up more than 10 makeup items with me and this palette really saved a lot of space in my luggage.
As a fair skin tone, I really enjoyed contouring with the shades from this palette and also took full advantage of that large mirror.
Lightly is a word that I will use again when I'll be reviewing Make Up For Ever Water Blend ($43.00 / £29.70) foundation. It was no joke, my go to foundation in the summer. Felt incredibly lightweight on my skin and very natural, which I definitely love in a foundation when I'm living in a humid climate. This water-gel foundation has a light coverage and can be used for face and body. It gives a beautiful dewy glow with a natural-looking finish. It comes in a variation of 20 shades.
Now when the weather turned cold, I've started wearing Make Up For Ever Matte Velvet Skin foundation. You've seen me wearing it on Instagram and talking about it on #igtv videos. Definitely keep your eye on the blog as I've already written my review and is in a queue for being published.
One product that has been in my collection for years is Make Up For Ever Mist & Fix. I've always had this baby in my collection and made it take turns with MAC Fix + and Urban Decay. I remember having it in a small, travel size format that I took with me whenever I traveled.
Now if are to talk lip products, this summer Make Up For Ever suggested some bright colors. So bright that we are talking about corals, orange and warm reds. Well, you know how I'm handling a bright orange lip, but I definitely can't say anything bad about the formula or how it performed.
Make Up For Ever Artist Rouge Lipsticks are amazing, they feel light and moisturizing on the lips. Check out my reviews on MUFE Chestnut and Coral lipstick shades.
Make Up For Ever Artist Liquid Mat are some of the best liquid lipsticks with a matte formula that I've ever tried. They not only feel so good on the lips, but they don't dry my lips at all. I honestly forget that I have them on every time I wear them. They are long lasting, non-transfer and look amazing.
These are just some of the Make Up For Ever products that I've been enjoying for the past couple of months. Some of them made my life easier and saved me time as they were so quick and easy to apply, not to mention long lasting.
The MUFE Glitzy Face Palette is travel friendly and I can't stress that enough. I'll be reviewing all these goodies right here separately in the upcoming days. 🙂
What have you tried from Make Up For Ever lately that got you excited?
SHOP THIS POST
Enjoy more photos…