Hello sweeties!
I want to tell you about my experience with Medik8 Clay Mask, a product that is part of skincare routine for the past two months. Since there aren't so many reviews out there about the Clay Mask I want to share with you my thoughts and opinions that will hopefully help you out in case if you are looking for the perfect facial mask to satisfy your skin's needs.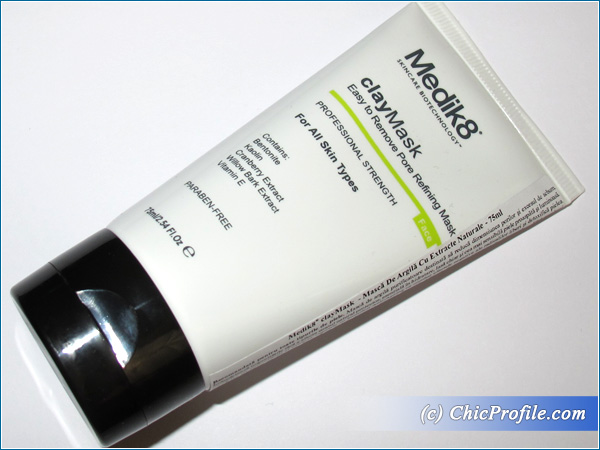 Availability
Now @medik.ro, @medik8.com, @dermaceuticals.ro, @dermacaredirect.co.uk
Medik8 Clay Mask (156.00 Lei/ £27.00 for 75 ml/ 2.54 fl oz) is described as purifying clay mask designed to reduce the appearance of pores size to leave the skin purified, refreshed, soft and glowing. This mask is suitable for women of all ages which have a combination, oily and normal skin type and especially for those who are acne prone skin or mature skin type. It is not suitable for those who are redness prone or dry skin.The product comes in a white opaque plastic tube that needs to be gently squeezed for the product to come out. This mask has a creamy thick texture with a dirty gray color with a green tone and a fruity herbal scent. This mask is rich in natural clay and it's usually the type of mask that my combination complexion needs to absorb oil excess and help prevent pore clogging.
It contains Bentonite, Kaolin, Allantoin, Vitamin E, Cranberry Fruit Juice, Willow Bark Extract, Passionflower Extract but I will tell you more about each ingredient later on. Medik8 Clay Mask is a purifying and detoxifying mask which can be used once a week morning or evening but in my case (or for those with oily skin type) I like to use it two times per week.
Even though it has a thick consistency it is very easy to work with by gently spreading it all over your face, excluding the eye area. I kept it on my complexion between 10 or 15 minutes until it dries and begins to crack. After using it I instantly feel my skin smooth while it looks so clean, fresh and mattified. It is really efficient in absorbing the oil excess and it gives my complexion a mattified effect which lasts throughout the day. My pores are minimized while the skin texture seems rejuvenated, refreshed and with a more healthier appearance. It didn't dry out my skin and I didn't felt for a minute that my skin lacks moisture.
I can honestly say that this mask addresses all those fighting to keep oil excess under control and prevent pore clogging and my skin feels and looks so good every time I use this product. It is also infused with antioxidants and has anti-ageing benefits.
Key Actives
Bentonite – a mineral rich natural clay, absorbs excess oil and reduces surface shine, provides soothing and healing benefits – has the ability to dislodge any water-soluble debris and sweat to gently detoxify and purify the pores
Kaolin ‐ (also known as White or China Clay) – the mildest of all clays and suitable for sensitive skin. Has the ability to draw sebum and oil-soluble impurities from the skin to deep cleanse and decongest
Allantoin – shows skin softening, keratolytic and wound-healing activity to increase skin smoothness and radiance
Vitamin E (D‐alpha tocopheryl acetate) ‐ improved oxidative stability, anti‐oxidant protects from oxidative stress, anti‐inflammatory
Cranberry Fruit Juice ‐ potent anti‐oxidant proanthocyanidins, anti‐microbial, nourishing
Willow Bark Extract – natural source of salicylic acid, non‐irritation exfoliator, anti‐microbial, anti‐inflammatory
Passionflower
Enjoy more photos…