Hello pretties!
When it comes to Marc Jacobs Beauty products I must say I'm new in trying out this brand. But how badly I wanted to have Marc Jacobs Fantasy Dew Drops Coconut Gel Highlighter as well as the Fantascene Eye-Conic Eyeshadow Palette (upcoming review) you don't even know.
Basically I bought the first Marc Jacobs product last year and it was that new Liquid Lip Cremes (review), but the color was so disappointing. I knew everyone was praising their eyeshadow palettes, bronzers and Dew Drops so I was totally in for trying Marc Jacobs Coconut Fantasy Summer 2018 Collection. The bronzer sold out so fast, you barely had time to blink.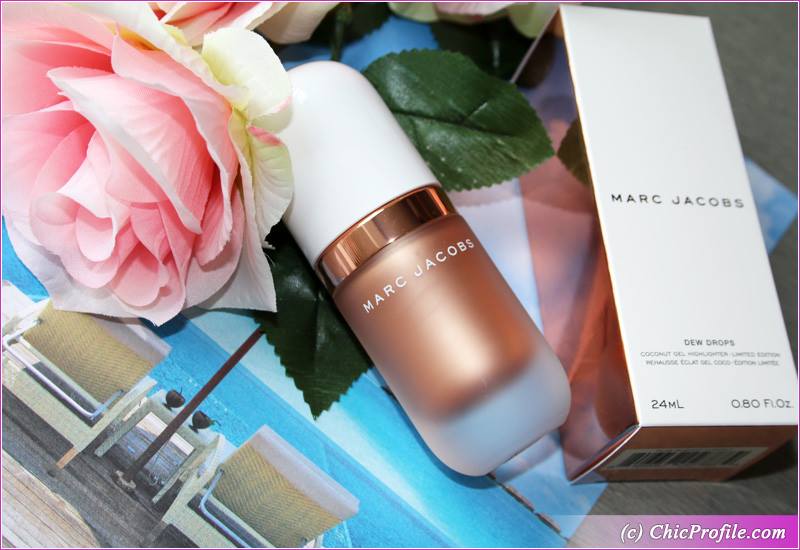 Where to buy:
U.S. – Now at Sephora, Neiman Marcus, Marc Jacobs Beauty
UK – Now at Net-a-Porter
Marc Jacobs Fantasy Dew Drops Coconut Gel Highlighter Review
Marc Jacobs Fantasy Dew Drops Coconut Gel Highlighter ($44.00 / £32 for 0.80 oz. / 24 ml) is officially described as a warm rose-gold with a shimmer finish. I see it as a coppery pink with warm undertones and a very subtle pearly sheen or shimmer finish.
It has a sheer coverage that's easily buildable to a medium coverage. That's a great think for a light skin tone as me, as I can easily build up the intensity. Obviously the first way I tried it was as a highlighter. It came on beautifully, without emphasizing my pores or skin texture. Do remember please that I have a combination skin type.
The texture is very well balanced, creamy and smooth and glided easily across the skin. A little goes a long way is the key phrase when you're using this product. Just a pump of Fantasy Dew Drops was enough to play highlighter on my cheeks.
Also a pump was enough to cover my arm until I reached my elbow. It glides on beautifully, easily and evenly across the skin and blends very well. It dries down to a fairly metallic sheen and catches the light beautifully.
Works very well with other products like creams or liquids so you can mix it with your foundation as well if you like. I have a very light skin so I really have to put just a tiny bit if I want to add only a touch of glow to my foundation. I usually don't like mixing my foundation with anything else since I have combo skin but is another way to use Dew Drops if you are dry or normal skin type.
I think this shade is universally flattering, warming up your face and just adding a rosy-gold glow. Now that the sun is finally shining here in London and the summer days are so much closer a shade like this would definitely look great when I'll get a tan.
I created a makeup look where I used both Marc Jacobs Fantasy Dew Drops and Fantascene Eye-Conic Palette. For those of you who missed it on Instagram and Instastories here it is. Just make sure to swipe for more and close-up photos.
The formula also contains five forms of coconut and provitamin B5 that help hydrates and nourish the skin. I personally love how sheer it comes on the skin at first and how easy you can build it up. It illuminates the skin and gives you a flattering rose-gold hue. 🙂
On me it wore well for about nine hours without looking cakey or breaking up. 🙂
SHOP THIS POST