Hello pretties!
I wanted to try one of the new Marc Jacobs Beauty Le Marc Liquid Creme shades since I first heard about the launch. I got only one shade, the lightest one, a few months back and since this collection is permanent I'm thinking of getting some rosy tones as well. I went for the shade "Yours to Try" which seemed from the promo images like a light, nude beige which will be perfect to create a nude lip for a casual day or to be paired with a dashing smoky eye. I was quite curious about the formula because even though it is a liquid lipstick it won't dry down to a matte finish like most of them do, so I told myself that would be a new type of formula that I might actually wore more often. No offense to those who like matte finish lip colors, I myself found a favorite formula but I don't go for a matte lip pretty often. 🙂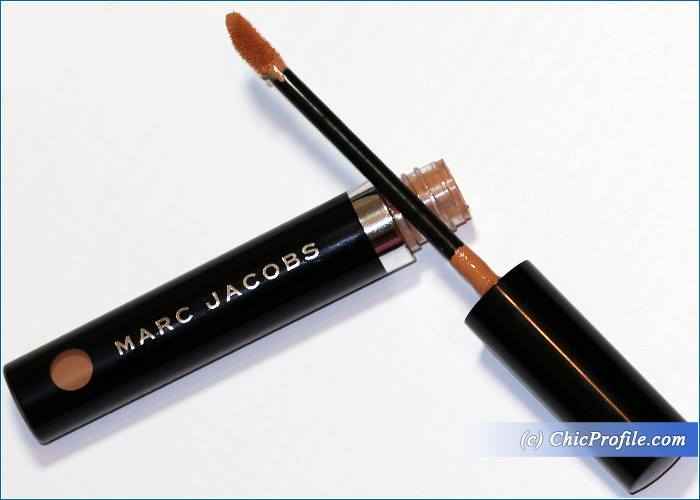 Where to buy:
U.S. – Now at Sephora, MarcJacobsBeauty.com,
UK – Now at Harrods
Marc Jacobs Beauty Yours to Try Le Marc Liquid Lip Creme ($28.00 /£24.00 for 0.5 g / 0.12 oz) is the lightest of the six liquid lipstick shades from this collection and it's officially described as a light buff. I see it as a medium peach with warm undertones and a cream finish.
The brand describes this product as "a hydrating, eight-hour wear, liquid lipstick in a range of bold, full-coverage nudes". It has indeed a great pigmentation, full coverage in just one swipe and it feels creamy and comfortable on the lips. I wouldn't say that it has a very light sensation when worn, but it does feel a bit like a creamy consistency with a medium thickness to it.
Having a creamy formula with a bit of satin finish to it, it won't be transfer-proof, so the whole idea of eight hours wear is a little bit too much. It's actually the liquid version of a creamy lipstick with a moderate slip that offers a natural sheen. It has a very smooth consistency and was gliding easily across the lips when applied, delivering even coverage and without emphasizing lip lines.
I had about four hours wear with this formula, without feeling drying at all and without leaving a stain behind.
This kind of lipstick is right up my alley since I'm known as a lip gloss kinda gal, but I don't find this light shade to go well with light skin tones, as just makes me look very pale. I would recommended to those with medium skin colors and I'd go choose one of those pink-toned hues instead. 🙂
Enjoy more photos…