Hello pretties!
Dior Pink Drop Addict Lipstick is one of the four new shades of Dior Cool Wave Summer 2018 Collection (info, photos). You can check out HERE my Dior Summer 2018 Cool Wave haul. In case you came late to this party you have live swatches here. I already admitted that this collection was not necessarily on my wish-list as it doesn't involves a lot of pink shades. So basically, my options were very limited, leaving the store with only five products.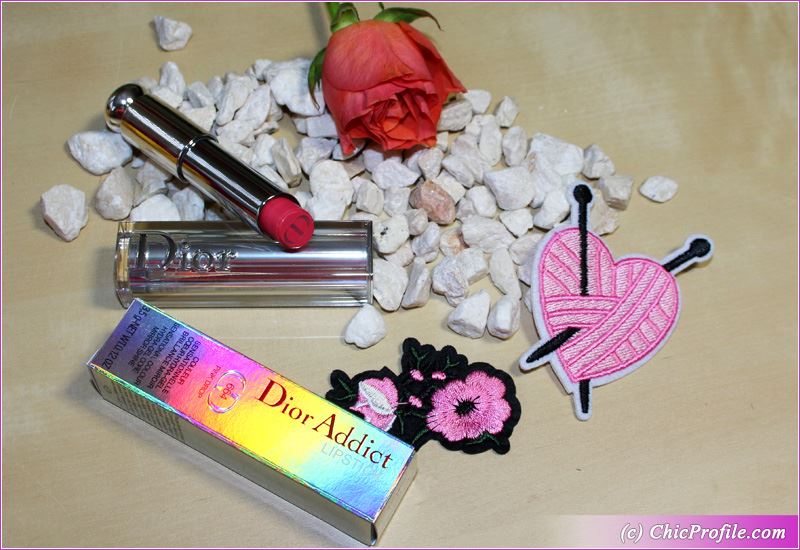 Where to buy:
U.S. – Now at Sephora, Nordstrom, Neiman Marcus
UK – Now at Selfridges, Debenhams, Harrods, Escentual (best price £25.65)
France – Now at Sephora.fr
Dior Pink Drop Addict Lipstick Review
Dior Pink Drop (664) Addict Lipstick ($35.00 / £28.50 /€36.50 for 3.5 g / 0.12 oz) is a light-medium pink with subtle yellow undertones and a shiny finish. It has a semi-sheer to easily buildable medium coverage. I like that it allows the natural lip color to come through just a bit and gives them a noticeable translucency.
It's a great color to be wearing during Spring or Summer and definitely one that will bright up your face. Is not very intense so you can wear it to school, at work, basically on a daily basis or a casual day. I like to quickly apply it on my lips when I need a bit of pink hue, without looking for something that is dramatic and super pigmented. Just keeping it light everytime I'm wearing this shade.
The formula is creamy and lightweight, feeling like a balm. It glides easily across the lips delivering an even color. It has a bit of slip to it but it doesn't sink nor emphasizes lip lines. I like the consistency as it feels very light, balm-like and medium hydrating at the same time. Probably you'd expect more hydration from a balm-like formula but is not excessively hydrating or moisturizing.
The color is lovely and you'll definitely appreciate it if you are not looking for something too bright or intense. The finish is shiny, but without being super gloss, just perfect to give you a fresh looking pout.
Dior Pink Drop Addict Lipstick wore well on me for three hours and it was hydrating but not as much as you'd expect.
The packaging is very chic, fun and looks stylish. I like the magnetic closure a lot and the multicolored effects on the case. 🙂
SHOP THIS POST