Hello lovelies!
Marc Jacobs Fantascene Eye-Conic Eyeshadow Palette is a new limited edition release part of Marc Jacobs Coconut Fantasy Summer 2018 Collection. I desperately wanted to own this palette as the eyeshadows looked so summery to me. This is my first Marc Jacobs Eyeshadow Palette but I also got the Fantasy Dew Drops Coconut Gel Highlighter (review, swatches). The collection sold out so fast, but it was re-stocked soon so it may happen again.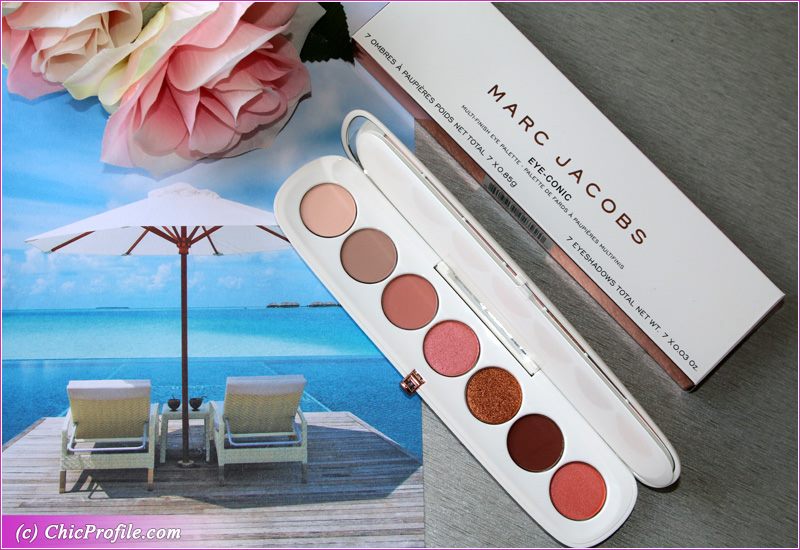 Where to buy:
U.S. – Now at Sephora, Marc Jacobs Beauty
UK – Now at Net-a-Porter (re-stock soon)
Marc Jacobs Fantascene Eye-Conic Eyeshadow Palette Review
Marc Jacobs Fantascene Eye-Conic Eyeshadow Palette ($49.00 / £39.00 for 7 x 0.003 oz. / 0.85 g) is a new release featuring seven shades in four finishes, velvet, satin, silk and lame.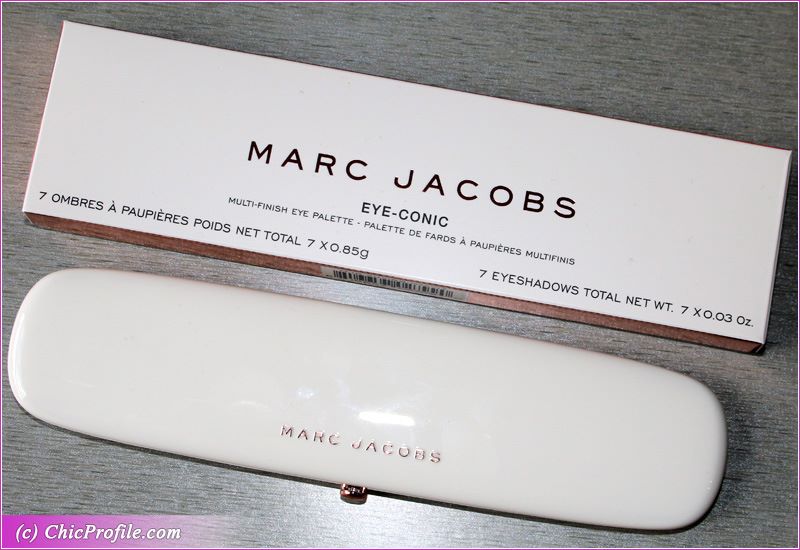 The palette comes in a sleek, long glossy white compact with rose gold accents, which emphasize being limited edition. I don't particularly like the white packaging trend but I do appreciate the quality of the packaging. It feels quite light in my hand but definitely looks high-end towards luxurious. It snaps shut and it's very easy to open and use. I personally like that it has the name of shades on the back of the palette as well as the other details.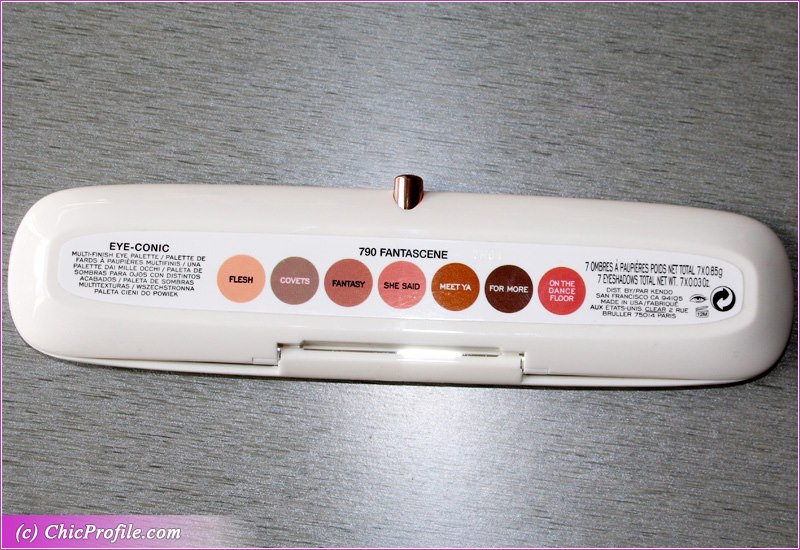 The combination of shades is very summery and I'm enjoying the fact that I have different finishes to play with. The colors came out pigmented when I swatched them on my arm (without primer, see photos bellow). Overall I do really enjoy playing with this palette and I created several fun look.
What I really want to mention before I'll give the colors breakdown review is that some of the shades work best applied wet or with your fingers. I don't mind using my fingers when it comes to metallic finishes. I know that I get more pigmentation this way and a dry brush won't be any good. You can also wet your brush, by spraying a bit of MAC Fix Plus or any other setting spray.
Some of these colors with metallic finishes work best if you pat them on the lid rather than trying to diffuse or blend them. They give a nice pop of color if you apply them in the center of the lid or inner corner. Just don't try to play with them very much and use them last, after you've done applying the other shades. This is at least what worked best for me. I'm referring to She Said and Meet Ya.
They are beautiful colors, just like the others but applying them with your fingers ensure a higher intensity and pigmentation.
Marc Jacobs Fantascene Eye-Conic Makeup Look
You've seen me wearing a makeup look inspired by this palette a while back on Instagram. For those of you who missed it I'm attaching the photos bellow. Make sure to swipe left for some close-ups. Thank you so much for all your lovely comments and DMs. I promise I'll be posting more looks with this palette!
Now let's get to the individual reviews for each shade.
Marc Jacobs Fantascene Eye-Conic Eyeshadow Palette Shades Review
Flesh eyeshadow is a light beige with warm undertones and a soft matte finish. It had a good color payoff being pigmented with a soft and super smooth, velvet-like texture. The consistency is very fine, nicely-milled without being powdery. It adheres well on bare skin and makes a great transition shade. It applied well, easily blendable and had no fall-out during the application. I used it on my brow bone, blended with the other shades. On me it wore well for almost eight hours.
Covets eyeshadow is light to medium taupe with warmer, brown undertones and a matte finish. It had a good color payoff and adhered well on the skin even without a primer. It's not a super pigmented shade but you can definitely build up the intensity. Without a primer I got a nearly opaque coverage. It's easily blendable with a soft and smooth texture. It lasted well for almost eight hours on me.
Fantasy eyeshadow is a medium-dark peachy coral with warm undertones and a matte finish. It had an amazing color payoff with a rich pigmentation. The consistency was soft and smooth while the texture felt a bit thin. It adheres well on bare skin without any fall out during the application. This color wore well for eight hours on me before starting to fade.
She Said eyeshadow is a medium, rosy-peach with warm undertones, slightly shimmering golden particles and a metallic finish. This is my favorite color from the entire palette but I wouldn't say it performed the best. As much as I love this shade the application and pigmentation were a bit problematic.
The texture was dense, kicked a lot of powder in the pan and it was hardly buildable when using a dry brush. It had a lot of fall out during the application so it's best to use a dampened brush or your finger. I prefered using my finger as I got more pigmentation and no fall out. The color stood out beautifully and looked really pretty on the center of the lid.
When I used a dampened brush I got no fall out and almost opaque coverage. I found that work best if you pat on the color as it doesn't give any fall out. Don't try to blend it too much. She Said took up close to eight hours wear.
Meet Ya eyeshadow is an intense copper with orange undertones and a shiny, metallic finish. The color is rich, very pigmented even without a primer as you can see in the swatches bellow. The texture was thick and just as dense as She Said so it was difficult to work with. It's not so easily blendable and in this case using your finger or a dampened brush works best.
I prefer to use it just a final pop of color and gently pat it on with my finger so I'd avoid the fall out. If you are using a dry brush you'll get a noticeable fall out and it's hard to blend it around the edges. Let's say that it took me to eight hours wear when I applied it with my fingers.
For More eyeshadow is a medium-dark chocolate brown with subtle red undertones and a soft matte finish. It had a fairly good pigmentation without being totally opaque. You can build up the color easily up to an opaque coverage.
The texture is very soft and smooth but it does kicks a bit of powder in the pan. It blends out evenly and easily without any fall out if you tap-off the excess from your brush. I had the same eight hours wear with this shade before starting to fade.
On The Dance Floor eyeshadow is a bright-medium orange with very fine gold sparkles and a soft sheen. The pigmentation was fairly OK, but not impressive. You can build up the color to a nearly opaque coverage in two layers.
The texture felt dry to the touch but it did applied well and adhered well onto the skin. It was easily blendable and it didn't leave any fall out after the application. The wear time was close to eight hours.
SHOP THIS POST