Hello beauties!
SUQQU Summer 2018 Collection is launching in less than 2 weeks so pay attention to all the information I have for you. You know SUQQU collections are selling out so fast online so make sure you check out the SUQQU counters as you soon as you can. This is the Summer 2018 Makeup collection that was released in Asia and now it's coming to UK as well. We are so lucky to have two seasonal collections from SUQQU. Do let me know what products interest you the most from this line and share your wish-list with the rest of us. 🙂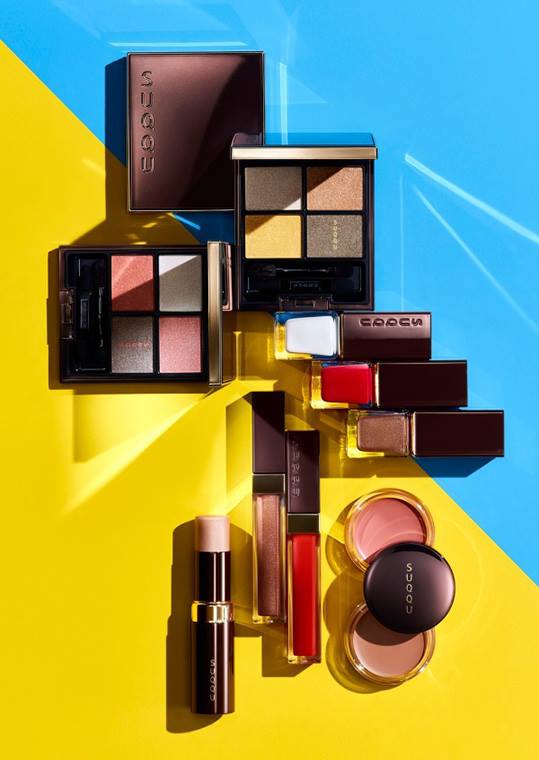 Availability
UK Launch Date – 24 May 2018 at Selfridges, Harrods
SUQQU Summer 2018 Collection
Picture a summer day with the sunlight cascading down, seemingly stopping time. Playful and dazzling as the gorgeous colours of summer. Striking contours that draw attention: sleek skin that sparkles with life. Our summer collection features both urbane nude & juicy spice colors.
Designing Color Eyes – Limited Edition – £46.00
118 Akenatsu – orange red (spice) & copper pink (nude). Juicy, clear orange red with copper pink and striking red brown deliver a sharply expressive feminine look. Blend the spice colour into the sheer nude for perfectly defined summer looks
119 Himawari – bright yellow (spice) & sand brown (nude). Yellow, easily buildable, lightens wonderfully, blending naturally to skin. Sand brown and khaki, easy to create gradation, for a fresh yet sophisticated expression.
Nude Illuminating Highlight Stick – Limited Edition – £30.00
Lustruous oil becomes a perfectly fitting powder from this stick highlighter. Ideal for contouring and adding radiance where you want it. A blend of a gold pearl that matches skin tones, with a highly translucent powder creates a glossy shine.
Juicy Bright Cream Blush – Limited Edition – £24.00
Blending beautifully, our cream blusher can be used daily in either of these two natural looking hues. Consisting entirely of oil, it achieves a natural radiance without using pearls.
101 Sangozome – coral
102 Tsuyakogare – beige
Flawless Lip Gloss – Limited Edition – £24.00
Choose spice orange for a natural juicy tint or nude bronze for sophistication.
104 Toubi – orange red
105 Mizusuna – bronze brown
Nail Color Polish – Limited Edition – £18.00
107 Shiranami – grey/ white
108 Nijimiaka – clear red
109 Kimugiiro – clear red
Enjoy more photos…