Hello beauties!
In 2018 , we get to see Make Up For Ever New Ultra HD products. The range is expanding with 3 innovative , 4K-compatible products : Ultra HD Underpainting, Ultra HD Perfector and Ultra HD Soft Light. These 3 new pro-approved products , allow everyone to create the perfect complexion and enhance any uniqueness , no filter needed.
In 2018, the professional brand works with the best, boldest and most authentic unfiltered Artists and Makeup Artists around, celebrating true universality and diversity. For the ULTRA HD campaign, MAKE UP FOR EVER has partnered artistic duos, featuring 5 emerging music talents and joining them together with super-influential Makeup Artists. BAY LI and KAYA NICO from THE SKINS rock band, JINJOO LEE, the explosive guitarist for DNCE, DAGNY, new promising artist of the Scandinavian pop, LEA MAKHOUL, already a star performer in the Middle-East ; and LOTTIE STANNARD, American pro makeup artist performing in all stages, LINDA HALLBERG, pro makeup artist and inspiring beauty influencer from Sweden, TAEYUN PARK, pro makeup artist and complexion expert from Korea and BOUBA, pro makeup artist and masterclass superstar from the Middle East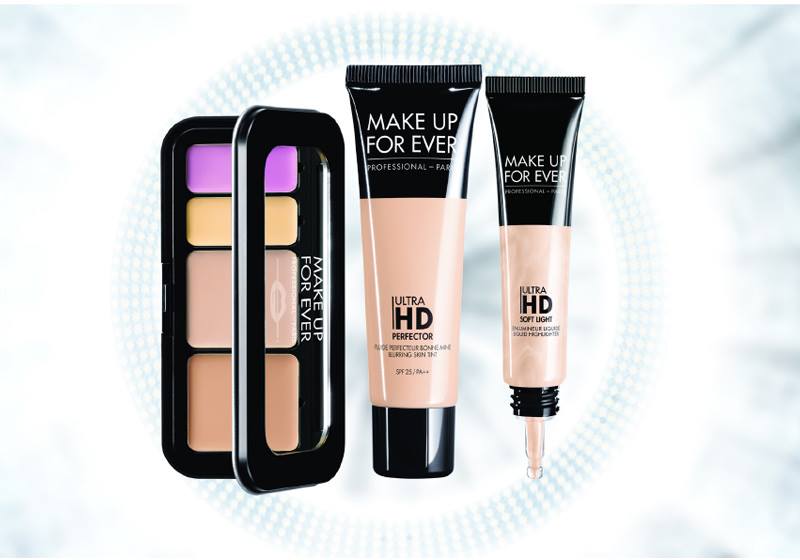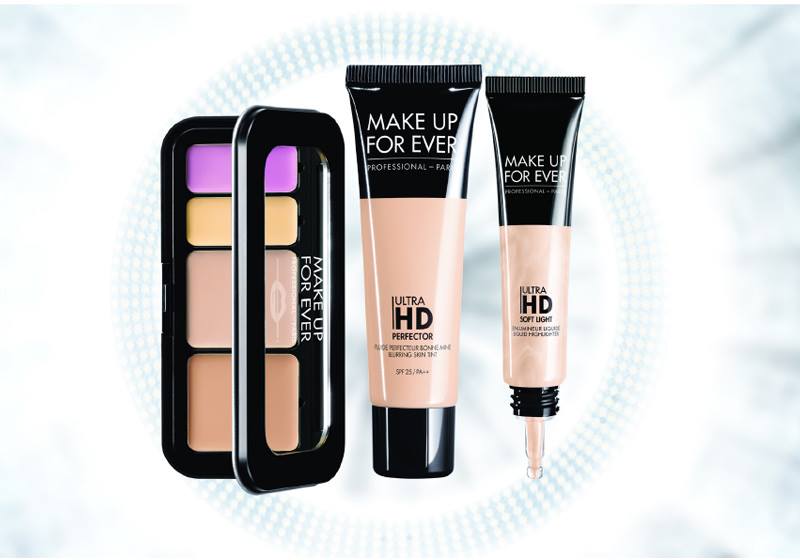 "In 2008, I decided to create ULTRA HD franchise in order to ensure professionals using HD technologies the most invisible makeup products to the camera eye. Since then, we always upgraded and expanded the range to offer innovative solutions so that professionals can support artists in all types of performances. Thanks to their technical skills and ULTRA HD products they can reveal diversity while capturing true personality, no filter needed." Dany SANZ , Founder & Artistic Director of Make Up For Ever
Availability
UK Launch Date – 5 March 2018 at Debenhams, Feelunique.com
U.S. Launch Date – March 2018 at Sephora
France Launch Date – March 2018 at Sephora.fr
Make Up For Ever New Ultra HD 2018 Spring Collection
Make Up For Ever Ultra HD Underpaiting – New – £28.50 / €36.00
This is their first colour correcting palette, invisible to the Ultra HD cameras. Infused with 4K complex, this palette offers a 4-in-1 miracle worker– two colour correctors to neutralize redness, brown patches and other unwanted markings and two complexion correctors to cover and unify your skin. These two last corrective shades can be layered to perfectly match the complexion and get a flawless result. Available in 6 different harmonies, these targeted palettes are adapted to all skin tones, from light to dark. Ultra HD Underpaiting is the ultimate weapon for an invisible correction and a flawless complexion.
Shades available in UK: No.20, No.30, No.40, No.55
Make Up For Ever Ultra HD Perfector – £28.00 / €34.00
Ultra HD Perfector represents a new generation of perfecting skin tint. The 12 warm,
luminous shades unify the irregularities of skin and discreetly blur imperfections while bringing forth light and radiance. The buildable, lightweight formula hydrates while protecting with SPF 25 PA++. In one sweep, you can be your best self, reveal your true personality – all without filter.
Ultra HD Perfector is best applied with our compatible new Ultra HD Blender (£9.50 / €14.00). This two-sided sponge offers a rounded end and a beveled end for quick and easy application. The innovative design allows you to build your custom coverage according to your need and desire.
Shades available in UK: 02, 03, 04, 06, 07, 09, 10, 11.
Make Up For Ever Ultra HD Soft Light – £22.50 / €29.00
Introducing a liquid highlighter that enhances skin tones with the softest mother-of-pearl pigments, to create a natural, beautiful sparkle-free glow. This innovative light enhancer looks invisible to the 4K camera eye, and comes in four tantalizing shades, from pink champagne to golden copper, to address all skin tones. Lights…Camera… Action -add touches of volume-enhancing light to the face!
Shades available in UK: 20, 30, 40, 50
Enjoy the photos….