Hello beauties!
When I first saw Becca Parisian Light Shimmering Skin Perfector I heard a voice in the back of my mind that told me to get it. Yes, it does look super pretty and I was impressed by the Eiffel Tower design. I also know Becca does one of the best highlighters out there so I wanted to try it out.
This highlighter is a collaboration between Becca Cosmetics and Parisian beauty blogger and Youtuber, Sananas. Is inspired by the sparkling lights of the Eiffel Tower at sunset and obviously a limited edition.
So, all the introductions being made, I ordered this blush as soon as it became available. As you can easily guess, I've already put it to the test and now I'm ready for a detailed review.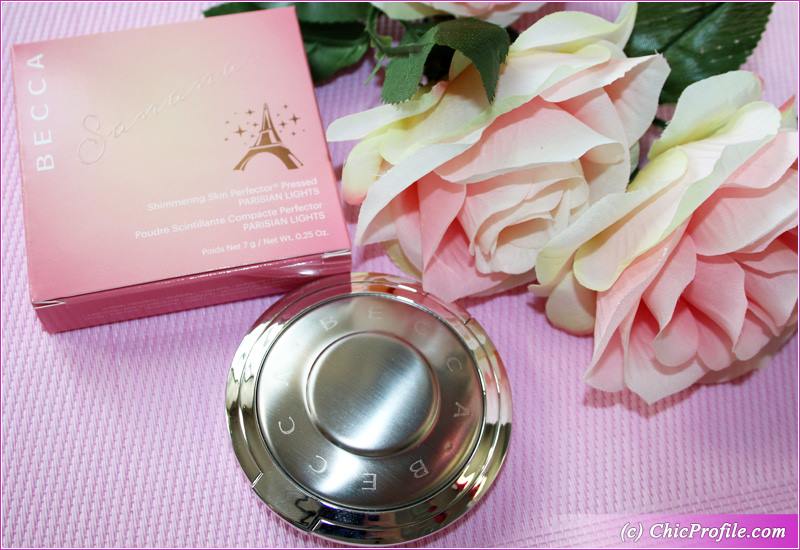 Where to buy:
U.S. – Now at Beautylish
UK – Now at Cult Beauty
France – Now at Sephora.fr
Becca Parisian Lights Shimmering Skin Perfector Review
Becca Parisian Lights Shimmering Skin Perfector ($38.00 / £32.00 / €38.00 for 7 g / 0.25 oz) is a light, peachy-pink with warm and golden undertones, infused with shimmering golden pearl. It has more of a pearl finish rather than metallic. It has a good pigmentation, showing on my light skin in a single swipe. I wouldn't say is super intense and bright, but it has a gorgeous duochrome effect. It has a golden peach shift depending on how the light hits.
The consistency feels soft but slightly looser. The highlighter is embossed with a unique Eiffel Tower design, which can make it the perfect gift for anyone. It's meant to flatter all skin tones. It does have a slightly golden overspray that disappeared after the first two uses.
The powder was easily blendable, applied and adhered well onto the skin. It didn't emphasize my pores or skin texture, but I apply it in a soft layer. If worn more heavily it will give you a strong metallic sheen and can slightly emphasize skin texture. I like that I can build up the intensity. I usually don't apply more than one layer if I go out during the day and two layers for an evening makeup.
You can see me wearing Becca Parisian Lights highlighter HERE but the light was not the best that day. I also apply it with a very light hand so it looked more natural on me. I'll post more photos today on Instagram while I'm wearing this highlighter since is a sunny day here.
The highlighter wore well for eight and a half hours on me before fading away. I do think is very resembling with Becca Beach Nectar from Becca x Chrissy Teigen Glow Face Palette.
SHOP THIS POST