Hello cuties!
I'm super excited to talk to you about MAC Snowflushed and Oh Darling Extra Dimension Skinfinish shades. These are two limited edition releases part of MAC Shiny Pretty Things Holiday 2018 Collection that is selling out fast right now. Hurry up and read this review as I saw MAC Snowflushed already being sold out in some stores and online!
I'm pretty sure LIVE SWATCHES will definitely help you so check out my post on Instagram and #igtv (for full video). I wore both of these shades again yesterday and I felt in love again with Snowflushed. It's so beautiful! But be prepared for a lot of that gorgeous duo-chrome effect that I can barely describe.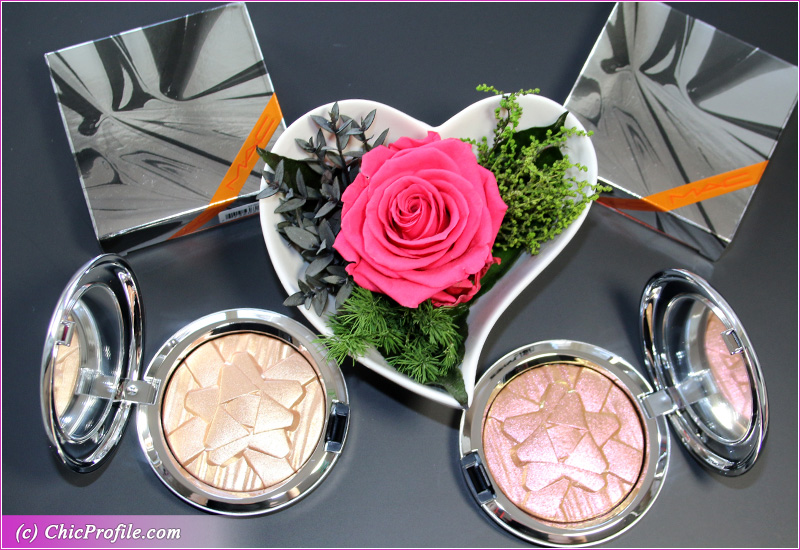 Availability
U.S. – Now at Nordstrom, MAC Cosmetics, Macy's, ULTA
UK – Now at MAC UK, Selfridges, Harrods,
SHOP NOW
MAC Snowflushed and Oh Darling Extra Dimension Skinfinish Reviews
Here I have them, the two limited edition shades of Snowflushed and Oh Darling Extra Dimension Skinfinish powders. They may be released in the same collection but they do perform a bit different.
While I'm liking the Snowflushed color better, obviously because of that pink shift you guessed right, I'm preferring the performance of Oh Darling more. I guess is just a taste of preference in the end. Snowflushed has some fine glittery particles, while Oh Darling is here more for the glow.
With MAC Extra Dimension Skinfinish Powders is hard to go wrong and apply to much. They come on pretty sheer in the beginning if you apply just one layer. Perfect for fair skin tones you would say, as they don't need to apply with that light hand anymore. 🙂
Even if you have medium, or darker skin tones you shouldn't be worried as these are guaranteed to work on you as well. Just easily build up the intensity and pigmentation until you get that desired effect.
Use it on the highest points of your face for a lit-from-within glow and without being afraid they will emphasize your skin texture.
MAC Snowflushed and Oh Darling Extra Dimension Skinfinish Packaging
This year's packaging is pretty classy, just silver mirror-like packaging cases. While they look pretty simple on the outside they look extremely dashing on the inside. That pretty bow pattern that you saw in the promo photos, it looks even more beautiful in person.
I admit I'm drawn not only to a pretty packaging, but more to a pretty pattern on a blush, powder or highlighter. 🙂 The compacts with this mirror-like effect are not among my favorite to be honest, but they do look pretty if you don't touch them.
I personally just don't like seeing my fingerprints on the compact each time I use the product. So it's extra time for me to spend and clean the compact after each use. Plus, that it is super hard to photograph without getting any reflections on the packaging. We are dealing with a mirror here in the end. 🙂
MAC Snowflushed and Oh Darling Extra Dimension Skinfinish Shade by Shade Review
Oh Darling Extra Dimension Skinfinish ($35.00 / £25.50 for 0.35 oz / 10 g) is a light-medium gold with warm, yellow undertones and a metallic sheen. The color payoff was fantastic, easily buildable to almost an opaque coverage in a few layers.
The texture was smooth and easily blendable, but softly powdery in the pan. This shade offers more like a natural glow, not that intense shimmery or glitter finish. It looks great if you apply it with a lighter hand if you want to get a sheer coverage.
If you'll use a normal amount of product you'll get an intense sheen and a richer color payoff. You can dusty lightly over the tip of your nose and lip for an extra luminous effect.
On me it wore well of eight and a half hours without emphasizing my skin texture. This color I'd wear it on different parts of my face because it doesn't have glitter and gives more of the glow.
Snowflushed Extra Dimension Skinfinish ($35.00 / £25.50 for 0.35 oz / 10 g) is a medium bronze pink with a pink to gold duochrome metallic finish. I'm impressed with the pigmentation so much. It doesn't only apply smooth and evenly but it has a great color payoff.
The pink to gold shift of Snowflushed is everything to me. As I don't prefer gold or yellow toned highlighter, this pink shift makes it so special and beautiful. I can wear it all day long while enjoying this duochrome effect of gold and pink, depending on how the light hits.
You can check here my video (make sure you skip the 2 photos) and see how Snowflushed looked on me 8 hours after I applied it.
Being a skinfinish and not a regular highlighter, it applies on very soft in the beginning, looking more sheer. This way you can build up the pigmentation, intensify the color as much as you want by adding extra layers.
I personally love these, because you can never go wrong with adding too much from the first layer. It works also well on fair skin tones who usually need more soft, sheer shades. Basically no matter what skin color you are, fair or very deep, MAC skinfinish powders will work on you.
It doesn't have too much shimmer in the beginning, just a touch of shine but then again, intensifying it is up to you. It comes on very nice, without emphasizing my natural skin texture and glows beautifully.
With a second layer of color, looks like your skin is glowing, you'll definitely notice the color and metallic finish. If you want that extra glow, definitely go with the second layer, especially if you are medium skin tone.
This color has more shimmer to it than Oh Darling, and a bit more of a glitter. Snowflushed felt a little bit more powdery to me than Oh Darling, and had just a little bit of fall out.
It wore well on me for about eight hours before it started to loose its intensity.
MAC Snowflushed Extra Dimension Skinfinish Makeup Look
Yesterday I wore again this gorgeous shade with a shift from gold to pink. I kept it in a single layer, as my makeup was pretty basic. You can easily see how it reflects gold on the upper side of my cheek and pink more towards my nose. It shows just how easily and beautiful the colors shifts depending on how the light hits.
Keep in mind that I already had eight hours wear when I recorded the video. I took the photos after one hour of wearing Snowflushed. I applied Snowflushed in just one layer as I wasn't going for an extreme pigmentation or metallic sheen.
Even so, for my light skin it looked pigmented, intense but not over the top, just how I liked it. On the lips I'm wearing Fenty Beauty Uncensored Stunna Lip Paint (review, swatches).
SHOP NOW IN U.S.
SHOP NOW IN U.K.
Enjoy more photos…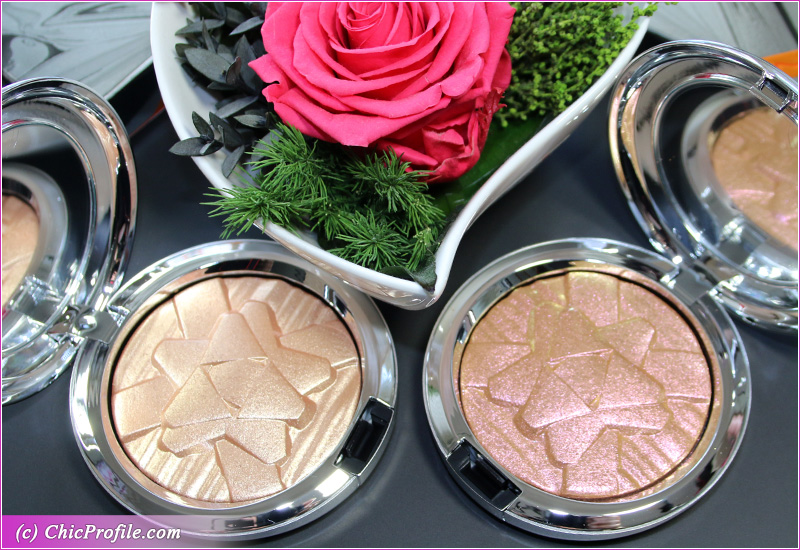 MAC Oh Darling Extra Dimension Skinfinish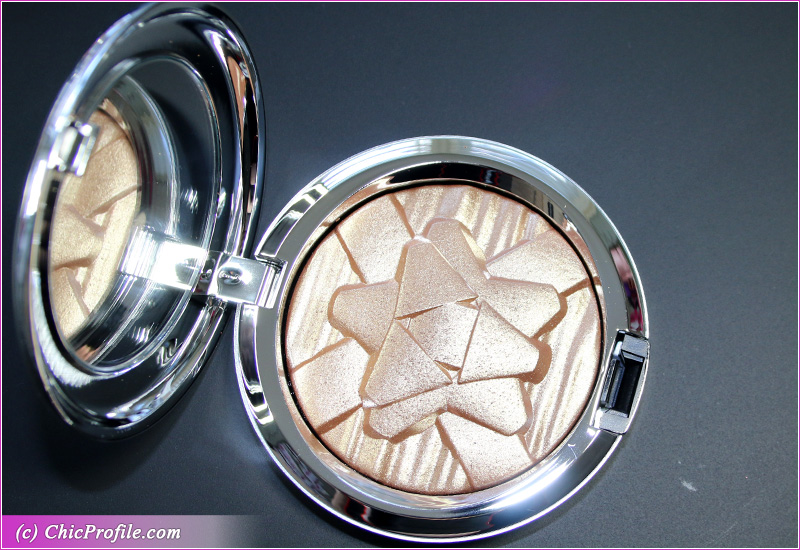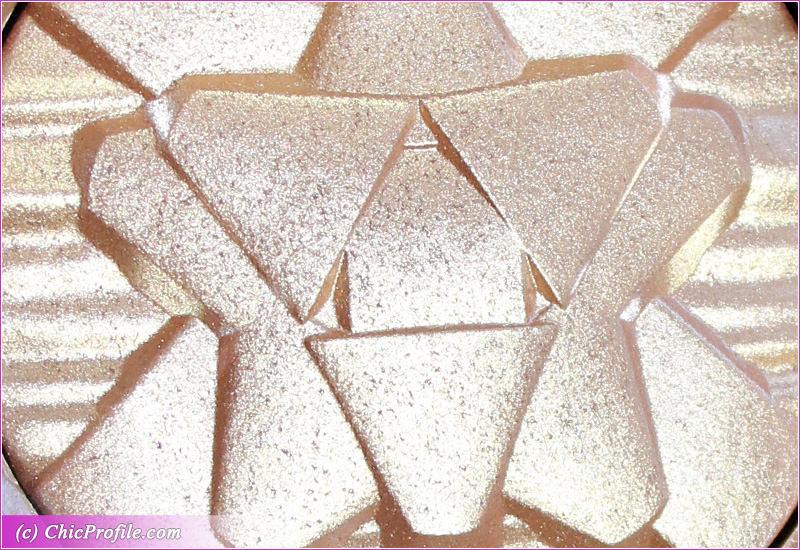 MAC Snowflushed Extra Dimension Skinfinish