Hello sweeties!
Bobbi Brown Highlight & Glow Highlighting Powder Duo is another holiday 2018 beauty that I purchased a while go. Judge away when I'll tell you that I mostly got this for the packaging. Since I gave you a first impression article over a month ago, it's time to share my full review.
There are two versions of this palette, but I choose to go with the pink one as I have one of the other highlighters individually. If you are also interested you can check out LIVE SWATCHES on my #igtv channel.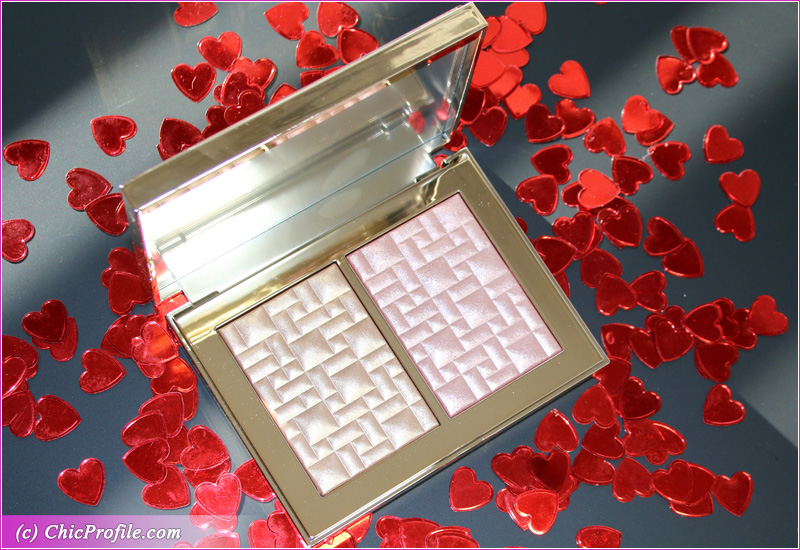 Join my PATREON PAGE and become a PATRON if you want to support me as an independent content creator. You will unlock access to EXCLUSIVE CONTENT on Upcoming Makeup Releases. All Patrons will have priority in choosing and buying at special prices the products I'm offering for blog sale!
Availability
U.S. – Now at Nordstrom, Bobbi Brown US,
UK – Now at Bobbi Brown UK, Selfridges, Debenhams, Look Fantastic,  Liberty London,
SHOP NOW
Bobbi Brown Highlight & Glow Highlighting Powder Duo Review
Bobbi Brown Highlight & Glow Highlighting Powder Duo ($65.00 / £49.50 for 0.63 oz. / 18 g) is a deluxe-size duo highlighter palette featuring limited edition shades.
Bare Glow was the shade that got my attention, while Opal Glow was something that I've seen before. The size of these blushes will fit with any of your brushes. You can easily pick up product or swirl your fluffy brush into these huge pans.
Both shades are formulated with a clear base and light-reflective pearl pigments. You'll get a beautiful luminous and natural effect if you keep it up to 2 layers. The skin will look fresh with a radiant glow. You can pair this shades together and layer them for a multidimensional look and high impact.
Did I mention that you get a great deal for your money as purchasing these two shades individually and in a smaller size would be more expensive. This palette can be the ideal Christmas or holiday gift for someone. 🙂
Bobbi Brown Highlight & Glow Highlighting Powder Duo Packaging
With no modesty, this packaging is not only festive, but is how I envision a perfect holiday packaging. The compact comes in a sturdy, golden, mirror-like case that glitters like a snow globe when shaken. Needless to say that I pose to shake this palette for a second right now. 🙂
The compact feels heavy, has a magnetic closure and a huge mirror inside. The size of the two highlighters is impressive, because I can easily pick up the product. I don't think I'll ever hit the pan on these as they offer a generous amount of product.
Bobbi Brown Highlight & Glow Highlighting Powder Duo Shade by Shade Review
Bare Glow Highlighting Powder is a medium peachy gold with warm undertones and a multi-colored pearl. It had medium coverage in a single layer on bare skin but it was easily buildable to full coverage.
The texture feels smooth and silky, without being powdery or kicking off any excess powder in the pan. I noticed the consistency doesn't look so sparkly compared to the same shade which is sold individually. This one didn't have that pinkish touch and definitely had less sparkle and more sheen to it.
The consistency is dense and smooth, easily blendable and buildable. It can be the perfect highlighter if you like a luminous sheen and almost no sparkle. You can decide upon the pigmentation and intensity.
In one layer you will get a beautiful glow, very wearable and with a touch of freshness throughout the day. If you like yellow tone highlighters then this is definitely a go to.
The powder applied evenly on my skin, diffused nicely and without emphasizing my skin texture. I got around eight and half hours wear with this formula.
Opal Glow Highlighting Powder is a light, white rosy-beige with warm undertones and a multi-colored sparkle and pearl. The color payoff was good, easily buildable to almost full opacity in 2-3 layers.
The consistency feels soft and smooth, without being powdery or dry. I didn't get any excess powder in the pan during the application. The highlighter applied evenly and was easily blendable.
I personally adore this shade, how fresh and beautiful it looks on my skin. I appreciate the sheen with just a touch of sparkle that provides a luminous, dewy glow. Again, I prefer this shade in just one layer, as I'm not crazy over an intense color.
It's a highlighter that makes me feel comfortable even if I wear it throughout the day, without being too bright, in-your-face that kind of effect. Then again, you can build up the intensity with one or two more layers if you want to enjoy those light-reflecting pigments a bit more.
It's easy to layer this product onto your cheeks without featuring it will emphasize your skin texture if you go up to 3 layers. It looks beautiful, fresh and natural, while still providing you with that luminous glow.
I got around eight hours wear with this formula without any fall out.
Keep an eye on my Instagram to see me wearing these shades. I'll also be posting short videos where you can see how these beauties glow on my cheeks. 🙂
SHOP NOW
Enjoy more photos…