Hello beauties!
Fenty Beauty Uncensored Stunna Lip Paint was one of the most expected launches of this season. We all know the success that Fenty Beauty products have. I was actually the first one to spread the news about this red shade back in the Summer. I first posted on Instagram but I was asked to remove the photo within a few hours. The thing is, that I know lots of you got super excited about this product. All our wishes came true. Fenty Beauty Stunna Lip Paint is truly the product many of you desired and hoped for. Let me tell you how it performs right after the jump!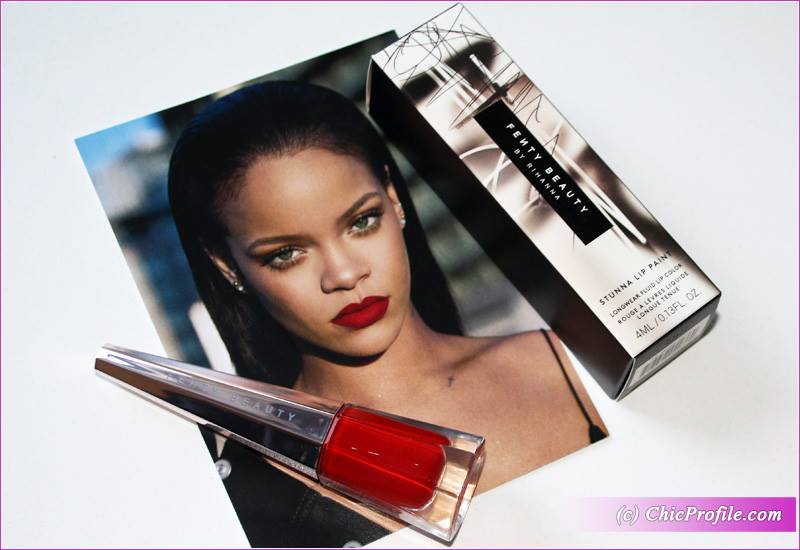 Where to buy it:
U.S. – Now at Sephora
UK – Now at Harvey Nichols
France – Now at Sephora.fr
Fenty Beauty Uncensored Stunna Lip Paint ($24.00 / £19.00 / €22.95 for 0.13 oz./ 4 ml) is officially described as the perfect universal red. To me it's a deep red with neutral undertones and a matte finish.
Fenty Beauty Uncensored Stunna Lip Paint Review
The color is rich, intense and super pigmented. It delivers an opaque coverage in just one swipe. I have small lips and the product from the applicator was enough for a single application. I felt that it was actually too much product for my small lips. It's amazing how it takes you to a full coverage in one stroke. You actually see a burst of intense and pigmented red instantly.
The consistency is very thin, not so liquidy as I would have though, but is no runny either. It glides super well and easily across the lips. The formula is very smooth and feels comfortable on the lips without any dryness to it. The color dries down to a matte finish within minutes, but is more like a softer matte. I don't feel any heaviness or dryness while wearing this lip paint and the matte finish is a bit more forgiving than others.
You know me already, I told you so many times that I rarely like a matte finish lip color. Is not that I don't like the matte finish, is the dryness sensation that bothers me. I sincerely declare that I had no issues wearing Fenty Beauty Uncensored Stunna Lip Paint. My lips were not lacking moisture after I removed the product.
The applicator has an important role to play here. Its shape is quite unique and does a good job applying the product. It's rounded shape embraces the lips easily and the slightly pointed tip part can help you achieve precision around the edges of your lips.
If you like a bold red lip then I'm sure you will love this color. I'm not particularly a fan of red lip colors but during the holiday season I can make an exception. I'm a light skin tone and this color looks really well on me. It doesn't make me look pale or minimizes my features. On the contrary, since it has neutral undertones I think it's suitable most of you out there.
Now let's see if it's a 12hr liquid lipstick. It does have the liquid formula, without being watery, but does it last 12 hours? Well, not on me at least, it doesn't. Is not transfer-proof, as I do leave so paint on the glass or my cup whenever I drink. It won't budge or migrate from your lips as long as you don't eat. Even if you drink you will get minor transfer but not like you'd need to retouch the color.
When I eat is a totally different story. Someone asked me the other day how well it lasts on your lips if you eat greasy food. Not that well I'm afraid, since the finish is not completely matte. I usually found that those matte lipsticks that tend to dry your lips to the extreme are more long lasting. If you are OK with the drying sensation then you are good to go for over 10 hours, but I'm not.
Fenty Beauty Stunna Lip Paint does last on your lips, but not for 12 hours. On me it lasts for about six hours (if I don't eat) until I need to slightly retouch the color. If I do eat (not greasy food in particular) then I absolutely have to retouch the color. The thing is that it slightly fades from the edges but not from the center of the lip. 🙂 It leaves a slightly stain behind even after I remove the product from my lips.
SHOP THIS POST