Hello beauties!
I'm catching up on those reviews as I promised you and today I give you Huda Beauty Venus Lip Contour. In early summer I bought this one along with a Muse and Wifey Liquid Matte Lipsticks (review). I've been using it a lot every since, pairing it with different lipsticks, or on its own all over the lips. Huda Beauty Lip Contours are available in a variety of 16 shades (mostly nudes). They are marketed as contouring and filling lip pencils featuring intense color payoff and a matte finish. A lipstick in a lip pencil type of formula and very long lasting. Read my thoughts right after the jump!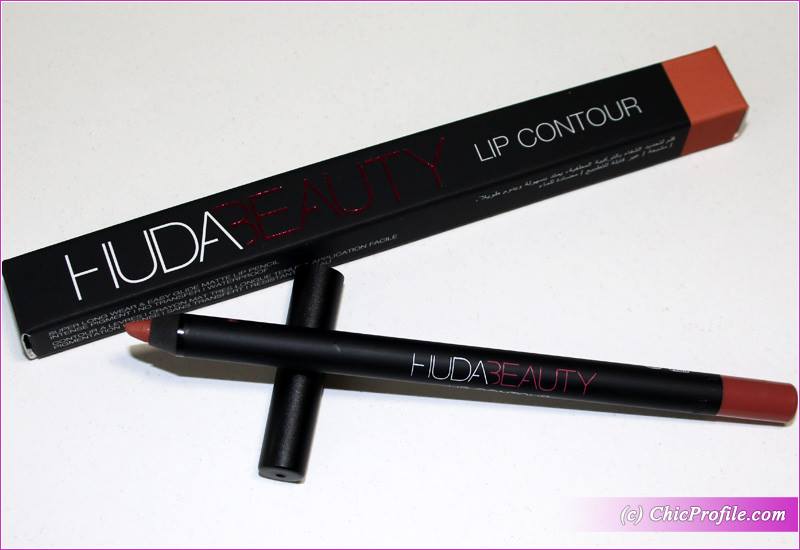 Where to buy:
U.S. – Now Sephora
UK – Now at Selfridges, Harrods, Cult Beauty
Huda Beauty Venus Lip Contour ($19.00 / £16.00 for 1.20 g/ 0.04 oz) is a medium peachy-brown nude with slightly warm undertones and a matte finish. Venus is a rich color, highly pigmented and comes opaque on the lips in just one swipe. The color payoff is amazing. It looks wonderful worn on its own as a lip color. Just a beautiful nude that complements light skin tones as well as other skin colors.
Huda Beauty Venus Lip Contour Review
I'm wearing Venus both as a lip liner and a lip color, applied all over my lips (see photos). The downsize of wearing it as a lip color is that you'll need to sharpen it pretty often and you'll finish the product more quickly. You need to sharpen the pencil, it doesn't twist or anything.
The consistency is creamy and soft without melting down or bleeding once applied. The pencil glides beautifully across the lips, delivers and opaque color and a true matte finish. If you have dry lips or any dry patches on your lips, please apply a lip balm before. Otherwise they will cling and emphasize lip lines, so make sure to moisturize your lips.
The formula dries down pretty fast to a matte finish and once is set, it won't budge. The color is here to stay as the formula is long lasting and waterproof. I like how comfortable it feels but without the color bleeding once applied. So I like to fill in my lips and get that creamy pigment with a lightweight feel. After a few hours I notice a slightly sensation of dryness so I use my Zelens lip balm after this.
You can achieve a precise application if you sharpen the pencil very well. Everytime I want to draw a very crisp cupid's bow I make sure I have a very pointed tip. I feel that Huda Beauty Lip Contour pencils are very similar with Urban Decay 24/7 Glide-On Lip Pencils in terms of formula and consistency. If you ask me about the wear time, I'd say Urban Decay lasts a little bit longer and some of the colors (hot pinks, fuchsia) leave a stain behind.
Huda Beauty Venus Lip Contour color goes well with a variety of nude or brown lipsticks and it's true to the color on the packaging. I get no transfer when I'm wearing this shade, it's long lasting and insanely pigmented. The hard part comes when you want to remove it as you need to use an oil-based remover or bi-phasic remover. I got around 8 hours wear with this color and that was after a latte, water and a meal.
You eat something oily or greasy, fast-food, the changes of remaining with some color after that are pretty slim. I mean the color will be there for hours as long as it doesn't involve greasy food. At the end of the day I think that this is a good lip pencil, but not something extraordinary like they are marketing it. There are plenty of lip pencils out there from Colour Pop, Urban Decay and so on that perform good as well or even better. My personal opinion is that Huda Beauty Lip Contours have a way better formula than MAC lip pencils as they don't dry out my lips that much.
SHOP THIS POST